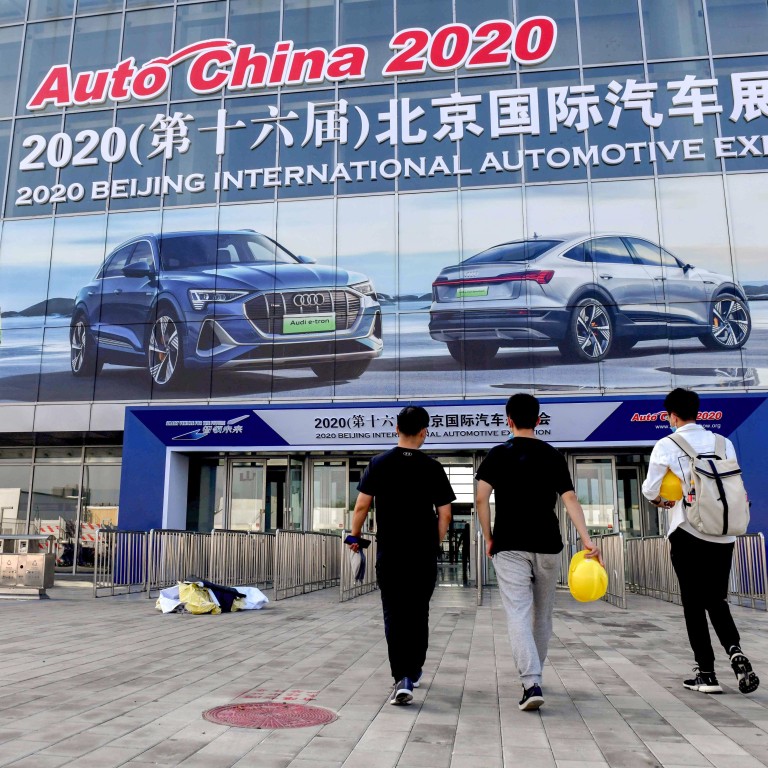 China auto show to provide much-needed boost for industry slowly recovering from coronavirus pandemic
Auto China could not have come at a better time for the industry that is seeing a gradual recovery, observers say
Although the biennial show has been delayed by months because of Covid-19, it is the only major international industry event to proceed this year
As the Auto China 2020 kicks off in Beijing on Saturday, industry observers expect the only major international car show this year to revive buying interest in the
world's largest market
that is seeing signs of a recovery after a two-year slump.
The biennial event, originally expected to be held in April, was postponed because of the Covid-19 pandemic. The Chinese government's go-ahead for the show is a sign of confidence that Beijing has successfully contained the pandemic and is determined to rejuvenate the car market and economy that had been badly hurt by the coronavirus. The 10-day event ends on October 5.
Car sales on the mainland rose 8.8 per cent year on year in
August
to 1.7 million units, according to the China Passenger Car Association, the fastest since May 2018.
"The timing of the Beijing auto show could not have been any better," said Chen Jinzhu, chief executive of Shanghai Mingliang Auto Service, which deals in used vehicles and car insurance. "The grand show may help the market regain its momentum after months of disappointing sales."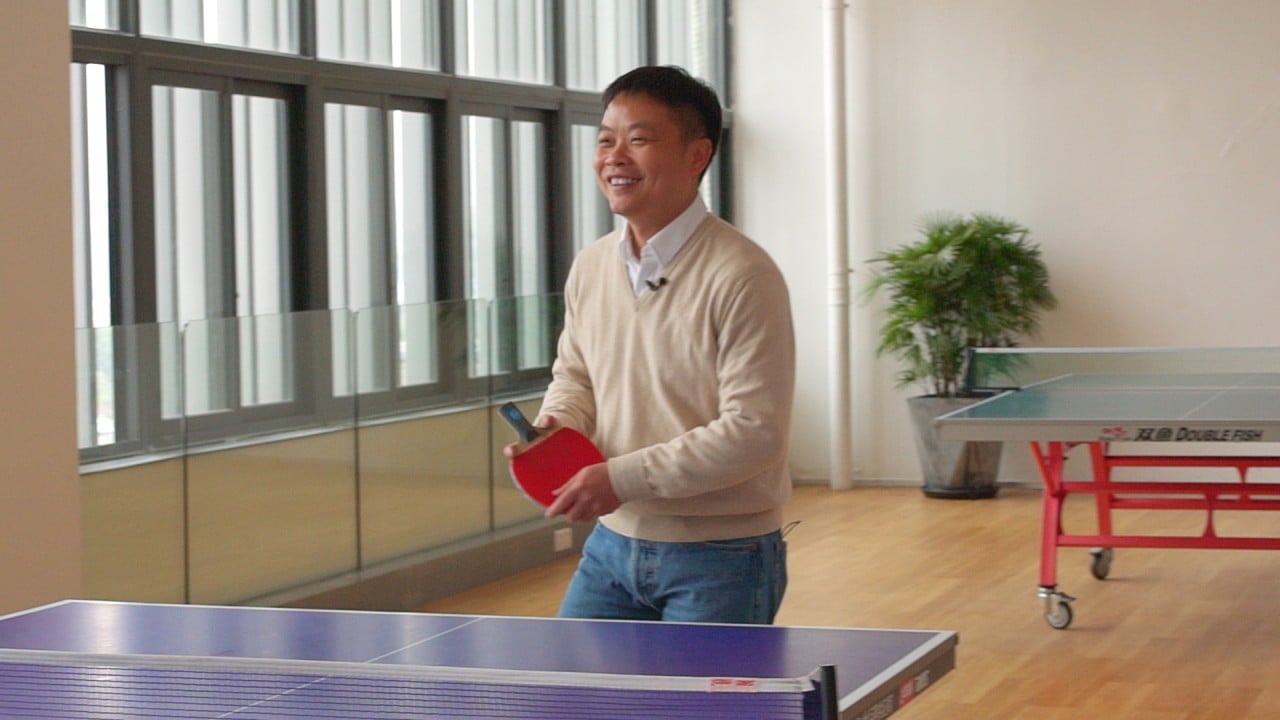 02:33
Electric cars and Ping Pong: He Xiaopeng, CEO of Chinese electric car start-up Xpeng, on problem solving
Electric cars and Ping Pong: He Xiaopeng, CEO of Chinese electric car start-up Xpeng, on problem solving
Local and foreign carmakers seeking to grow their sales in China have in the past used the exhibition to showcase their latest technologies and models. This year's exhibitors include more than 90 brands ranging from established players such as Volkswagen and General Motors to Chinese electric vehicle start-ups like
NIO and Xpeng
. However, fewer visitors are expected this year compared to the 820,000 last time around because of the virus-control measures, according to the organisers.
China's 8.3 trillion yuan (US$1.2 trillion) car industry and its supply chain play an important role in the economy. It employs 33.5 million workers or one in every 12 jobs in the country, according to the Sina news portal. China's growing middle class fuelled a surge in car sales from the late 1990s to 2017, before the market took a dive in 2018 as consumers reined in big-ticket spending amid worries over the economy and job security.
The deadly coronavirus outbreak this year has dealt a blow to the country's car market as extensive lockdown measures disrupted manufacturing and slowed sales. In January, sales fell 18 per cent year on year, followed by a 79 per cent plunge the next month.
Despite rising passenger car sales for four straight months since May, overall sales in the mainland for the first eight months of the year are still 15.2 per cent lower than a year earlier. Fitch Ratings expects sales to fall 10 per cent on the mainland this year.
New-energy vehicles (NEVs), which include pure electric and plug-in hybrid cars, will be under the spotlight at the show.
Tesla
, the market leader with its Shanghai-made Model 3, and its mainland challengers are expected to attract huge crowds as their technologies and in-car entertainment redefine driving experience. China has a set a target that calls for domestic carmakers to account for 20 per cent of the NEVs market.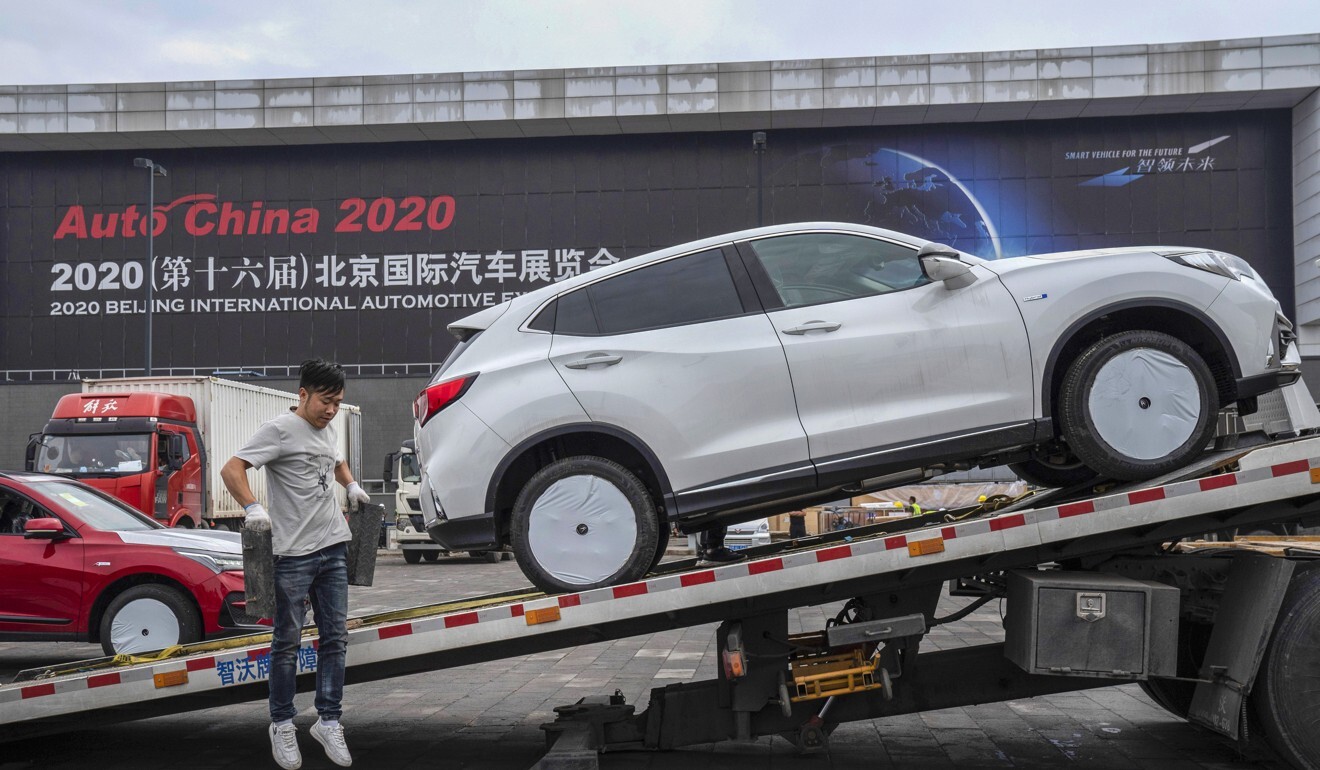 In the NEV segment, Chinese carmakers are expected to showcase dozens of models, of which 30 in the low-priced NEV segment have been included in the government's initiative to increase ownership in rural areas.
Some earlier low-priced models such as Great Wall Motor's Ora, SAIC-GM-Wuling's Baojun and
BYD
's E1 are included in a list compiled by the government to promote NEV sales in villages, towns, and small cities through subsidies and incentives like preferential loans.
"The central government needs to boost sales of vehicles to spur economic growth," said Luo Lei, deputy secretary general of the China Automobile Dealers Association. "Farmers are price-sensitive and carmakers need to churn out affordable products [to cater to their demand]."
This article appeared in the South China Morning Post print edition as: Car show expected to accelerate sales