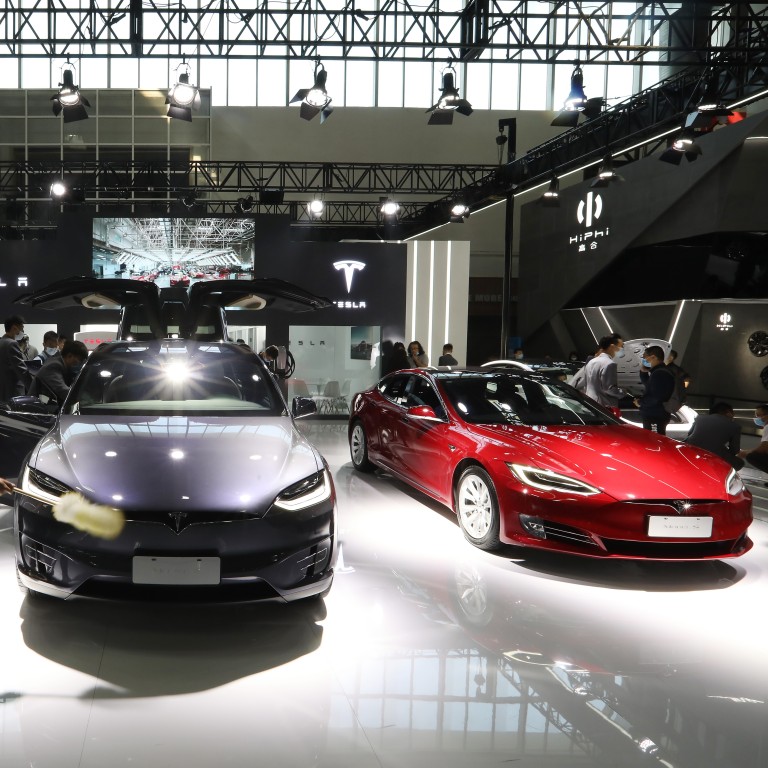 China's EV makers pour billions of dollars into research, output and marketing to catch up with Tesla on their home turf
Long driving range on a single charge is essential in a nation with the world's third-biggest land mass, as are sophisticated electronic gadgetry, unique applications, bells and whistles
All these have to come with a price tag that fits comfortably in the pocket of notoriously finnicky buyers with little loyalty to brands that are usually little more than a few years old
Manufacturers and assemblers of
electric cars in China
, the world's largest vehicle market since 2009, are sharpening their pitches and raising their game as they pour billions of dollars into research, sales and marketing to catch up with the industry leader Tesla in their home turf.
Long driving range on a single charge is essential in a nation with the world's third-biggest land mass, as are sophisticated electronic gadgetry, unique applications, bells and whistles, according to the range of models on display at the Beijing International Automotive Exhibition, the nation's most important industry trade show.
All these have to come with a price tag that fits comfortably in the pocket of notoriously finnicky buyers with little loyalty to brands that are usually little more than a few years old.
"We know the Chinese market better and we are relatively younger," said Brian Gu, president of Xpeng Motors, which completed a US$1.7 billion fundraising in New York last month to finance its ambitions. "We are increasing our spending on R&D and will churn out better products to position ourselves as a technology-driven NEV maker."
The manufacturers are all positioning themselves to sell as many as 3 million electric cars a year, or 80 per cent of all domestic sales by 2025, according to the Chinese government's
Made in China 2025 industrial master plan
.
Optimistic analysts forecast the number could reach 5 million a year, buoyed by the Chinese government's generous incentives to encourage consumers to abandon internal combustion engines and replace them with environmentally friendly vehicles, part of the nation's state goal of becoming carbon neutral by 2060.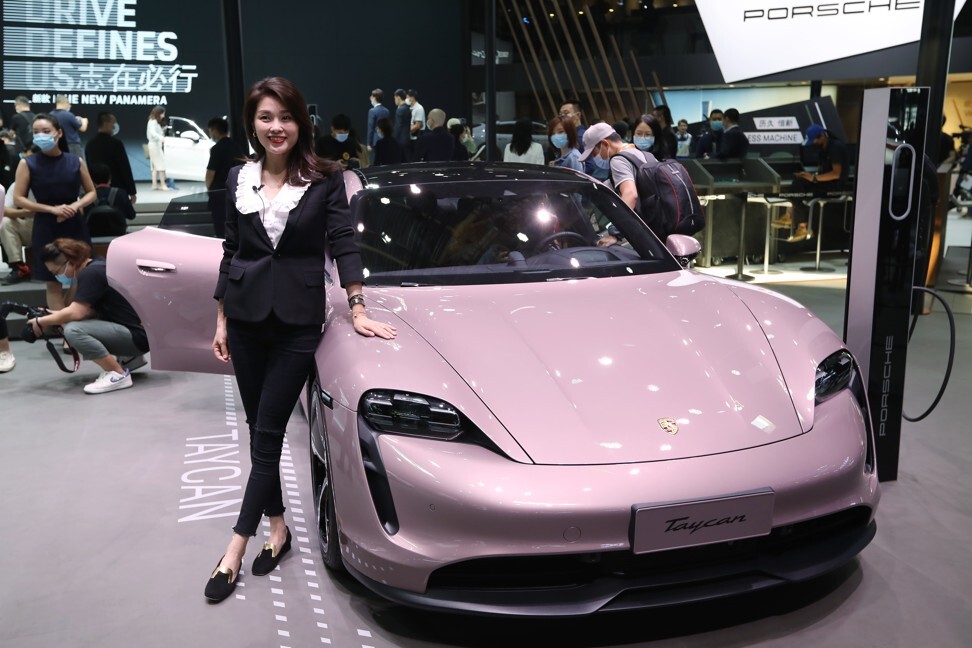 They have a long way to catch up.
Tesla delivered
14,954 Model 3s in June, 23 per cent of the total sales of pure electric vehicles on the mainland, according to the China Passenger Car Association (CPCA). BYD, one of the oldest industry competitors, based in Shenzhen, was a distant second, selling 4,106 Qin EV3 units.
Nonetheless, Chinese Tesla challengers are unfazed. Gu said Xpeng aimed to make the list of China top electric carmakers with 10 per cent share in four to five years. Electric carmakers are not competing with each other, but seeking to displace petrol guzzlers, Gu said.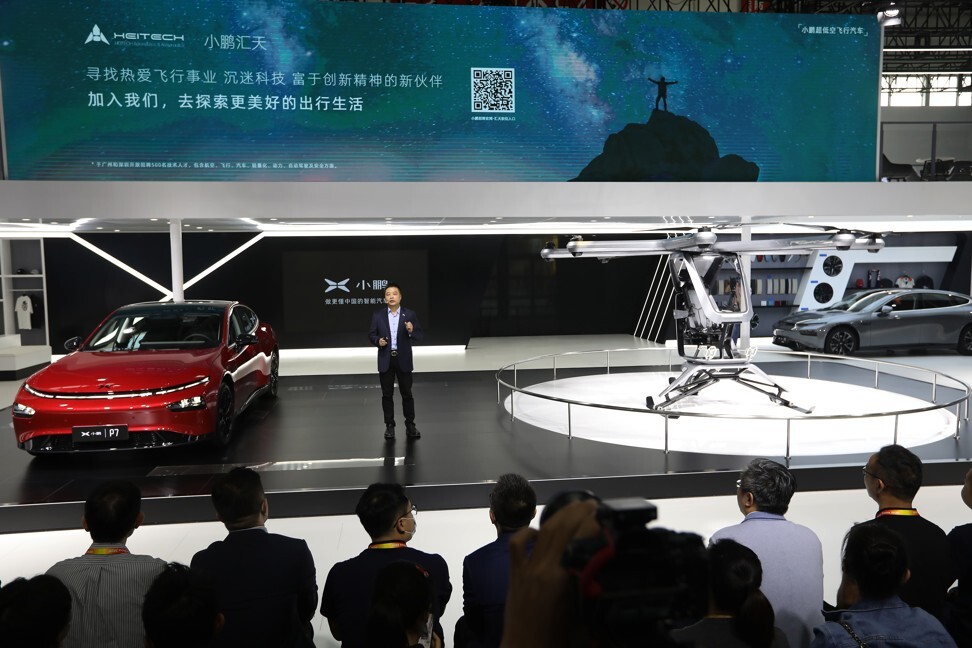 "Together, NEV builders are competing with conventional car assemblers manufacturing combustion engine vehicles," he said. "Tesla's impressive performance here is not seen as an onus on us. Instead, it could inspire NEV companies to work harder to woo more Chinese drivers."
At the Beijing auto show, the Chinese Tesla challengers including Xpeng, Nio and WM Motor attracted huge crowds during the media day on Saturday, as journalists flocked to their booths to sniff out their new strategies and technologies that would probably redraw the automotive landscape in China.
"Tesla educated the (Chinese) market," said Freeman Shen, the founder and chief executive of WM Motor. "The name of the game is to deliver the right products that can cater to the consumer needs here."
In April, Tesla cut the price of a locally built Model 3 with a standard-range battery pack to 271,550 yuan (US$39,817) after subsidies, from 299,050 yuan.
SCMP Infographics: Made in China 2025 and the nation's electric car dreams
The prices of its competitors' models start from 229,900 yuan for Xpeng's P7 sedan to 328,000 yuan for the Li ONE SUV made by Li Auto. NIO's ES6 sports-utility vehicle starts at 343,600 yuan after subsidies.
Several Chinese carmakers have built their models with longer driving range that Tesla's Model 3.
Li Auto's Li ONE has a range of 800 kilometres (497 miles) and Xpeng's P7 four-door electric sedan can travel 706km on a single charge.
"I voted for Nio car because it has lots of incentives to save driving costs," said Wang Liang, owner of a Nio ES6. "Tesla has a better brand awareness, but Nio is not bad."
Nio offered buyers of ES6 free battery swap services through a car's whole life, which could translated tens of thousands of yuan, according to Wang.
Xpeng recently launched its battery leasing service, which allows customers to pay for the battery packs in 84 instalments over seven years.
On Saturday, He Xiaopeng, founder and CEO of Xpeng, announced on the Beijing car show that owners of its cars could enjoy 3,000 kWh of free charging for their vehicles each year.
Last month, Chinese NEV makers saw a ray of hope after Tesla was leapfrogged by a local player.
It was the Hongguang Mini EV, a compact four-seater car made by SAIC-GM-Wuling Automobile that unseated Tesla's Model 3 in August.
The car sporting prices tags of 28,800 yuan to 38,800 yuan has a driving range of 170km on a single charge.
In August when it hit the market, 15,000 units of Hongguang Mini EV were delivered, outshining sales of 11,811 Model 3 units, according to the CPCA.