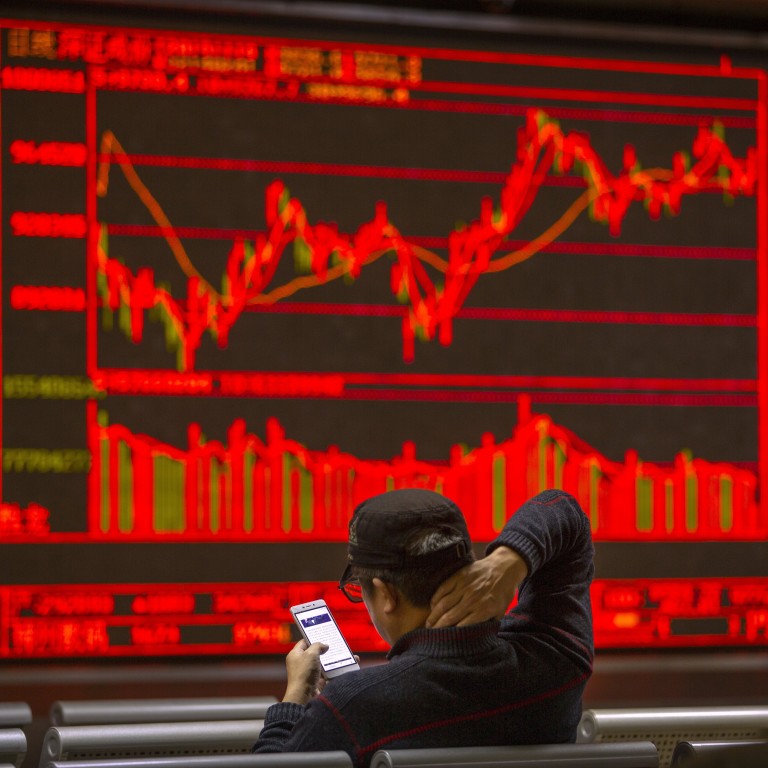 World's largest hedge fund is doing far better in China than elsewhere, as Dalio's Bridgewater returns 22 per cent to investors
Bridgewater Associates raised about 900 million yuan for its second China fund in September, doubling its assets
Bridgewater's All Weather China strategy fund boasted an annualised return of about 22 per cent for the 22 months from inception to the end of July
Ray Dalio's Bridgewater Associates is doing far better in China than in the rest of the world.
The US$148 billion money manager raised about 900 million yuan (US$136 million) for its second China fund in September, doubling assets, according to people familiar with the matter. Investors were partly drawn to its All Weather China strategy fund that boasted an annualised return of about 22 per cent for the 22 months from inception to the end of July they said, declining to be identified discussing private matters.
While the size of the onshore business remains tiny, the latest fundraising lifted assets under management to about 1.7 billion yuan, ranking it among the biggest foreign hedge fund players in China. Bridgewater trails only Winton Group and UBS Group, which have launched at least eight funds in their much longer China presence, according to data compiled by Licai.com.
Bridgewater declined to comment in an emailed statement. The company launched its first China onshore yuan fund in 2018, but upgraded its quantitative strategy into an enhanced model called All Weather China Plus in 2019 by adding active management to improve returns, the people said.
China is becoming increasingly important to global money managers after the nation opened its 100 trillion yuan investment market wider. Billionaire Dalio has long been optimistic on China, seeing the need to have "a significant portion" of Bridgewater's portfolio in Chinese assets for long-term diversification and short-term trading.
While the 22 per cent annualised return hardly stands out among Chinese hedge funds, its low volatility makes the performance "quite strong" for a strategy designed to achieve stable long-term returns by diversifying among different asset classes, according to Li Minghong, head of fund-of-funds investments at Panyao Capital in Shanghai. The first Bridgewater fund's maximum decline since inception in October 2018 was about 3.5 per cent, the people said.
Minimum investment for the new fund was set at 5 million yuan, five times the regulatory threshold, although the 10 per cent performance fee was half the industry norm, they said.
This year has been a rough one for Westport, Connecticut-based Bridgewater, whose flagship Pure Alpha II fund fell 18.6 per cent through November 5 as it was caught off guard by the pandemic. Its All Weather fund was up 2.58 per cent in the same period, people familiar have said.
Assets under management had fallen to about US$148 billion from roughly US$160 billion at the start of the year.
By contrast, China's stock, bond and futures markets likely all contributed positive returns to the Bridgewater China fund with gains since its launch, especially this year as the nation's success in reining in the spread of the coronavirus helped investors avoid the wild swings seen in many markets, Li said.
China's CSI 300 Index has jumped 21 per cent this year, more than double the gain in the S&P 500. Bridgewater has leveraged that using a so-called risk-parity strategy that allocates assets based on how risky they are. An S&P benchmark for the risk-parity strategy slumped 19% in the first quarter, before regaining lost ground over the following six months.
"The strategy seems to tally China's market conditions, and sustained returns going forward shouldn't be an issue" despite a short track record, Li said.
The China strategy's stable performance over almost two years "far exceeded" average returns of all private fund strategies tracked by consultancy Shanghai Suntime Information Technology, according to Sun Guiping, an analyst at Shanghai Securities. That shows it was "able to withstand the impact of stock-market declines" triggered by major headwinds like the China-US trade tensions and the virus outbreak, he said.
Many global hedge funds seeking to tap China's US$9 trillion
wealthy investor market
are getting left behind as their local rivals attract the lion's share of new money. Lack of a local track record, limited brand recognition and longer internal approval processes hampered global asset managers in their bid to attract Chinese investors, even as local funds added new products at the fastest pace in five years.
While the use of risk parity remains rare among Chinese hedge funds, the strategy could gradually gain popularity, with Bridgewater leading the way, according to Shanghai Zhuoluo Investment, one of the few local hedge funds using similar multi-asset models.
Although the risk-parity funds may not top local performance rankings, the strategy can be appealing to more sophisticated investors seeking stable long-term returns, said Chen Zhuo, who worked for Citigroup and Deutsche Bank before founding Zhuoluo in 2014.
Chen's best-performing fund yielded an annualised 16 per cent – with a 3.1 per cent maximum drawdown on a monthly basis – over the same period as Bridgewater's first product, when the firm upgraded its strategy four times. The process included adjusting algorithms to boost returns from an initial model in 2015 that produced much lower returns.
"Developing a good quantitative multi-asset strategy is like developing a coronavirus vaccine – you devote a lot of time and human talent but the reward is not guaranteed," Chen said. "It will take time for the strategy to ferment in China."