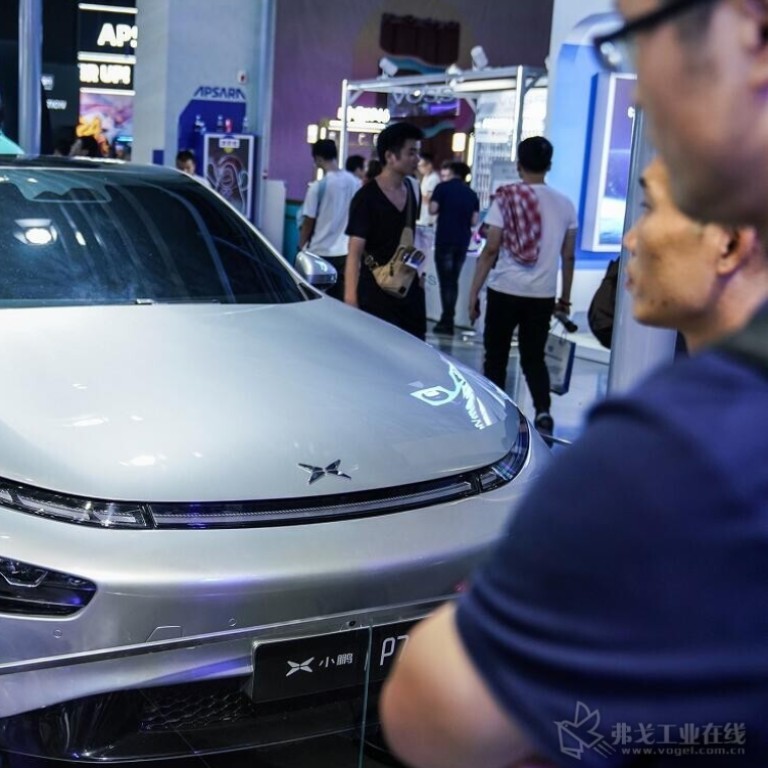 Chinese carmakers ride rising share prices, sales to challenge global bigwigs
BYD was the world's fourth-largest automobile company in terms of market value as of November 5, according to a report by China Merchants Securities
Xpeng Motors reports more than 342 per cent increase in third-quarter revenue
China's car market – the world's largest – has been boosted by soaring sales at companies such as Xpeng, and rising stock prices.
A host of Chinese electric car manufacturers are, in fact, threatening to upend the global pecking order, as surging share prices have pushed them up alongside established peers in terms of market capitalisation.
BYD, China's largest electric carmaker, trailed only Tesla, Toyota and Audi as of November 5, and was the world's fourth-largest automobile company by market value, according to China Merchants Securities. Its mainland Chinese shares have surged by more than 330 per cent this year, and the Shenzhen-based carmaker is valued at US$73.4 billion.
The jump in share prices comes as Beijing pushes for more green vehicles. It wants one in every five new cars on its streets to be either purely electric, petrol-electric hybrid or fuel cell powered by 2025, according to a development plan for new energy vehicles (NEVs) for 2021 to 2035.
"The Chinese government's strong support for the growth of NEVs does bode well for the carmakers," said Gao Shen, an independent analyst of the manufacturing sector in Shanghai. China, the world's second-largest economy, is granting cash subsidies to buyers, giving out car plate licences for free and spending big on charging networks to promote use of environmentally-friendly cars.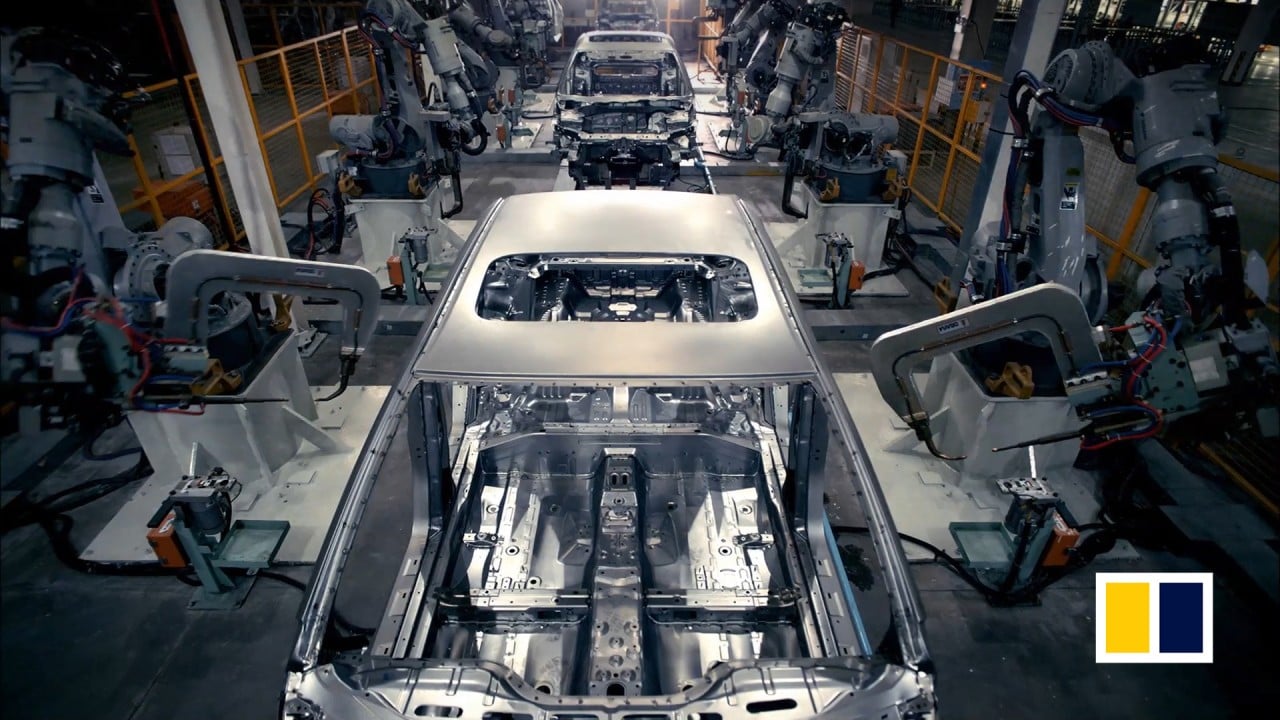 01:47
Behind the scenes at BYD Auto: China's biggest electric vehicle factory
Behind the scenes at BYD Auto: China's biggest electric vehicle factory
"The production and sales volumes of Chinese companies might jump by several times in the coming years – and that is the reason why they attract investors," Gao added.
Xpeng Motors
, one of four Chinese carmakers among the world's top 20 by market value, said on Thursday that its third-quarter revenue had jumped by 342.5 per cent to 1.99 billion yuan (US$300.4 million), thanks to strong sales of its P7 model. The company delivered 8,578 units in the quarter ending on September 30.
The upwards momentum was expected to continue in the fourth quarter, with sales expected to hit 10,000 units,
Brian Gu, Xpeng's president
, said. "We will increase our research and development investment to maintain our competitive edge and make our cars smarter with enhanced autonomous driving technologies," he added. "We are optimistic about the overall Chinese electric car market, which has reported a strong rebound in the third quarter."
The company also said its net loss had widened to 1.15 billion yuan from 776 million yuan a year ago due to increasing expenditure on sales and the construction of Xpeng-branded super charging stations. But its gross margin stood at 4.6 per cent for the third quarter, compared with minus 10.1 per cent for the same period in 2019, amid efforts to control costs in manufacturing, logistics and labour.
Xpeng's stock has jumped by more than 124 per cent since it started trading on the New York Stock Exchange (NYSE) in late August. It was the 20th largest carmaker worldwide with market cap of US$19.7 billion on November 5, according to the report published by China Merchants on November 6.
Nio, another NYSE-listed Chinese electric carmaker, joins BYD among the world's top 10 carmakers by market value. The company, which is viewed as
a bellwether of the Chinese electric-vehicle industry
and is valued at US$50.9 billion, is ranked sixth globally. Its shares have skyrocketed more than ninefold this year.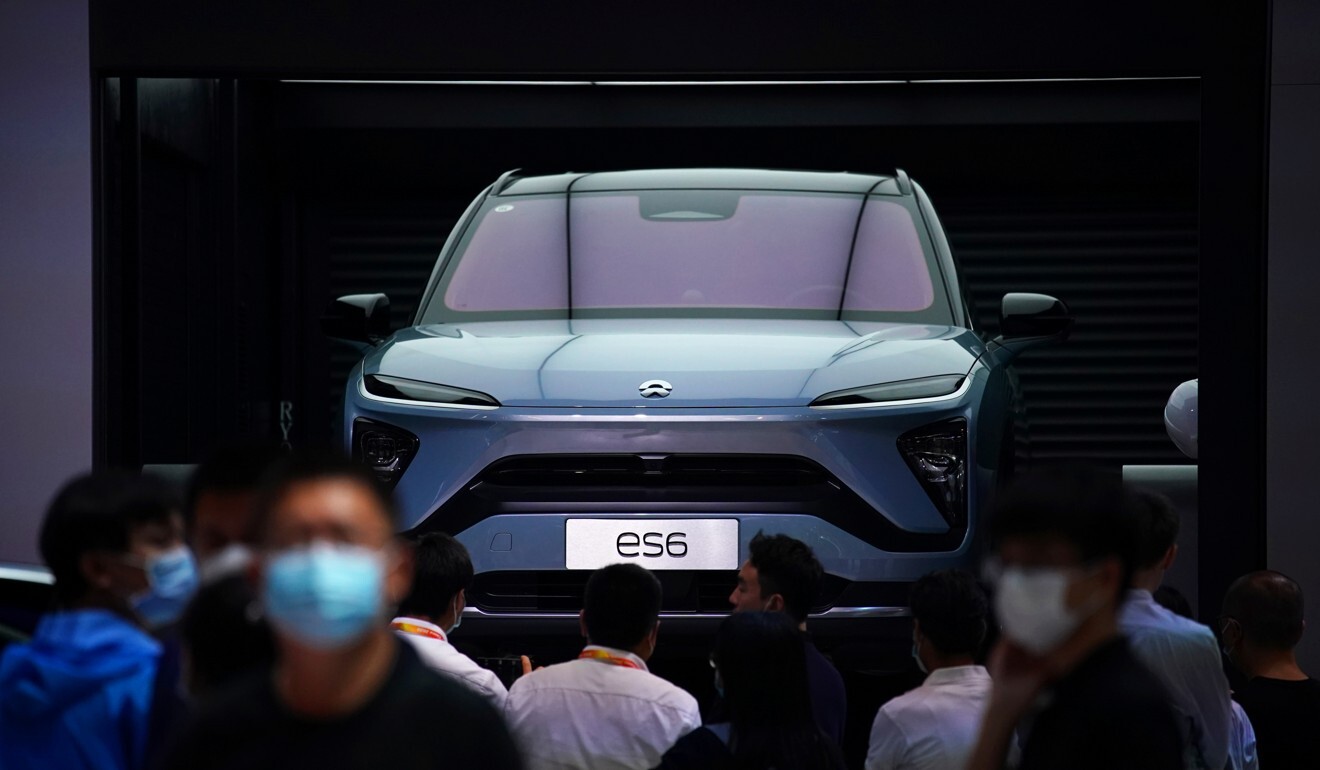 Li Auto is the fourth Chinese carmaker to make the top 20 globally, and comes in at No. 19. Its Nasdaq-listed shares have risen by about 117 per cent since its listing in July, and the company is valued at US$21.2 billion.
China's NEV sales grew 5.1 per cent to 1.06 million units last year, accounting for less than 5 per cent of the total number of new passenger cars, according to data compiled by industry guild, the China Passenger Car Association (CPCA). But these sales could rise to 5 million new NEVs in 2025, pushed by Beijing's ambitious targets, some analysts said.
None of Nio, Li Auto and Xpeng are, however, profitable, and they face stiff competition from Tesla, the world's most valuable carmaker.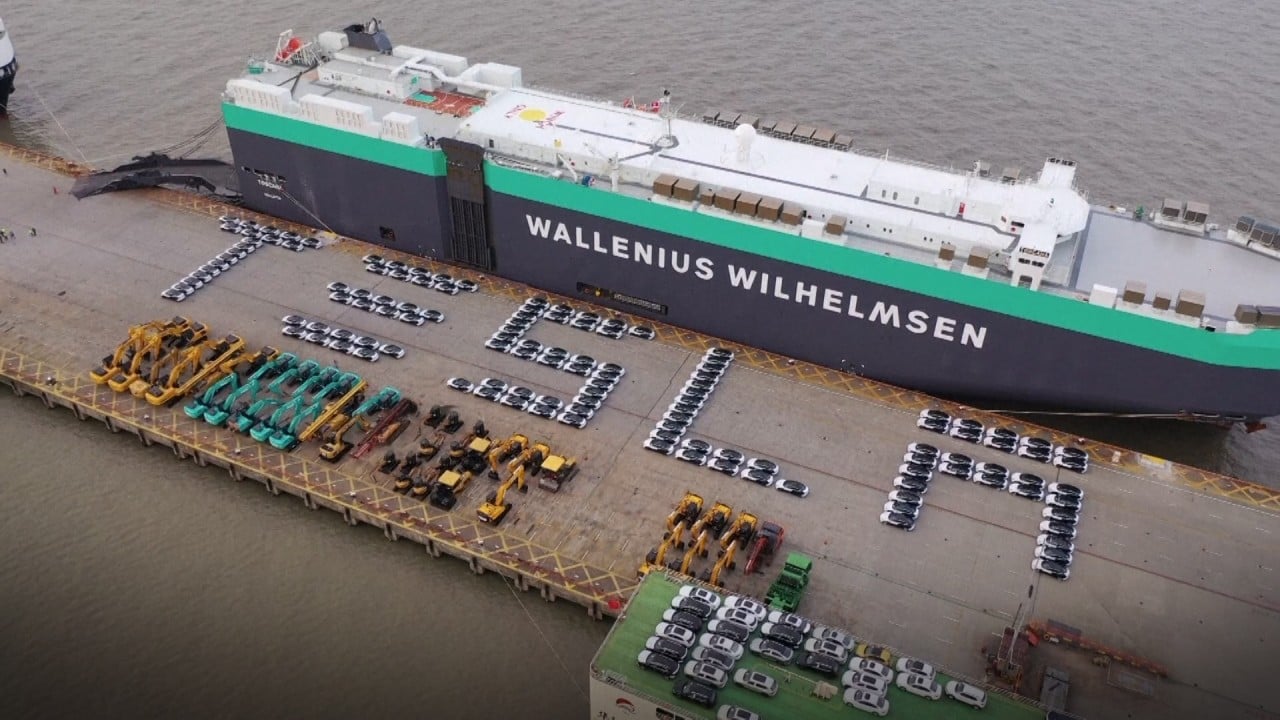 01:16
Tesla exports first China-made cars to Europe with shipment of 7,000 Model 3 electric sedans
Tesla exports first China-made cars to Europe with shipment of 7,000 Model 3 electric sedans
The California-based marque
leads China's premium electric vehicle segment, buoyed by locally built Model 3 sedans. Tesla delivered 79,908 made-in-Shanghai Model 3s in the first nine months of this year, beating its Chinese rivals by a large number amid a slump in the overall market due to the Covid-19 pandemic.
In September, Nio delivered 3,226 of its ES6 sport-utility vehicles, a year-on-year increase of 87 per cent. But it was still behind Tesla by quite a distance, as the US company sold 11,329 Model 3s the same month.
Rupert Hoogewerf, the chairman and chief researcher at Hurun Report, which compiles the Hurun China Rich List, said the rallies in Chinese electric carmakers had resulted from a belief that they would evolve into China's answer to Tesla in the future.
"The sector is interesting to watch because they are potential game changers in the automotive industry," he said. "We don't know the answer yet to whether they can become powerful players in the fast-changing automotive industry."
This article appeared in the South China Morning Post print edition as: Chinese carmakers ride boom in challenge to global giants