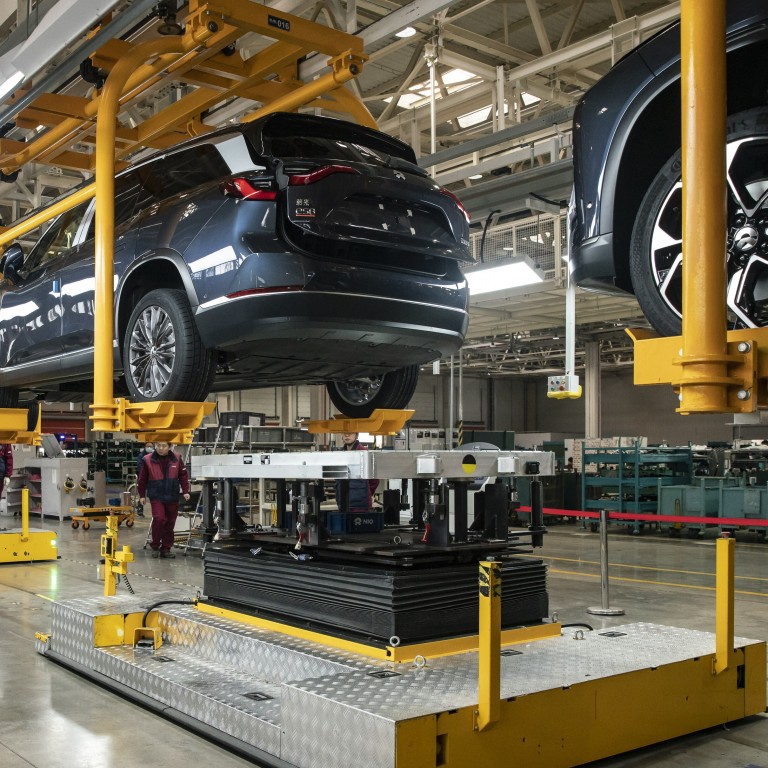 Busy year ahead for Chinese Tesla challengers Nio, Xpeng, as industry body forecasts 40 per cent rise in deliveries
The China Association of Automobile Manufacturers sees sales of NEVs topping 1.8 million units next year, up from around 1.3 million in 2020
Sales will be bolstered by government support for the industry, economic growth and strong promotional campaigns by carmakers, analysts predict
The China Association of Automobile Manufacturers (CAAM) sees sales topping 1.8 million units next year, compared to an estimated 1.29 million units for the whole of 2020, bolstered by Chinese drivers' mounting interest in green cars.
The forecast includes purely electric, petrol-electric hybrid and fuel-cell powered vehicles.
"China's automotive industry will [enjoy] tremendous opportunities as the national economy continues to expand at an orderly pace, local governments remain adamant in encouraging use of NEVs by launching more incentives, and car companies maintain their promotional campaigns to lure customers," Xu Haidong, vice-chief engineer at CAAM, told an automotive industry forum in Beijing at the weekend, according to the association's website.
Tesla
is now the runaway leader in the premium segment of mainland
China's electric car market
owing to strong sales of its locally-built Model 3 sedans that began deliveries at the beginning of this year.
But the American giant has three mainland rivals –
Nio
, Xpeng and Li Auto – in its rear-view mirror, raising vast sums on the US stock market and developing new models that are likely to challenge its dominance.
In the first 11 months of this year China, the world's
largest electric-car market
, reported sales of 1.11 million units, up 3.9 per cent from a year earlier.
That growth came from a strong turnaround in the second half that helped to offset the sharp declines in the first three months when the Covid-19 pandemic forced factories to halt production while consumers balked at big-ticket items.
NEV buyers in China enjoy exemption from a 10 per cent consumption tax, and they can receive a cash subsidy of about 22,500 yuan (US$3,439) from Beijing for the purchase of an electric car which has a driving range of more than 400km on a single charge.
In Shanghai, the local government distributes free car licence plates to buyers of new NEVs that cost more than 90,000 yuan.
"The electrification trend has taken shape in China's automotive sector thanks to the government's support and launches of the new models that have attracted young drivers," said Chen Jinzhu, chief executive of Shanghai Mingliang Auto Service, a car maintenance company. "A 40 per cent growth in 2021 would not be a surprise to me."
Deliveries of new NEVs are likely to hit 3 million in 2025, more than twice last year's 1.2 million, according to a consensus forecast by industry officials.
Under the country's Made in China 2025 industrial strategy, Beijing unveiled its ambitions of leading the world in 10 areas of technology by the middle of the next decade. This included the NEV sector.
Deliveries of green cars are expected to account for a fifth of the market by 2025, up from less than 5 per cent last year, Nick Lai, an analyst at JPMorgan, wrote in a research note in October.
Chinese carmakers, however, will have to overcome a shortage of semiconductors before revving up production next year.
Lockdowns in Europe had disrupted the production of chips, a key component that China-based carmakers and car parts suppliers need to maintain operations, industry officials said.
Some car assemblers might have to temporarily reduce or even halt output because of a bottleneck in the delivery of semiconductor components, they said.
This article appeared in the South China Morning Post print edition as: Bumper year ahead for Tesla rivals as China car sales expected to rise 40pc