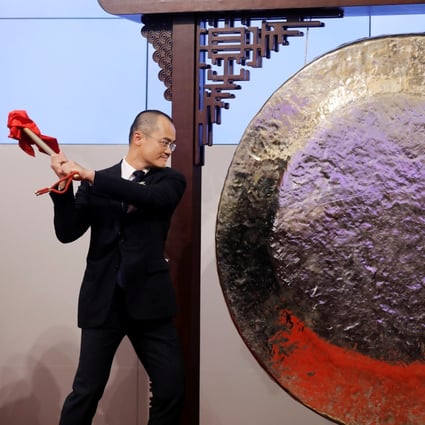 A lot more companies will be hitting the famous gong in 2021 to mark the debut of their shares on the Hong Kong stock exchange, analysts predict. Photo: Reuters
Secondary flotations of US-listed Chinese firms buoy 2021 outlook as Hong Kong lands second place in world IPO rankings
Hong Kong stock exchange will finish 2020 as the second-biggest IPO market globally after raising US$50 billion, KPMG says
Secondary listings, Chinese issuers' hunger for capital, loose monetary policy to brighten IPO outlook in 2021, bankers say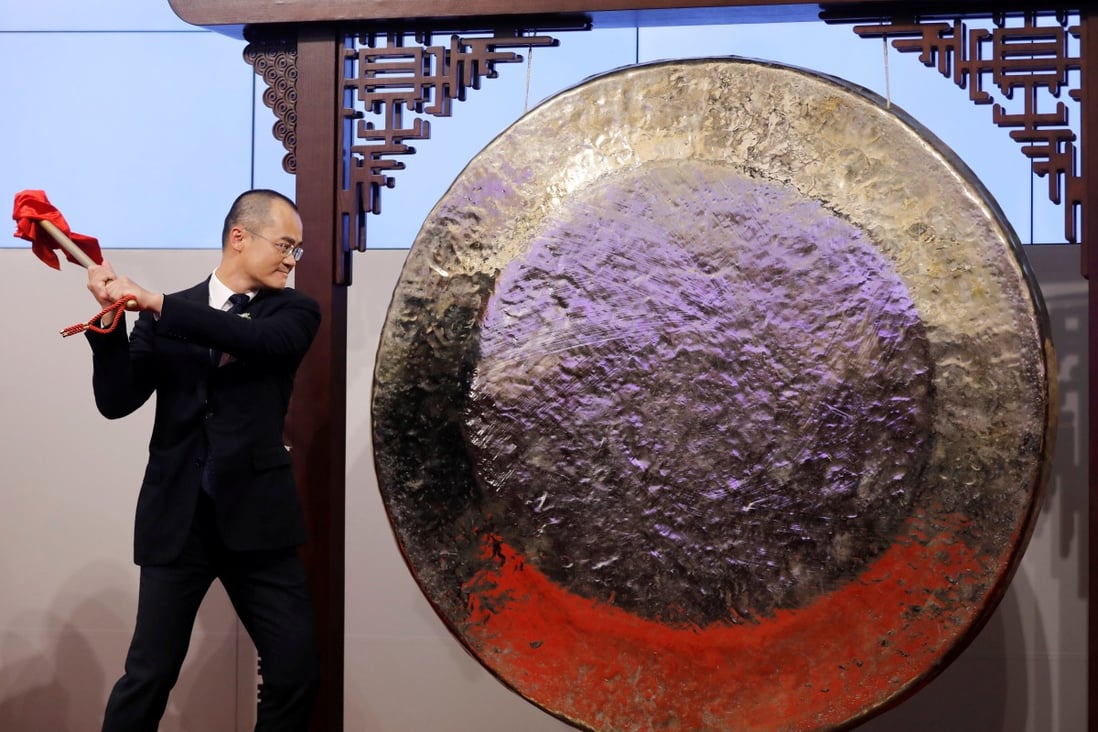 A lot more companies will be hitting the famous gong in 2021 to mark the debut of their shares on the Hong Kong stock exchange, analysts predict. Photo: Reuters
Fundraising soared 24 per cent to a 10-year high on Hong Kong's stock exchange in 2020, as a record surge of secondary listings by US-listed Chinese companies pushed the city to second place behind New York in the global ranking of destinations for initial public offerings (IPOs).
As many as 140 companies raised a combined US$50 billion in Hong Kong this year, according to data compiled by KPMG, including confirmed listings up until December 31. Nasdaq tops the rankings with 175 companies including Airbnb raising a combined US$52.3 billion, based on Refinitiv's data.
Hong Kong's IPO market had been the biggest beneficiary of the ongoing deterioration in
"The group of Chinese issuers [with] listing and fundraising demand is still there," said Levin Wang Lei, chief executive of Huatai Financial Holdings, whose parent Huatai International acted as a bookrunner for the IPOs of
A string of mega IPOs by Chinese technology companies, likely to raise at least US$1 billion each, wait in the wings. These include ByteDance, the operator of TikTok and Douyin, and its competitor
Between 130 and 150 IPOs may take place in Hong Kong next year, raising between HK$350 billion and HK$400 billion (US$51.6 billion), according to KPMG's forecast.
"Hong Kong's IPO performance in 2021 could be comparable to, if not higher than this year," said Louis Lau, a partner at KPMG China's capital markets advisory group. "Our forecast takes into consideration that there will be more US secondary listings, although most of the sizeable deals have already listed over the past two year."
Since the trailblazing US$12.9 billion secondary listing of Alibaba, which owns the Post, in November 2019, other US-listed Chinese tech giants such as e-commerce group JD.com, internet giant NetEase have followed suit.
These massive tech groups, which had previously skipped Hong Kong, have returned to raise more funds now that the city's stock exchange has introduced a slew of listing reforms such as
Accelerating this trend is a wave of US legislation targeted at limiting Chinese firms' access to US capital markets.
Earlier this month, the US House of Representative passed legislation aimed at delisting Chinese companies from American exchanges for failing to comply with auditing oversight rules for three straight years. The bill, called the
Deal arrangers expect regulators in both the US and China to reach some form of compromise, such as on cross-border enforcement cooperation and information disclosure. Still, given
These deals, though likely to be smaller than those already listed this year, could outnumber them. Year-to-date, a dozen secondary listings have sold shares worth more than a third of the total funds raised in the city, data from Refinitiv shows.
Analysts believe there are over 20 US-listed companies that could satisfy the existing secondary listing requirements of having at least HK$10 billion in market capitalisation and HK$1 billion in revenue.
Leading players in the consumer, financial services, health care and biotech sectors will also seek to launch deals next year, bankers say.
Potential IPO candidates include
Competition for the listings business between Hong Kong, Shanghai and Shenzhen stock exchanges will continue, bankers say.
The foiled US$34.5 billion dual listing this year of Ant Group in Hong Kong and Shanghai has provided key lessons for others mulling a similar move, they say.
Chinese companies already listed in Hong Kong will also seek
"The A-share market has deepened its capital market reforms, and this will assist companies from different sectors to meet their funding [targets]," said Lau.