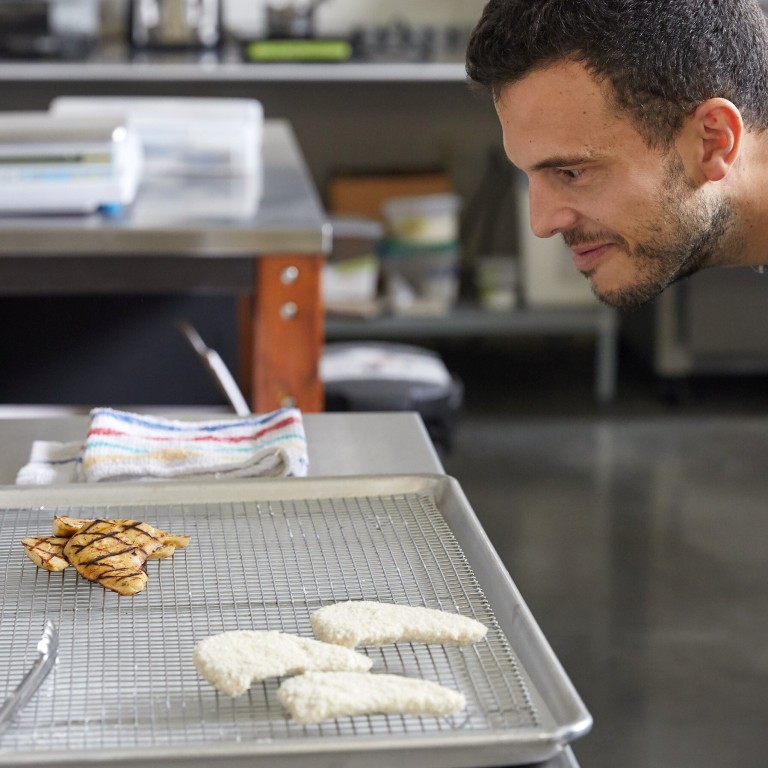 Eat Just's cell-grown chicken, backed by Li Ka-shing's Horizons Ventures, will make its global commercial debut in Singapore
Eat Just, a San Franciscan start-up that drew funding from Hong Kong's best-known tycoon, will officially launch its meat grown directly from chicken cells in Singapore on Saturday
The cultured meat was approved as an ingredient in 'chicken bites' by the Singapore Food Agency on November 26, according to the company
Eat Just, a San Franciscan start-up backed by Hong Kong
billionaire Li Ka-shing
, will make culinary history on Saturday when its lab-grown meat is served to paying customers in a Singapore restaurant.
The meat grown directly from chicken cells will be dished up for dinner at
1880
, a private members' club near the InterContinental hotel, in what will be the first commercial sale of
meat cultivated from animal cells
anywhere in the world.
The plan is then to expand into retail establishments across the city state, Josh Tetrick, co-founder and chief executive of Eat Just, said in an interview with the South China Morning Post.
"I am really proud at the moment," said Tetrick. "This is the first group of people to consume meat which did not require the killing of animals."
The cell-grown chicken will be served in four courses, including a crispy cultured chicken in a maple waffle with spices and hot sauce, crispy sesame chicken in a bun with spring onion and pickled cucumber, and a phyllo puff pastry with black bean puree, garlic and lime, according to a menu provided by Eat Just.
The first customers will be four students aged between 13 and 18. They were selected because they promised to dedicate a proportion of their lives to making the world better, said Tetrick. The restaurant they picked for the launch dinner shared the same values as the company, he added.
"This is the first commercial sale [of cell based meat]," said Tetrick. This is based on the definition that the restaurant will be paying for the product and the customers will pay for their meals, rather than receiving the meat as free samples.
Cell-based meat is genuine animal meat that can replicate the sensory and nutritional profile of conventionally produced meat. It is produced from animal cells using a combination of biotechnology, tissue engineering, molecular biology and synthetic processes.
The cultured meat was approved
as an ingredient in "chicken bites" by the Singapore Food Agency (SFA) on November 26, but was announced only on December 2, according to the company.
The approval for commercial use will bring about a cleaner, healthier and more sustainable food system in society, Tetrick said.
Founded in 2011, Eat Just started off with a mung bean-based egg substitute under the brand Just Egg that comes in bottles and looks like beaten fresh eggs. The unicorn, which counts Singapore's Temasek Holdings and
Li's private investment unit Horizons Ventures
among its investors, also makes a mayonnaise substitute, and sells its products in US stores including Walmart, Kroger and Whole Foods.
Cultivated chicken is set to become a new business line for the company. Tetrick said the company is currently utilising 1,000 litres of bio reactors, which can create kilos of chicken in a production run, and will jump to 100,000 litres in five years.
Eat Just is also working on other types of meat, including beef. The company's lab-grown beef uses cells from California pasture-raised cattle and Wagyu from the Toriyama farm in Japan.
The company aims to launch its beef products in Singapore next year, subject to regulatory approval, Tetrick said. Eventually he hopes the scale up of production will make the products cheaper than conventional chickens and beef.
The company said its cultured chicken products have undergone an extensive and thorough assessment by the regulatory authorities
in Singapore
, which included evaluation of cultured chicken safety packages by a panel of scientific experts.
"We definitely hope that Singapore is not the only one, and it will spur other countries to follow," said Tetrick. "We will take what we've learned to the United States and elsewhere."
Eat Just, valued at US$1.2 billion, is aiming to achieve operating profitability before the end of next year.
"Shortly after that, we will strongly consider going public," said Tetrick, adding that the listing venue has not been decided.