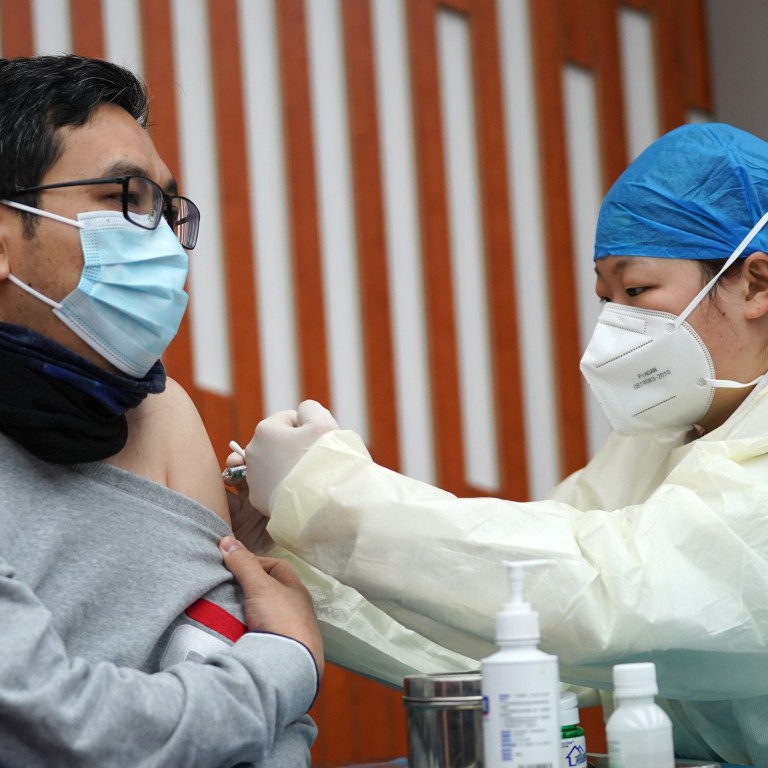 China's efforts to bolster health care system against future crises will see growth in demand for medical equipment outlive Covid-19 pandemic, says Mindray
Government procurement programmes will keep orders high for the next couple of years, says company secretary of Mindray, China's biggest producer of medical devices
To meet demand for ventilators and patient monitoring systems, the company has redeployed workers from other production lines and added 1,000 new workers
China's demand
for patient monitoring systems and ventilators will keep growing even with Covid-19 largely under control, according to a senior official of Shenzhen Mindray Bio-Medical Electronics, the country's largest producer of medical devices.
Government procurement programmes to bolster the resilience of the medical system in the world's second biggest health care market against future disease outbreaks will keep
orders for equipment
high for the next couple of years, said company secretary May Li Wenmei.
"While there have been rising
Covid-19
cases in some regions of mainland China recently, they themselves have not directly resulted in demand for our equipment," Li told the
Post
on the sidelines of a JP Morgan health care conference on Friday.
"However, since the outbreak subsided last year, both central and local governments have lifted requirements for public health contingency medical supplies, which means elevated demand for ventilators will be sustained in the next two to three years."
Expansion of hospitals will see the number of intensive care unit beds in China nearly double to 190,000 from 100,000 currently in the next few years, she said.
Demand for patient monitoring systems and ventilators is closely linked to the number of ICU beds and is part of the government's strategic medical equipment and supplies reserve build-up, Li added.
Shenzhen-based Mindray derived 50.5 per cent of its sales from patient monitoring and life support devices in the first half of 2020, up from 38.3 per cent in 2019.
Laboratory diagnostic test equipment and reagents made up 28.7 per cent of first-half sales, with the rest mainly coming from medical imaging instruments such as ultrasound scanners.
Mainland China
accounted for about half of its sales last year, down from 58 per cent in 2019, Li said, as demand growth in overseas markets hit hard by the pandemic has been particularly brisk.
About a third of Mindray's revenues came from other developing markets and 15 per cent from developed nations.
"Our ventilators' output surged from 800 a month in March last year to around 5,000 in just over three months, and it still was not able to cope with demand," she said. Orders received, including from European nations adding ICU beds, will see the company working at full capacity through to March.
Legislators at the EU Parliament struck a deal in December to triple funding for the so-called EU4Health programme to €5.1 billion for 2021-2027 to enhance the resilience of member nations' health care systems.
However, the pandemic has hit demand for products unrelated to Covid-19. Though demand has recovered in China, the story is very different in overseas markets where hospital visits for non-coronavirus complaints and procedures have been substantially curtailed.
Mindray's overall sales growth has been sustained. Of it 25 product lines, five are directly related to fighting the pandemic, including patient monitoring systems, ventilators, infusion pumps, portable ultrasound scanners, diagnostic test equipment and reagents.
While Beijing's bulk procurement tendering policy for hospital supplies has seen drug prices cut by more than half in the past two years – something recently extended to some medical devices – Mindray's focus on high-end, non-standardised devices means it is unlikely to be affected in the next three years, said a Huaan Securities report in December.
To meet demand for ventilators and monitoring systems, the company has redeployed workers from production lines for other products and added 1,000 new workers, equivalent to a third of its manufacturing staff.
"Except for reagents, our products are highly customised and orders come in small batches with multiple variations, [so] it is not feasible for us to lift capacity by outsourcing," Li said.
This article appeared in the South China Morning Post print edition as: Strong Demand for Medical devices