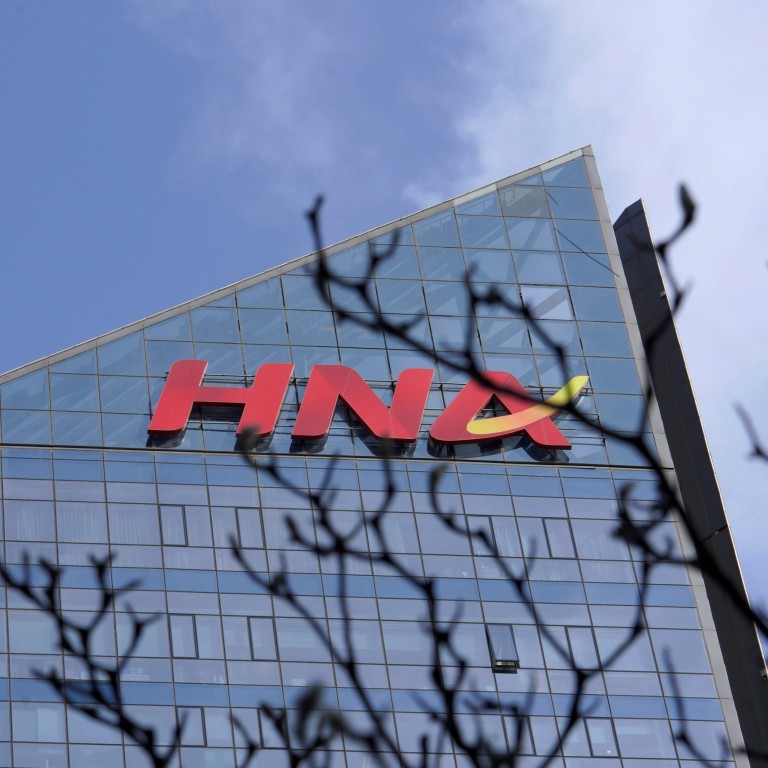 HNA Group enters bankruptcy restructuring as China's largest asset buyer succumbs to debt after decade-long shopping spree
HNA Group had at least 1 trillion yuan (US$154.8 billion) of assets as recently as 2017, with at least 500 billion yuan of debt
HNA Group would cooperate with the court's review, push forward with the debt restructuring work and support the court to protect the legitimate rights and interests of creditors, the company said
HNA Group, one of China's largest global asset buyers spawned from the country's largest privately owned airline, has entered bankruptcy restructuring, after a
government-led exercise to work out its debt
failed to come up with money to repay bondholders and creditors.
The company, based in the Hainan provincial capital of Haikou, was served with a petition on January 29 in the provincial High Court seeking its bankruptcy and for it to undergo restructuring, HNA Group said in a statement on its WeChat account.
The company will cooperate with the court's review, push forward with the debt restructuring work and support the court to protect the legitimate rights and interests of creditors, HNA Group said. Company executives could not be reached to elaborate.
HNA Group was established on the foundations of Hainan Airlines in 1993 by Chen Feng, who worked for the civil aviation authority before going into business. With a handful of aircraft, Hainan Airlines quickly built a business flying holiday makers and Russian tourists from China's frigid north to the country's sole tropical island, long regarded as "China's Hawaii" for its tropical beaches, azure waters and holiday resorts.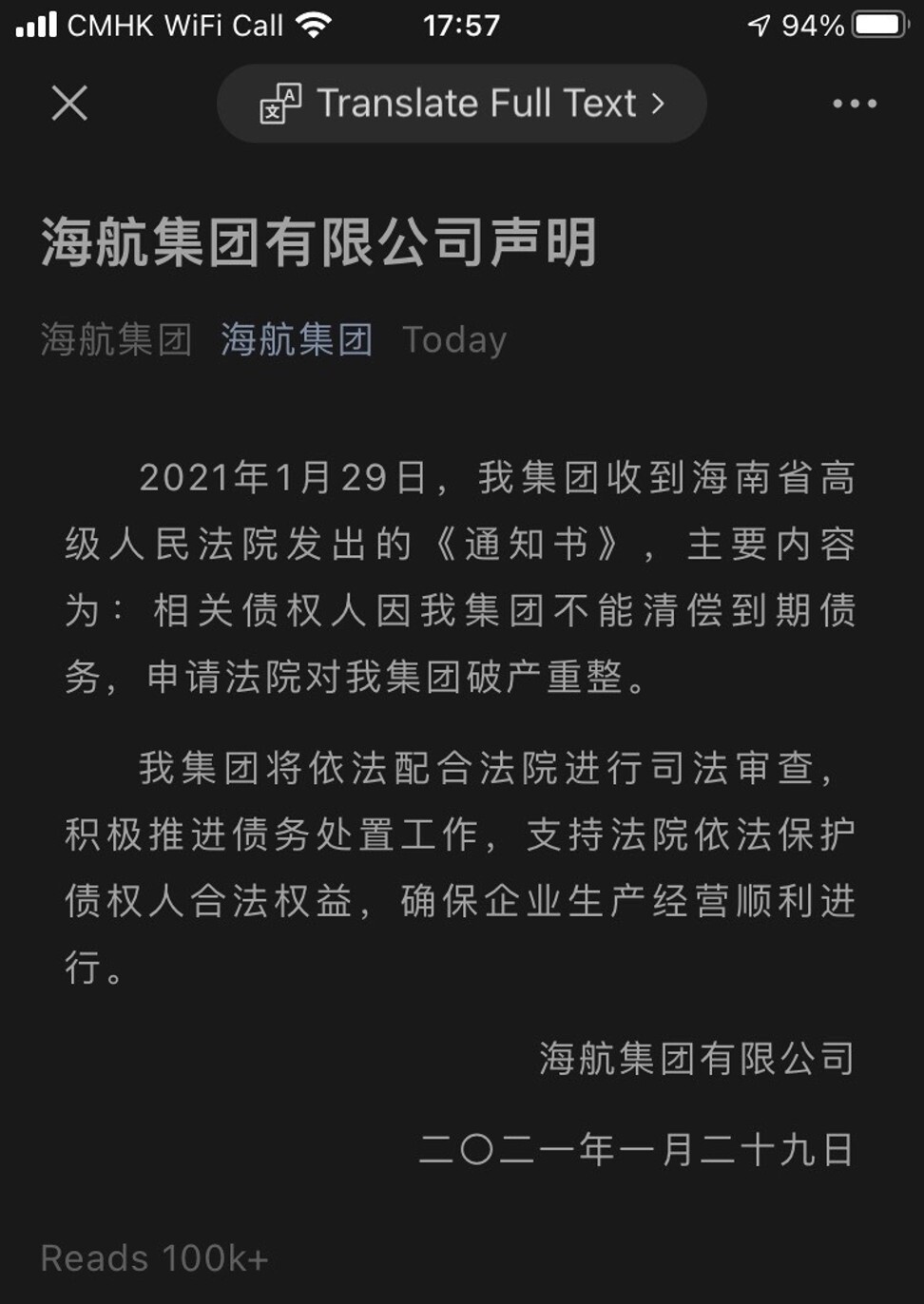 The airline, which stood out from its peers for its punctuality, in-flight service and new fleet, quickly expanded. It counted financier George Soros as its largest foreign shareholder, and ventured into logistics, tourism and real estate. By 2017, the group had ballooned into a global conglomerate with 290,000 employees.
Fuelled by bank loans and armed with money earned from its aviation business, HNA Group went shopping, raking up stakes in Hilton Hotels and Resorts, Deutsche Bank and Ingram Micro, among dozens of other brand name assets.
The acquisition spree
came to an end in 2017
when China's financial regulators, fearful of risks to the banking industry, cracked down on the debt-fed binge, putting HNA Group, Anbang Group, Dalian Wanda Group and Fosun Group under scrutiny. Anbang, an insurer turned asset buyer – it made a failed US$13 billion bid to take over Starwood Hotels – has since been put under state ward and its former chairman
thrown into jail on fraud and embezzlement
charges.
In February 2020, a working group comprising government officials representing the aviation regulator and Hainan provincial authorities was formed to restructure HNA Group's finances.
HNA Group had at least 1 trillion yuan (US$154.8 billion) of assets as recently as 2017, driven by Chen's ambition for his conglomerate to make it among the Fortune 100 list of the world's largest companies by assets.
Chen has been barred from luxury spending since September last year under a court order, after a subsidiary of HNA Group failed to pay an investor in a lawsuit. Chen
was left out from a Communist Party committee
that runs HNA Group this week, in a sign that he had lost control of his conglomerate after three decades at the top.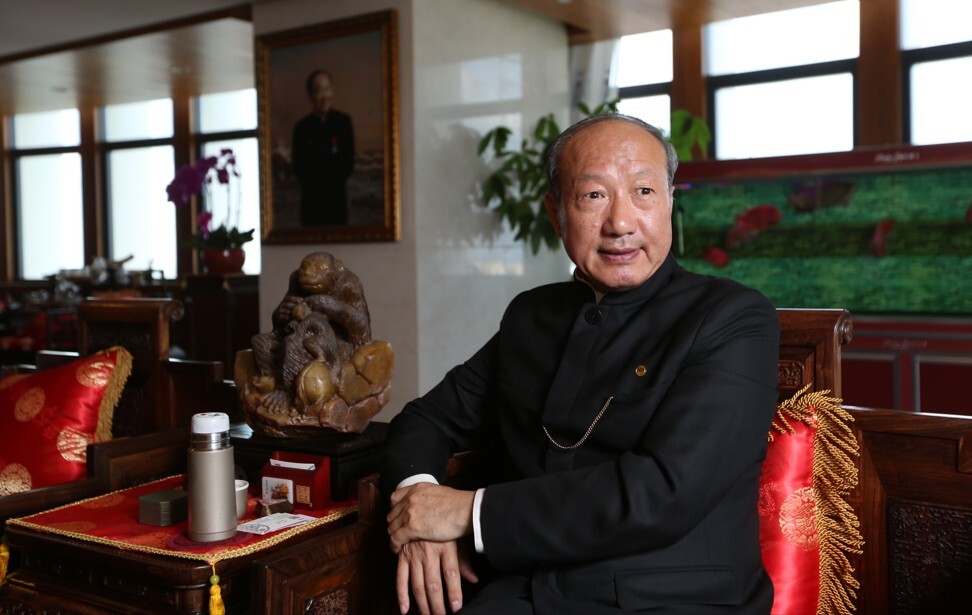 HNA Group made headlines in Hong Kong in 2016 when it snapped up four plots of oceanfront commercial and residential land at the former Kai Tak airport for HK$27.22 billion (US$3.5 billion), all at a substantial premium to market valuations, outbidding the city's largest developers.
It was HNA Group's shopping in Hong Kong that began its undoing. Hong Kong's developers, some of whom had been
represented in China's top political advisory body
going back decades, complained to Chinese authorities about the "market disruptions," sources familiar said. Less than two years after buying them, HNA Group had resold the last of its Kai Tak plots to Hong Kong developers.
Besides land, HNA Group also owns Hong Kong Airlines, one of four carriers that used to be based in the city. HNA Group's stake in Hong Kong Airlines is up for grabs, as Air China and other parties are in talks to seize control of the carrier, people familiar with the matter said last year. Shares of Hong Kong jewellery maker Hifood, 75 per cent owned by HNA Group, are up for sale.
This article appeared in the South China Morning Post print edition as: HNA Group bankrupt as debt woes mount