Tesla
Get more with myNEWS
A personalised news feed of stories that matter to you
Learn more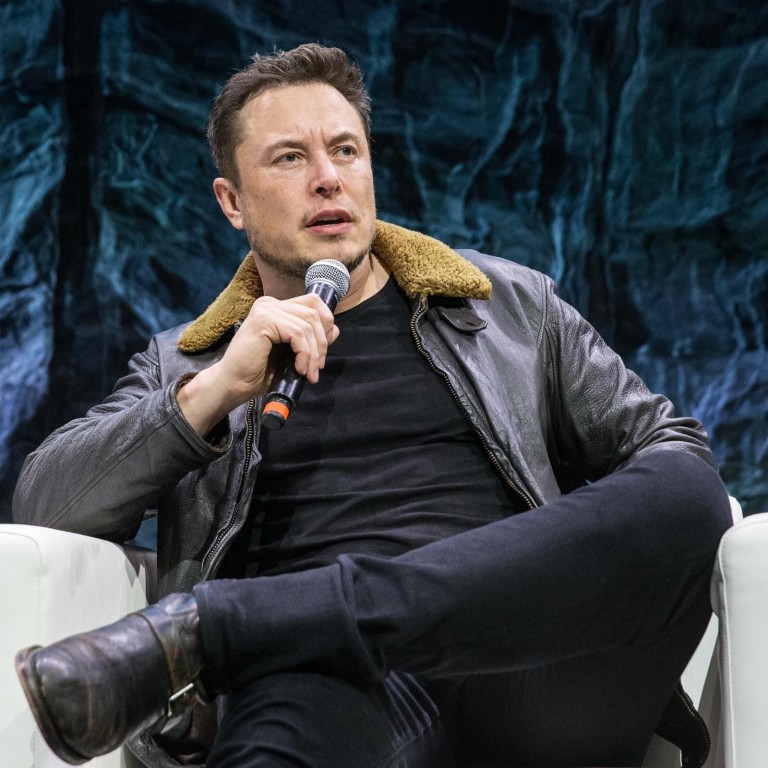 In bet on bitcoin, Tesla invests US$1.5 billion in cryptocurrency, signals intent to begin accepting it as form of payment
Carmaker says in a filing that it made the bet on bitcoin after updating its investment policy last month to allow it to buy digital assets
Bitcoin rises by as much as 16 per cent to an all-time high of US$44,795 before trading at around US$43,183 in New York
The world's leading electric carmaker is getting behind the world's largest electronic currency.
Tesla
invested US$1.5 billion in bitcoin and signalled its intent to begin accepting the cryptocurrency as a form of payment, sending prices to a record after the vote of confidence from the electric vehicle (EV) leader and recent stock-market darling.
Chief executive Elon Musk's Palo Alto, California-based manufacturer said in a filing on Monday that it made the bet on
bitcoin
after updating its investment policy last month to allow it to buy digital assets.
"We expect to begin accepting
bitcoin
as a form of payment for our products in the near future, subject to applicable laws and initially on a limited basis," Tesla said in the securities filing.
Tesla's embrace of bitcoin lends increased legitimacy to electronic currencies, which have become more of a mainstream asset in recent years despite some scepticism. It also fits the maverick image of Musk, who upended the automotive industry with battery-powered vehicles and disrupted the equities market with the stock's ascension to the blue-chip S&P 500 Index last year.
Tesla took a flier on the digital coin after it tripled in 2020. The cryptocurrency rose as much as 16 per cent to an all-time high of US$44,795 before trading at around US$43,183 as of 1.30pm in New York.
Musk has often tweeted about cryptocurrency-related topics and this month called bitcoin "a good thing" in an interview. Dogecoin, the once tongue-in-cheek digital currency, hit a record on Monday after Musk, rapper Snoop Dogg and Kiss bassist Gene Simmons all tweeted about it.
Musk has flirted with bitcoin for years and in December posted on Twitter a suggestive image indicating he is tempted by the token. He also inquired about converting "large transactions" of Tesla's balance sheet into bitcoin in a Twitter exchange with Michael Saylor, the CEO of MicroStrategy and a prominent booster of the digital currency.
In a series of tweets, Saylor encouraged the billionaire to shift dollars from the EV company to the cryptocurrency and "do your shareholders a US$100 billion favour".
Tesla now trails only MicroStrategy as the largest corporate owner of bitcoin; it issued US$650 million in convertible bonds last year explicitly to use the cash to buy the cryptocurrency.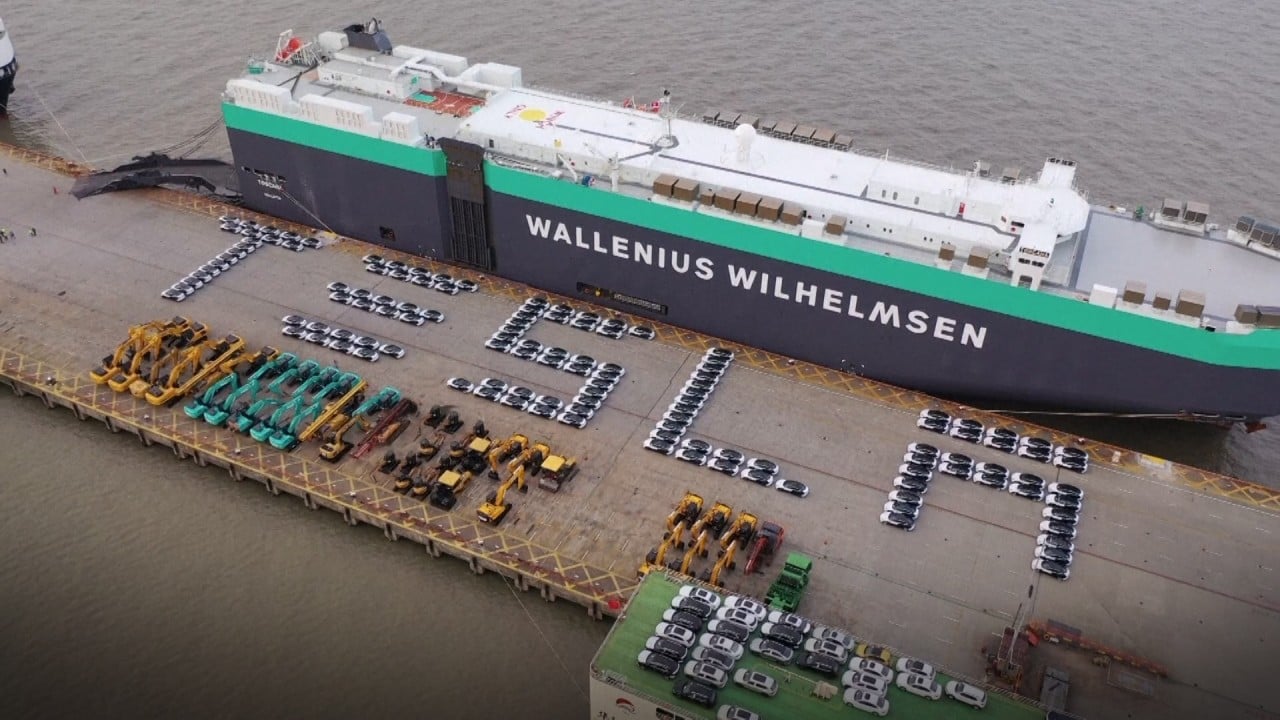 01:16
Tesla exports first China-made cars to Europe with shipment of 7,000 Model 3 electric sedans
Tesla exports first China-made cars to Europe with shipment of 7,000 Model 3 electric sedans
Saylor has proselytised about bitcoin, recently holding a webinar on how corporate treasurers should move some cash into the digital coin.
Investors in Tesla now are taking an additional wager on bitcoin. It accounts for just a fraction of the company's cash hoard but represents a commitment to a volatile asset class that few other businesses of Tesla's size have made. The carmaker said its revised policies also permit it to invest in gold bullion and gold exchange-traded funds.
"Tesla is hardly considered a traditional company, but when one of the largest companies in the world starts to hold bitcoin on its balance sheet as a substitute for cash, the market takes notice," Paul Hickey of Bespoke Investment Group wrote in a note to clients.
Tesla shares pared a gain of as much as 3 per cent to trade up 1.4 per cent to US$863.82 as of early afternoon in New York.
The company ended 2020 with more than US$19 billion in cash on hand after having raised US$12 billion in stock sales, taking advantage of an almost 750 per cent surge in its share price. Part of the demand for those shares came from passive investors forced to buy after Tesla was added to the S&P 500 on December 21. Some US$11 trillion is indexed to the benchmark for American equities.
"Elon Musk has been a fan of bitcoin and has been tweeting about it, but from a purely business perspective, there aren't a lot of benefits from this decision," said Michael O'Rourke, chief market strategist at JonesTrading. "The question investors will have is whether US$1.5 billion is material for Tesla. Tesla had a few share offerings last year and raised some cash, but I'd still think US$1.5 billion is material, just because the assets are very volatile."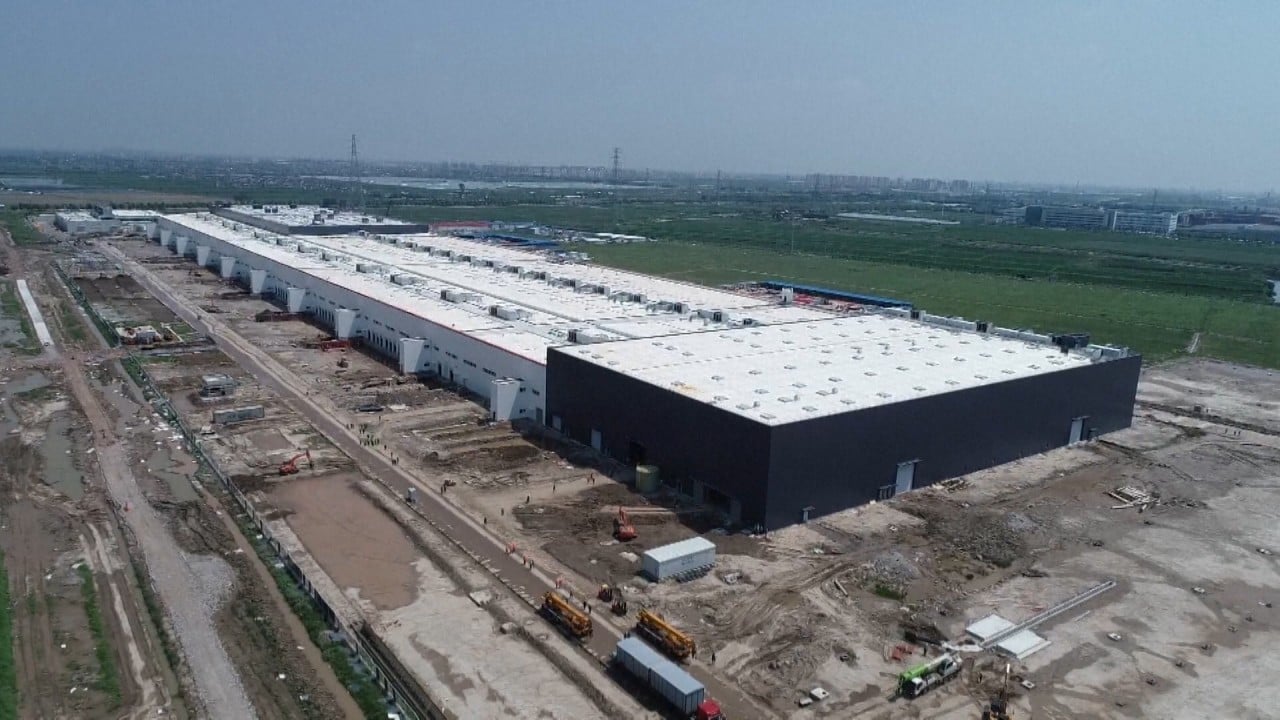 01:14
Tesla's first overseas car plant nears completion in Shanghai, outdoing US-China trade war tariffs
Tesla's first overseas car plant nears completion in Shanghai, outdoing US-China trade war tariffs
One of Tesla's earliest moves to shake up the status quo in the auto industry was to sell direct to consumers. That decision to cut out dealers makes it easier to accept a digital currency since all of the company's retail transactions are over the internet.
Despite Tesla's plans to accept payment by bitcoin, hardly anyone who owns the digital coins uses them for anything beyond speculation. Data from New York-based blockchain researcher Chainalysis showed that only 1.3 per cent of economic transactions came from merchants in the first four months of 2019. The industry is full of folklore such as early adaptors buying pizza with bitcoin that is now worth millions of dollars.
Musk's move also will probably drive up interest in bitcoin mining, the energy-intensive process of creating more of the digital currency. Miners use banks of powerful computers running specialised software. It's a complicated and time-consuming process that can suck up vast amounts of electricity. Power consumption related to bitcoin has increased more than eightfold since 2017, by some estimates.
The amount of emissions bitcoin mining generates depends on the power where the coins are produced. Coins mined in the US Pacific Northwest – where hydropower is cheap and abundant – are apt to be less damaging to the environment than those mined in coal-heavy regions of China or India.