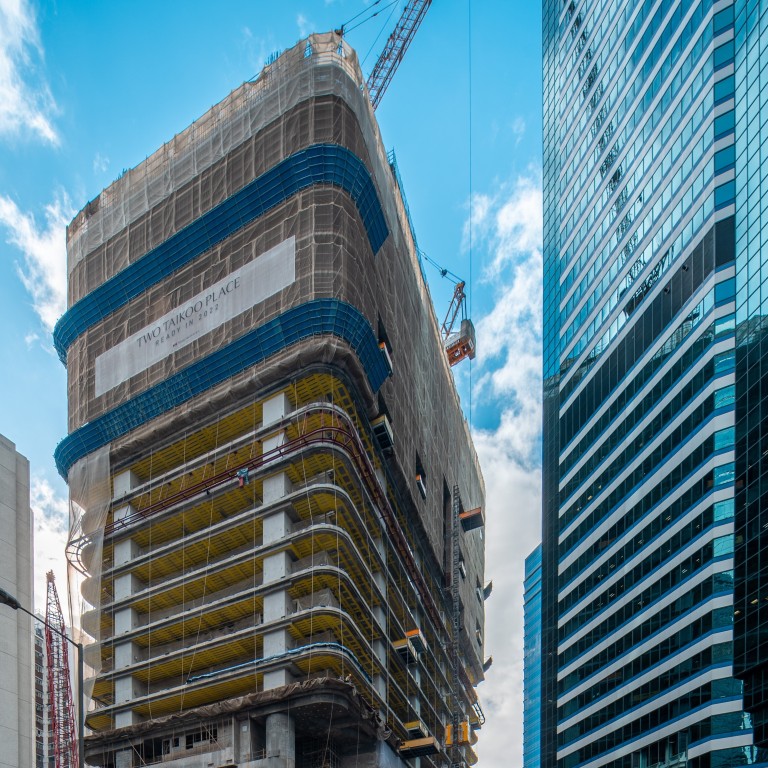 Swiss bank Julius Baer leases office space in Swire's Two Taikoo Place, Quarry Bay, in biggest 'decentralisation deal' since 2018
The bank, currently based in Central, has leased four floors in the 41-storey skyscraper, in what Colliers described as the largest 'decentralisation deal' in Hong Kong since late 2018
Many companies have left Central, the world's most expensive place to run an office, to take up space in non-core districts such as Causeway Bay, Quarry Bay and Tsim Sha Tsui
Swiss private bank Julius Baer will move into Swire Properties' new 41-floor skyscraper, Two Taikoo Place in Quarry Bay, in what Colliers described as the largest "decentralisation deal" in more than two years in Hong Kong.
The bank, currently
based in Central
, said it has leased four floors of the office building, which is scheduled for completion in the second quarter of 2022.
Swire said it has successfully secured its first anchor tenant, which is from the finance sector and will take up four floors covering 100,000 square feet of the new building, but did not provide further information. The company would not say whether it was referring to Julius Baer.
"We are increasingly attracting a greater proportion of both professional services and those from the banking sector. For most of them, obviously [moving from Central] represents cost saving, but they are also increasingly looking for space where they can design offices that cater to a new workplace strategy," said Don Taylor, director of office, Swire Properties.
Julius Baer currently has three floors in the International Finance Centre (IFC) with a lease expiring at the end of 2023 and two floors in Exchange Square expiring in March 2023, according to Land Registry documents.
"We will continue to have our presence in Central in the foreseeable future. We continue to hire and this new premises in Quarry Bay will be our significant investment in Hong Kong," said the bank, which has its headquarters in Zurich. "This will allow us to expand our presence in the next decade [and] to design the future workplace and cater to the growing needs of our clients."
The average monthly rent in Quarry Bay was about HK$50 (US$6.44) per square foot in the first quarter, just 40 per cent that of Central, according to Colliers.
That would mean the Swiss bank could save nearly HK$5 million a month with a wholesale relocation.
"Such a move would save the Swiss bank at least half of what it used to pay," said Chris Hui, head of landlord representation at Colliers.
"This is the biggest decentralisation deal since the SFC announced its relocation to Quarry Bay in late 2018.
Decentralisation
has become a growing trend as companies have left Central, the world's most expensive place to run an office, to take up space in non-core districts such as Causeway Bay, Quarry Bay and Tsim Sha Tsui. It has been going on since late 2018, when rents hit a record high in the city.
The Securities and Futures Commission (SFC) moved out of the Cheung Kong Centre in August last year, having inked the deal in late 2018.
BNP Paribas was reported to have shed one floor in Two IFC in January this year while Australian investment bank Macquarie Group gave up a major portion of space it leases at One IFC last June.
Recently, some international companies have been
moving back to Central
, to take advantage of a dramatic decline in rents caused by the Covid-19 pandemic's blow to the economy. They include rating agency S&P which relocated from ICC to Three Exchange Square.
But market observers believe that amid the city's worst recession on record, companies are still cautious about spending big on leasing office space.
"Although there are some cases of companies moving back to Central as rents have turned soft there, the greater trend continues to be cost-saving relocations amid uncertainties ahead," said Hui.
Hong Kong's economy rebounded by 7.8 per cent in the first quarter of 2021, after a sinking to a historic low a year ago amid the coronavirus pandemic.
"Occupiers are focused on cost, workplace health, safety, and we are likely to see an increase in office relocations in the future. There is increased emphasis from landlords to offer greater occupier amenity and experience, from flexible office space, communal meeting and conferencing facilities to pop-up style F&B that adds to the user experience," said Alex Barnes, head of office leasing advisory at JLL in Hong Kong.
To meet the changing requirements, Swire plans to roll out more flexible space in Two Taikoo Place, with on-demand meeting rooms and event spaces as well as informal collaborative spaces.
"There will be winners and losers. The landlords that adapt to the changing requirements of corporate users are clearly going to benefit," Swire's Taylor said.
"In order to give their employees the confidence to come to work after Covid-19, to retain and secure talent, occupiers are picking their work locations very carefully. Many are looking at new buildings like Two Taikoo Place that can offer them a blank campus to implement new workplace solutions, for example reducing the density of work stations, and having high ceiling and natural light."