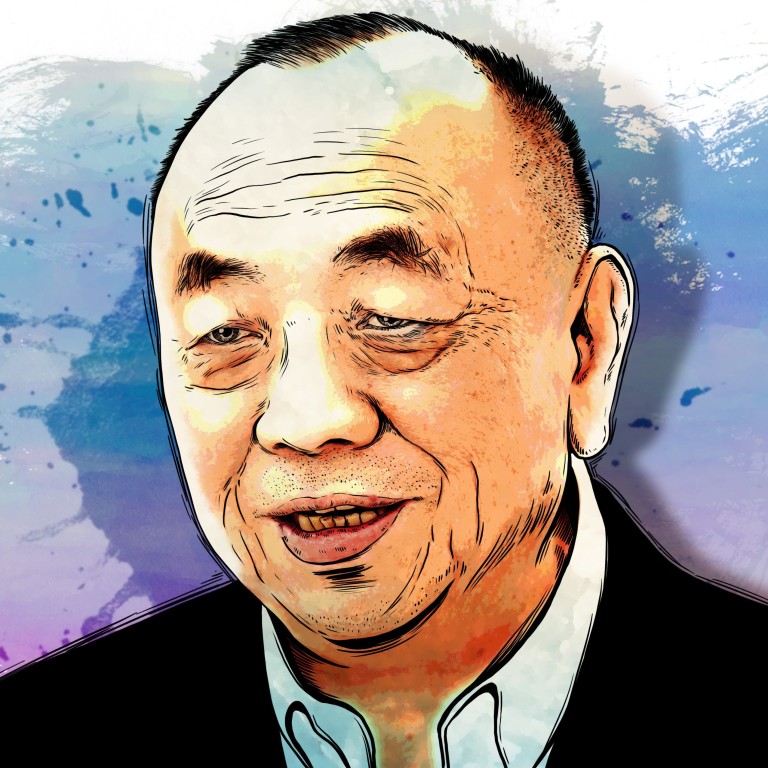 Coronavirus: Mindray's medical devices flew off the shelves amid Covid-19. Now Li Xiting says company's growth is just starting
Li Xiting, founder and chairman of Shenzhen Mindray, aims to direct the US$91 billion giant to Top 3 in the global market in the longer term
Mindray plans to build more factories especially in China and increase M&A for acquiring advanced technologies in developed countries, he told the SCMP in an exclusive interview
When the World Health Organization (WHO)
declared the coronavirus outbreak a global pandemic
in March 2020, hospital directors in the United States and Europe knew exactly where they should look to replenish their supply of medical ventilators: Shenzhen Mindray Bio-Medical Electronics.
Mindray's septuagenarian founder Li Xiting remembered receiving one phone call after another from ambassadors and diplomatic missions in China, all wanting him to supply medical devices, the very thing that represents his company's raison d'être, as the home-grown alternative to General Electric, Koninklijke Philips, Siemens and other imported brands.
The pandemic, the
world's most severe public health crises in a century,
with 171 million people infected a death toll of 3.7 million, was also a watershed moment for Mindray. The company's shares have doubled since the WHO's declaration on March 12 last year, turning the three-decade-old company into the biggest among China's 17 publicly listed medical equipment suppliers, with 587 billion yuan (US$91 billion) in capitalisation.
"The next 10 years will be the golden age for China's entire health care industry, and we will be seeking development opportunities over the next decade," Li said during an interview with South China Morning Post in Mindray's sprawling head office, where the statue of a worker with a ventilator on his shoulder stands proudly at the entrance to mark the company's role in the fight against Covid-19. "Our first goal is to become one of the Top 20 in five to 10 years, the second goal is to reach the Top 10, and then the Top Five or Top Three over the longer term. The long-term goals and their timelines depend on many factors."
China's market for medical equipment grew at a compounded rate of 20 per cent over five years to 800 billion yuan in 2020, almost 20 per cent of the global market, according to Deloitte. Bloomberg Intelligence also forecast China's medical equipment market quadruples its size in the next decade.
Mindray's growth benefited from Beijing's prod to reform the nation's health care system since 2015, as hospitals were required to switch to selling services from selling medicines for income, which stimulated the demand for medical equipment and related materials.
The Chinese government's ambitious target for 95 per cent of all medical devices in county-level hospitals to be made by home-grown brands like Mindray and its closest rivals Sinocare and Micro-Tech Nanjing by 2030 also gave the local industry a leg up.
"Mindray is the biggest beneficiary of
China's health care reforms since 2015
as its medium-to-small products meet the demand of [budget-conscious] hospitals in lower-tiered cities that need cheaper products," said Zhao Bing, who recommends investors "buy" the stock, with a price target of 573.16 yuan, at China Renaissance Securities in Shanghai. "Traditional giants like GE, Philips and Siemens haven't covered these areas."
Li, now 70, started Mindray in midlife after working for more than a decade as a researcher at the Chinese Academy of Sciences (CAS), the apex of China's scientific research since the 1949 founding of the republic.
Trained as a cryogenics physicist – including a three-year sojourn to the University of Paris-Sud - Li was born in a village of his family's name outside Dangshan county in eastern Anhui province, some 376 kilometres from the provincial capital.
His first stab at entrepreneurship was at Shenzhen Anke High-tech Company, a partially state-owned enterprise set up by CAS in the 1980s as China experimented its transition from communal ownership to private enterprise. Anke would arguably become China's very first home-grown developer of medical devices, launching the nation's first magnetic resonance imaging (MRI) scanner in 1989.
Li left Anke in 1991 with two of colleagues to start Shenzhen Mindray, at the age of 40. The two co-founders remain with Li on its board: Cheng Minghe, 60, is the company's vice-chairman , while Xu Hang, 59, is a director and member of the strategy committee.
The early days were tough for the trio. China's market for medical devices and equipment during the early 90s was dominated by GE, Siemens and Philips. Even surgical masks, medical-grade gloves and other personal protection gear (PPE) were bought from abroad.
Li had to hand carry dozens of his devices, going hospital to hospital all over China, asking acquaintances to introduce him to medical directors and purchasing heads for appointment, he said.
"People in the manufacturing industry need to be wholly dedicated to this cause and stick to it," Li said at his Shenzhen corporate headquarters, where a gate house style in Tang dynasty architecture looms over the entrance. "You can't turn to other industries such as property and the stock market when they become more profitable. Manufacturing industry is the key to a nation's competitiveness."
His hands trembled when he signed the first contract, a 360,000 yuan sale to his very first client during a trade fair. That was the seminal moment that marked the beginning of the end of foreign brands of China's medical devices market.
Mindray never looked back since then. The company's growth picked up speed after China joined the World Trade Organization (WTO) in 2001, even becoming one of the trailblazers in overseas listings, with an initial public offering (IPO) on the New York Stock Exchange (NYSE) that raised US$270 million in 2006.
Interest in the company's American Depositary Receipts (ADRs) were scant, with fewer than 800,000 receipts changing hands every day on average in the 10 years that they were listed in New York. In 2016, the three co-founders took Mindray private, and repackaged the company for a listing on the Shenzhen Stock Exchange two years later.
Mindray's market capitalisation has soared by about 10-fold since its 2018 Shenzhen listing, surpassing Philips in value even if it's still smaller than GE and Siemens. The relocation bolstered the company's coffers to fund its growth and development, in the process making Li and his co-founders fabulously wealthy.
Xu's net worth is estimated by Bloomberg at US$22.4 billion, making him the 82nd richest among China's wealthiest businesspeople, while Cheng's fortunes are estimated at US$5.3 billion.
Li, who became a Singapore citizen in around 2018, was ranked the wealthiest man in the city state last year, when Mindray's ventilators flew off the shelves due to overwhelming demand during the early days of the coronavirus outbreak. Bloomberg estimated his wealth at US$26.5 billion.
"Orders for our products increased sharply in March," Mindray
said in an email to the
Post
in April last year. "We received orders from 100-odd countries for our medical devices to fight against the epidemic."
Li still spends up to 10 hours in the office everyday and devotes his time taking calls at night, a reflection of the grit and drive that characterise entrepreneurs like
Huawei Technologies' founder Ren Zhengfei
, 76, the very first generation of entrepreneurs since China's market reforms in 1978.
A calligraphy scroll of the Southern Song dynasty general Yue Fei's Manjianghong adorns a wall of his office before a sweeping red wood writing desk and matching shelves. Li was right with Mindray's front line workers on 26 January 2020, the second day of the lunar new year, when the Hubei provincial capital of Wuhan went into lockdown to contain the coronavirus outbreak, the first of many such containment measures around the world.
"To make up for the workers who could not return to our factories during the pandemic, our colleagues who work in office – including my secretary and managers – all went down to the factory floor to help, such as putting on labels on products," he said.
The ordeal was a boost to Mindray's stock price, starting the company's upwards trajectory.
Zhao of China Renaissance is positive about the outlook of Mindray as China will continue to build and improve facilities in low-tiered rural areas, while Mindray's expansion into other product categories and its fast export growth during the pandemic will continue to boost its performance. But it still takes time for Mindray to top other competitors in the overseas market, as more advanced innovation and developed markets will be key to make the breakthrough, he said.
The company, ranked 21st in Fortune Future 50 companies based on long-term growth potential, aims to increase its overseas market share significantly to 70 per cent of its global sales, supported by plans to launch at least eight new products annually. Mindray's overseas sales accounted for a bit less than 50 per cent of its total amount in 2020, Li noted.
"Based on the population of markets outside China, they are a huge market, so we will continue to improve our sales network," Li said.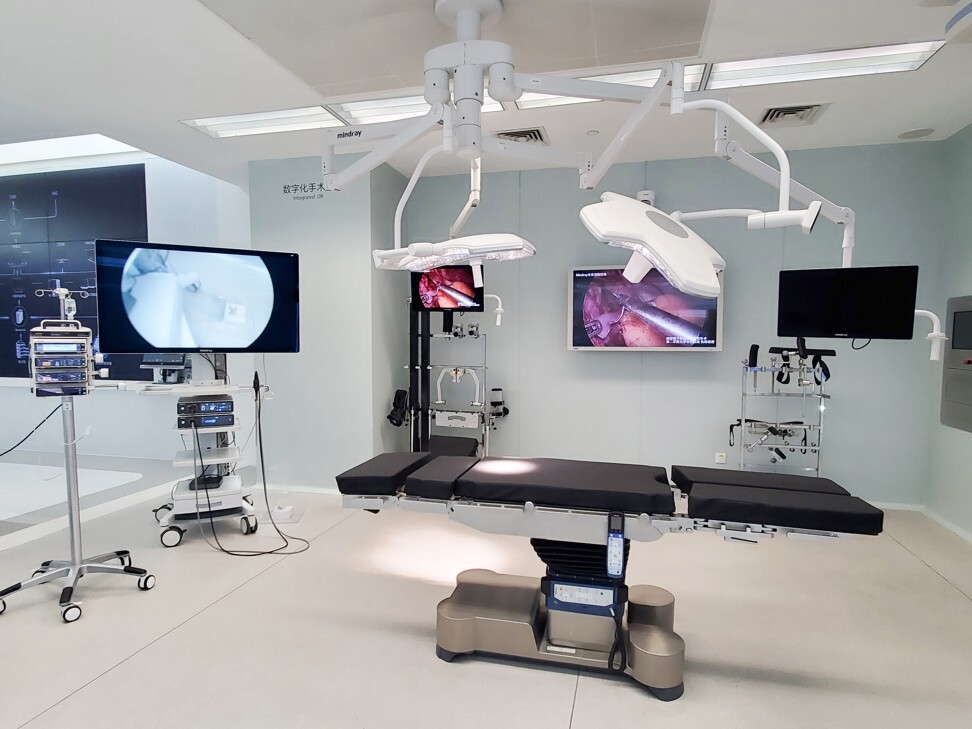 Mindray will build more factories to expand its capacity, Li said, with more of them in China and those in Wuhan and Shenzhen to further increase production volumes. It also aims to buy more advanced technologies in developed nations, he said, without revealing details beyond the acquisition of HyTest announced on May 16.
Mindray will also increase its budget for research and development innovation and its attraction to talents for continued technological advancement, Li said. It plans to integrate more information technology and artificial intelligence into its future product development to enhance efficiency.
"We need to constantly innovate to make products that are of the best quality while at an economical price," he said. "Only when people can afford these products and you can form a big enough capacity, then you will have a stable growth every year. A relatively big challenge for us is to nurture people, that is whether we can find the top-tiered talents to join Mindray."