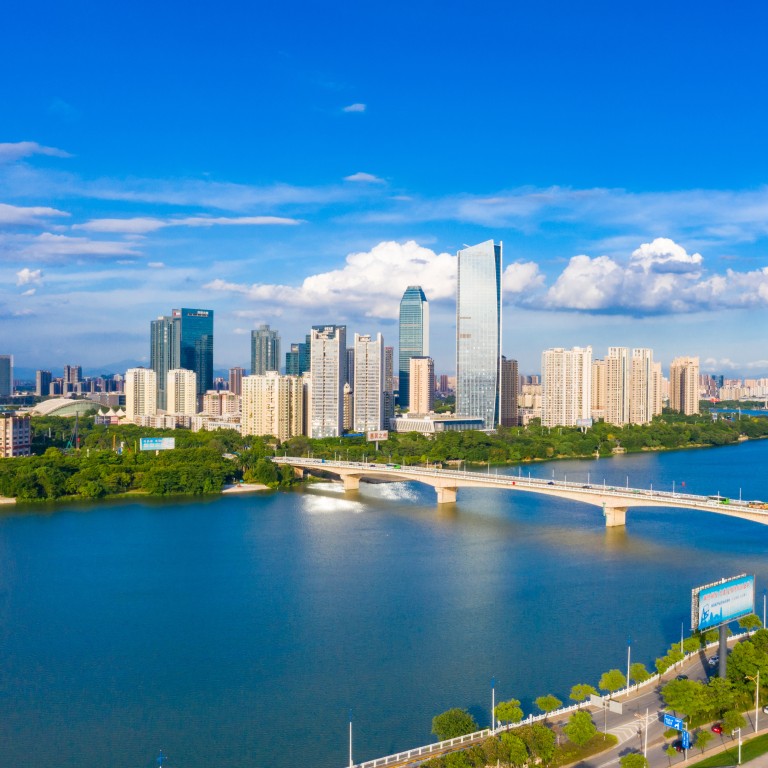 Chinese autonomous driving firm Desay allows Greater Bay Area city Huizhou to steer EV sector
Desay has been working with BlackBerry and Nvidia to deliver internal computing hubs that can power autonomous driving
The Shenzhen-listed firm is behind Xpeng's P7 and is also helping Li Auto develop a Level 4 autonomous driving system
Desay SV Automotive, a
Huizhou-based
electronics components maker, is developing new technologies that could help Chinese electric vehicle (EV) makers put passengers into driverless cars.
The technology developer behind the P7, Guangzhou-based EV maker
Xpeng's all-electric mid-sized sedan
, Desay has been working with Canada-based security software provider BlackBerry and US-based chip maker Nvidia to deliver internal computing hubs that can power autonomous driving.
Beijing wants one in every five new cars hitting China's roads to be either purely electric, hybrid or fuel-cell powered by 2025, which could amount to 4 million such vehicles. And Desay, which is the country's leading supplier of automotive electronics,
is helping Huizhou
– the second-largest among the nine mainland Chinese cities covered by Beijing's
Greater Bay Area
development zone – run with the big boys as China's EV sector gathers pace.
Shenzhen-listed Desay occupies a 100,000 square metre industrial estate in Huizhou's hi-tech industrial development zone with Desay Battery, a sister company that mainly produces lithium-ion batteries and supplies to Apple.
Moreover, Huizhou borders
Shenzhen's
Pingshan district, which is home to BYD, the EV and rechargeable batteries giant. This concentration of big Chinese technology companies has boosted the role
Greater Bay Area
is playing in consolidating China's lead in EVs globally.
"China is likely to stay as the largest automotive market, as well as the largest EV market, for years to come," said Grant Courville, vice-president of products and strategy at BlackBerry QNX, an operating system widely used in cars. China was one of the most important markets for BlackBerry's automotive business, he added.
Desay did not respond to emailed enquiries made by the Post.
Last September, Desay said it was building a domain control unit – the centralised architecture that controls several functions such as help with parking, blind-spot detection and advanced driver assistance systems – for
Li Auto
. Desay is helping the Nasdaq-listed Chinese EV maker develop a Level 4 autonomous driving system. Cars at this level possess a high degree of self-driving capabilities and can function without human interaction in most circumstances. The technology, which will be based on Nvidia's Orin chipset, is expected to go into mass production next year.
Analysts said they expected Desay's intelligent driving technology business, including domain controllers, to drive growth in the near term.
"With big technology groups such as Baidu,
Huawei Technologies
and Xiaomi expanding into electric intelligent vehicles, the growth potential of Desay, which is a core supplier of automotive electronics, looks more certain during the sector's early stage of development," Lei Xiaoyi, an analyst at Western Securities based in Shanghai, said in a recent research note on the company.  
Apart from autonomous driving technology, the company also supplies intelligent cockpit systems to foreign carmakers, as well as their Chinese joint venture partners. For instances, it provides infotainment and display systems to Japanese carmaker Mazda and Tianjin FAW Toyota Motor, a joint venture between Toyota and the state-owned FAW Group. Its infotainment system supports Apple's Carplay. It also supports Baidu's CarLife, integrating its mapping service and traffic alerts into the cabin display screen.
Chinese technology companies' mobile internet capabilities are driving the country's EV sector, according to Zhen Cheng, a director at Desay.
"The concept of an automobile resembles increasingly that of a smartphone. The development of China's smart vehicle sector has been swift … the reason is exactly because the capability of the mobile internet is spilling over to the automobile sector," he told a new energy vehicle forum in May.