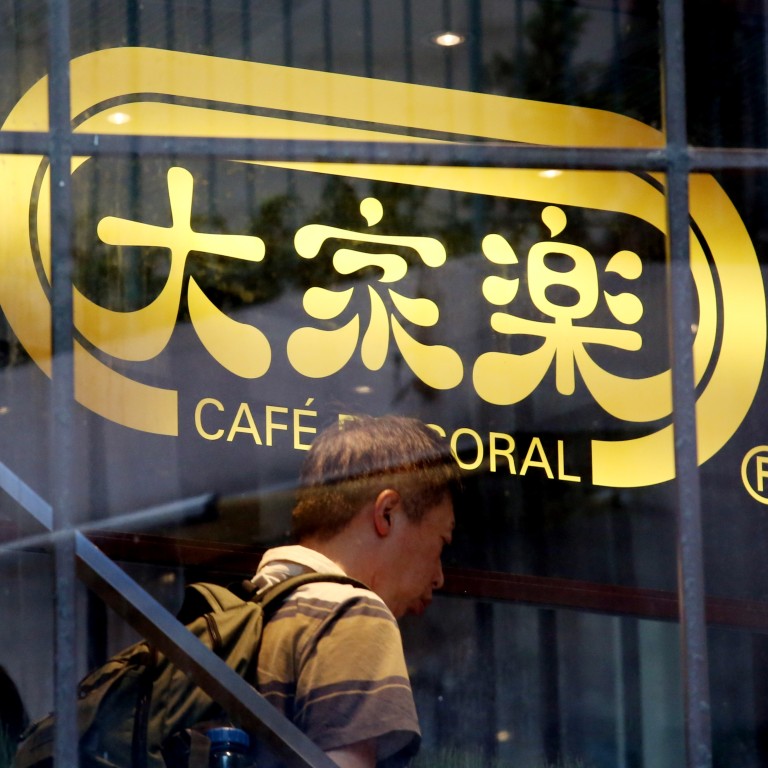 Cafe de Coral to speed up China expansion after mainland business, sops boost restaurant firm's net profit
Company revealed its plans after its net profit for 2020 almost quintupled, despite lower revenue in Hong Kong
Cafe de Coral will continue to expand in Greater Bay Area, chairman says
Hong Kong-listed Cafe de Coral Holdings, one of Asia's largest restaurant and catering groups operating quick-service restaurants, will speed up its expansion in mainland China with 17 store openings in the pipeline.
"Our business in mainland China has recovered after the initial severe lockdown. The group will continue to expand its network in the
Greater Bay Area
," Sunny Lo Hoi-kwong, chairman of the company, said in a filing with the Hong Kong stock exchange on Tuesday.
Cafe de Coral was able to take advantage of China's fast recovery from the economic dislocation caused by the coronavirus pandemic. China's economy was already growing at 2.3 per cent even while Hong Kong's economy was registering a 6.1 per cent contraction in 2020.
The company "took advantage of the situation to increase the pace of network expansion, opening 13 new stores during the year with a strategic focus on Guangzhou and Shenzhen – and currently has 17 stores in the pipeline to open next year", he said. As of 31 March 2021, the company had 352 stores in Hong Kong and another 121 in mainland China.
"As the mainland China market was able to [quickly] control the severity of the Covid-19 pandemic, domestic consumption is expected to rebound at a faster rate," Lo said.
The company's net profit skyrocketed 3.88 times to HK$359.1 million (US$46.3 million) for the year ended 31 March 2021, from HK$73.6 million in the previous year, according to the filing. In contrast, its revenue fell 15.7 per cent to HK$6.7 billion.
Cafe de Coral received pandemic relief and subsidies from governments in the city and the mainland totalling HK$638.9 million, including HK$486.8 million under the Employment Support Scheme in Hong Kong.
It also adapted product offerings and operations to a "new normal", implemented stringent cost controls, manpower deployment and acceleration of technology upgrades to capture more takeaway and delivery business. These measures, combined with relaxed social distancing restrictions, led to improved revenue in the second half of the financial year.
Its net profit, however, still does not match pre-pandemic levels of up to HK$569.9 million for the year ended 31 March 2019, before onset of protests and the coronavirus pandemic. Restrictions prompted by the pandemic barred dinner service for 114 days in the financial year, in addition to the nine days that it voluntarily suspended operations.
"As the pandemic situation resolves, the group expects business performance to make progress along with the economy," Lo said. "The industry has faced a severe shock and many weaker players have already exited the market. Those that remain are lean, fit and aggressive. And we anticipate a sharply competitive environment in the year ahead."
A final dividend of 28 HK cents per share was recommended on Tuesday, compared with nil in the previous financial year.