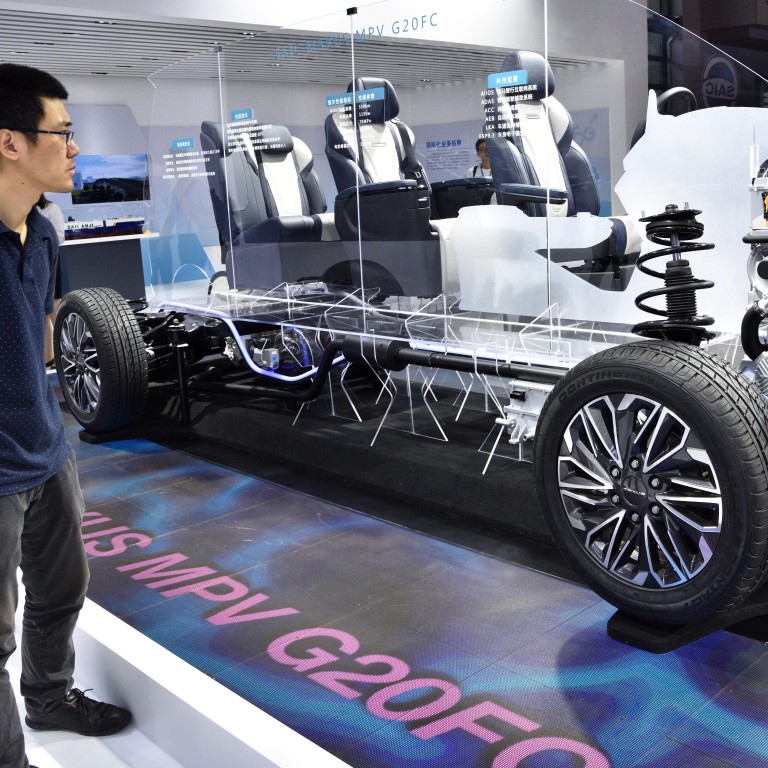 Chinese carmaker SAIC to spin off hydrogen fuel cell unit, eyes Star Market IPO
Shanghai Hydrogen Propulsion Technology will prioritise Shanghai Stock Exchange's Nasdaq-style Star Market for IPO, financial magazine Caijing says
SAIC has been actively looking to raise capital to support growth of SHPT: sources
SAIC Motor, China's largest home-grown carmaker, plans to spin off a unit focusing on hydrogen fuel cell technologies, and list it on a stock exchange to rev up its diversification into alternative fuel vehicles.
Zu Sijie, SAIC's vice-president, said Shanghai Hydrogen Propulsion Technology (SHPT) would give priority to the Shanghai Stock Exchange's Nasdaq-style Star Market when making its initial public offering (IPO) plans, according to financial magazine Caijing.
He did not provide further details, but two sources with the company said that SAIC had been actively looking to raise capital to support the growth of SHPT. The company and parent firm SAIC could not be reached for comment on Friday.
"Hydrogen fuel cell is one of those technologies that powerful car companies have to grasp, to compete in the automotive market in the future," said Eric Han, a senior manager with Shanghai-based business advisory firm Suolei. "But capital is much needed to support the development of fuel cell related technologies."
SHPT, which is fully owned by SAIC, was established by the Shanghainese state-owned carmaker in 2018 amid efforts by China to widen the use of hydrogen-powered vehicles to reduce pollution. Beijing is encouraging the development and use of fuel cell vehicles, along with pure electric battery-powered vehicles and plug-in hybrid cars, as these new energy sources are a cleaner alternative to internal combustion engines.
Last September, Chinese President Xi Jinping told the United Nations General Assembly that China would aim to be carbon-neutral by 2060.
SHPT began construction on a 500 million yuan (US$77.5 million) complex in Shanghai's northern Jiading district in March last year. This complex will encompass research and development, testing, production and hydrogen supply facilities.
Six months later, SHPT said that it would launch 10 fuel cell models by 2025, and that its market value would reach tens of billions of yuan by then.
Hydrogen fuel cell technology produces power through an electrochemical reaction of hydrogen with oxygen, generating heat and water as by-products. The technology is, as of now, largely untapped because of the high costs involved, the limited driving range of such vehicles and few refuelling stations.
Companies that are currently using such vehicles are relying heavily on generous government subsidies – 240,000 yuan for every hydrogen-powered car and up to 400,000 yuan for such trucks. Almost all of the 7,200 such vehicles on China's roads as of July last year were retrofitted commercial trucks, according to new energy consultancy qingyunlian.com.
Shanghai aims to increase the number of hydrogen-powered vehicles to 10,000 units by 2025, which represents more than an eightfold jump from the 1,200 such cars in 2020.
The Star Market, President Xi's pet project, is designed to give promising technology firms a new fundraising platform. It was established at the Shanghai exchange two years ago.
Mainland Chinese securities regulators have raised the threshold for companies looking to raise capital on this market, reinforcing the idea that only firms with capabilities of conducting technological innovation were welcome.