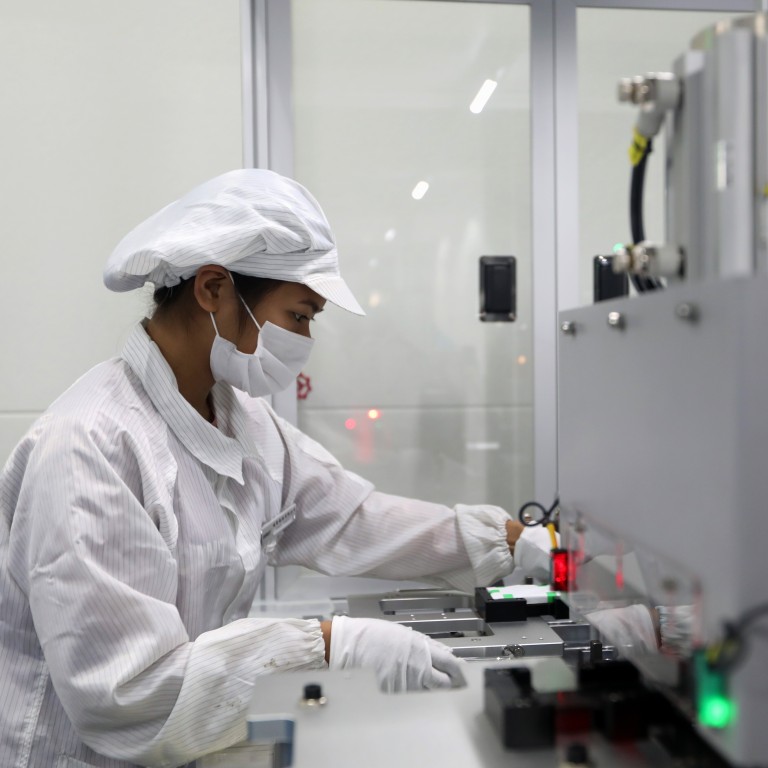 Hong Kong technology start-up GRST seeks to revolutionise electric-car battery manufacturing on sustainability and costs
The five-year-old firm has clinched an agreement with a key shareholder to build a US$40 million plant to make – and later recycle – the rechargeable batteries
GRST's water-based patented technology could cut the emission of greenhouse gases by up to 40 per cent during lithium-ion batteries production and by up to 80 per cent during recycling
Hong Kong start-up GRST is betting big that its award-winning technology will revolutionise the way lithium-ion batteries – the most valuable component in
electric vehicles
– are made, so that they will become cheaper and more sustainable.
The five-year-old firm crossed a key development milestone last month, when it clinched an agreement with a strategic shareholder to form a joint venture to build a US$40 million plant to make – and later recycle – the
rechargeable batteries
.
Nan-Hung Yeh, the chairman of Taiwan-listed Realtek Semiconductor, one of the world's largest integrated circuit design firms, has agreed to take a 35 per cent stake in the joint venture 65 per cent-owned by GRST.
"A designer of chips for automobile firms, Realtek is keen to develop smart and sustainable batteries for electric vehicles that will combine their battery management systems and our sustainable manufacturing know-how," said GRST co-chairman Alex Yeung Sau-hung in an interview.
"The world is expected to be in short supply of lithium by 2025. If we don't
start recycling materials
soon, we will see erratic spikes in prices."
Yeung is a veteran investment banker and an independent non-executive director of Geely Automobile Holdings.
GRST is in talks with European and US
electric car makers
about licensing its technology in new battery plants they may build.
"In China, the large battery makers are too busy keeping up with demand and not in a hurry to have their production lines revamped, so we are focusing on western markets," Yeung said.
The European Union has proposed minimum recycled lithium content of lithium-ion batteries of 4 per cent by 2030, rising to 10 per cent by 2035. The minimum for cobalt is 12 per cent by 2030 and 20 per cent by 2035.
Yeung expects China, home to the world's largest electric vehicle market, will also press domestic electric car makers to ensure their batteries are fully recycled in the long term to avoid soil and water pollution associated with current disposal and recycling practices.
Global lithium consumption by the electric car sector may grow by up to seven times this decade, according to a report published by Fitch Solutions.
The sector could account for 80 per cent of total lithium demand by 2030, up from 40-45 per cent currently, it said.
GRST's water-based patented manufacturing technology could cut the emission of greenhouse gases by up to 40 per cent during lithium-ion batteries production and by up to 80 per cent during recycling, it said.
The technology, which won a "grand prix" at the International Exhibition of Inventions of Geneva in 2019, could reduce production lines' investment costs by 10 to 15 per cent and their operating costs by 5 to 10 per cent, it added.
It could also slash emissions by 50 to 80 per cent during recycling, compared to prevailing methods which involve applying acid or extreme heat to recover metals, according to GRST.
"The biggest advantage of our technology is that we not only can use water to replace chemicals for environmental benefits, we can also match the performance of batteries made in the conventional way on energy density, charging speed and degradation rate," said CEO and co-founder Justin Hung Yuen.
The joint venture will license GRST's technology in the plant to be built in Jiashan county in northern Zhejiang province, some 20 minutes by high-speed rail from Shanghai.
The capacity of the plant – initially serving the electric bikes, power tools and energy storage market before covering electric vehicles – is expected to reach 0.5 gigawatt-hours next year, 1 GWh in 2023 and 15 GWh by 2028.
GRST's investors include Finland's state-owned power and heat producer and environmental services firm Fortum, and Harry Lee, the chairman of Hong Kong-based garment maker TAL Apparel.
This article appeared in the South China Morning Post print edition as: Start-up bets big on its sustainable, cheaper batteries