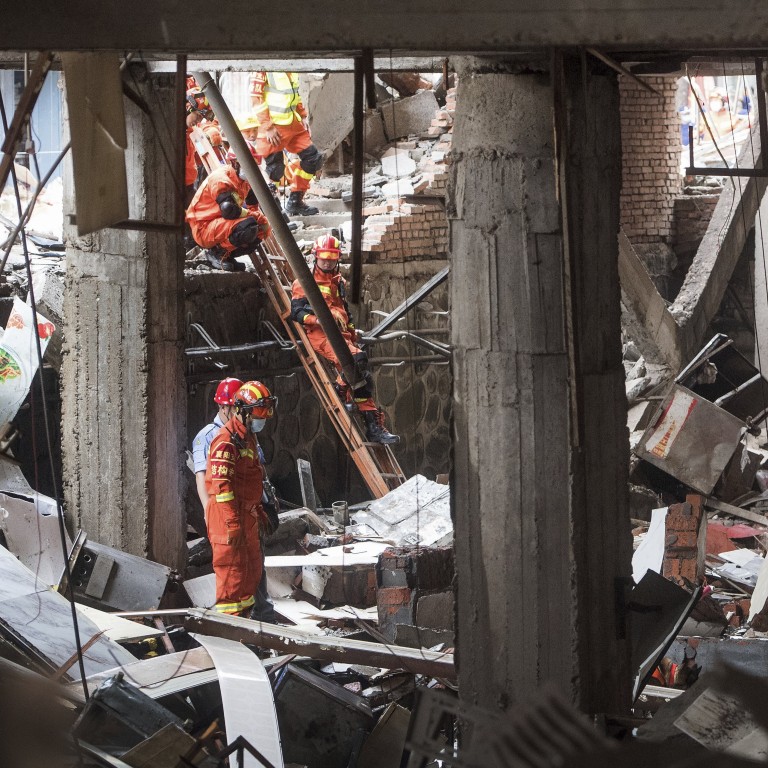 China Gas board members take US$3 million remuneration cut to compensate victims of deadly Hubai gas pipe explosion
The explosion on June 13 in Shiyan city, Hubei province, where China Gas operates a joint venture with car giant Dongfeng Motor, killed at least 25 and injured 138 more
Government investigators determined that the joint venture was directly responsible, while China Resources Land (Wuhan) Property Management and its affiliate Runlian Property were also to blame
The board, consisting of five executive directors, two others with non-executive roles and four independent non-executive directors, together agreed to forgo a total of HK$22.5 million (US$2.93 million) from their remuneration. The sum will be distributed instead to the
casualties and their families
, China Gas said in a filing to Hong Kong's stock exchange late on Sunday.
The board members collectively earned HK$50.8 million from the company in the 12 months to March 31.
The China Gas Charity Foundation, to which the company is one of the main contributors, will donate an additional HK$10 million to them as compensation, it added.
"The direct cause of the incident was the severe corrosion and rupture of the natural gas medium-pressure steel pipes," it said. "
The leaked natural gas
gathered in the confined space in the river channel underneath the buildings, and caused an explosion when coming into contact with the spark in fume exhaust pipe of catering outlets."
The explosion on June 13 in Shiyan city, where China Gas operates a joint venture with car giant Dongfeng Motor Corporation, killed at least 25 people and injured 138 more, according to the Hubei provincial government.
Government investigators determined that the joint venture was directly responsible, China Gas said, while China Resources Land (Wuhan) Property Management and its affiliate Runlian Property are also to blame.
Some 11 people related to the joint venture, including key managers, are being investigated for suspected crimes in relation to the incident, it added, without naming them.
"The incident also exposed problems such as illegal construction, long-term failure to investigate and rectify pitfalls, chaotic property management, and improper on-site emergency response," China Gas said. "[It] was a material production safety liability incident."
The blast captured the nation's attention last month, with President Xi Jinping urging an all-out rescue effort and thorough industry safety inspections nationwide.
China Gas, one of the nation's largest gas operators with 642 projects nationwide at the end of March, will probably be subject to penalties if found to be negligent, Morningstar senior equity analyst Chok-wai Lee said last month.
Set up in 2013, Shiyan Dongfeng Zhongran City Gas Development is 85 per cent owned by a Shenzhen unit of China Gas, and 15 per cent by Dongfeng, according to corporate registration search website qcc.com.
Dongfeng contributed the gas pipeline network and related facilities as capital while China Gas contributed cash to jointly establish the operation, according to China Gas.
Prior to the incident, Ying Yong, the Communist Party Secretary of Hubei, had specifically called for special inspection of the gas pipeline and "fire services in old districts" of Hubei, Dennis Ip, head of Hong Kong and China utilities and renewables research at Daiwa Capital Markets said in a report.
"While the legal and financial responsibilities to be borne by China Gas appear to be limited based on the announcement, we believe it is reasonable for investors to take into account potential adverse impacts of the incident on the future mergers and acquisitions prospect of China Gas," he wrote.
China Gas traded 0.4 per cent lower at HK$23.6 early on Monday afternoon. It has lost 20 per cent of its market value since the incident, compared to an 11 per cent gain of rival ENN Energy and a 5 per cent decline of China Resources Gas.
This article appeared in the South China Morning Post print edition as: Blast victims to get US$2.9m in earnings from firm's chiefs