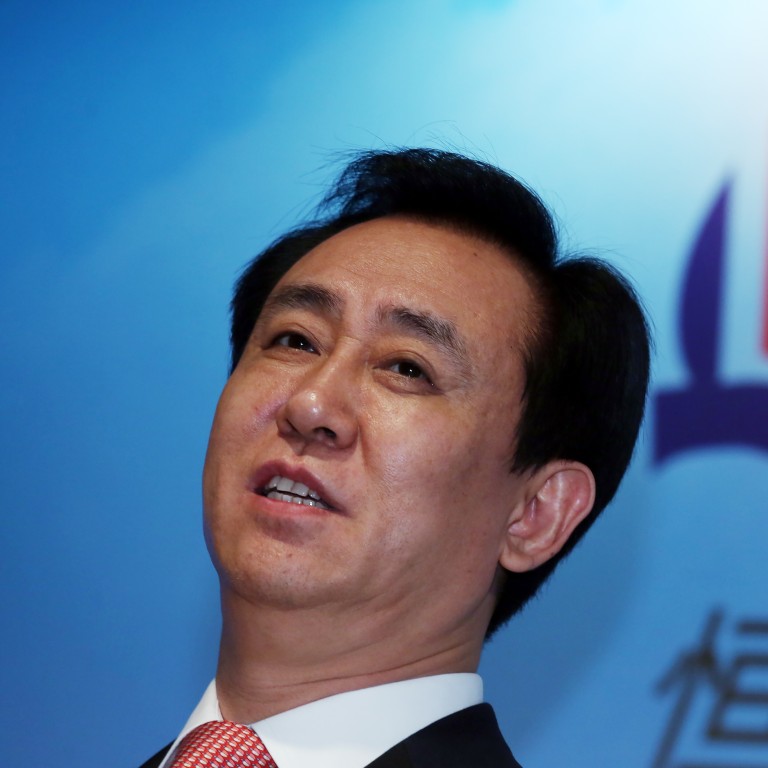 Embattled Evergrande road-tests five electric cars as it looks to offload new-energy vehicle unit to ease debt mountain
The indebted developer said the testing of its Hengchi models marked a key step towards mass production
It is a 'statement by Evergrande that operations at its carmaking unit remain normal', says Ding Haifeng of financial advisory firm Integrity
Evergrande, the
heavily indebted property developer
chaired by one of China's richest people, Hui Ka-yan, said that a fleet of 53 cars comprising five EVs – the Hengchi 1,3,5,6 and 7 models – have completed a 70-day road test covering half a million kilometres. The tests were carried out in Turpan in China's northwestern
Xinjiang
province and Qinghai in the southern island province of Hainan, according to a post on the company's official WeChat account on Friday.
Hengchi is a brand name under Hong Kong-listed Evergrande New Energy Vehicle Group. Literally translated, it means "never stop".
The announcement of the tests comes just three days after Evergrande New Energy Vehicle warned in its interim earnings report that
production of electric cars
may be delayed due to a cash squeeze.
"News about the road test is a statement by Evergrande that operations at its carmaking unit remain normal," said Ding Haifeng, a consultant at Shanghai-based financial advisory firm Integrity. "But investors and market watchers are still worried about the car company's future because of its parent's financial woes."
Evergrande said that the summer road test marked a key milestone ahead of the mass production of the cars, proving the safety and stability of Hengchi's engine performance, battery capability and thermal management.
"The test, with the fleet of cars travelling a total 20,000 hours and 500,000 kilometres, has fully shown Hengchi's quality and capability under extreme weather, and the success marks a new era for Evergrande's carmaking plans," said the company.
In its interim results report on Tuesday, Evergrande said: "If the group lacks capital in the short term, the mass production timetable of new energy vehicles may have to be delayed."
The carmaker had previously planned to start producing EVs in the fourth quarter of 2021 and delivering to customers early next year.
Evergrande, owing a record 1.97 trillion yuan (US$305 billion) in debt, loans and contractual obligations to suppliers, faces the risk of defaults and legal action, Hui admitted as the company revealed a dramatic fall in earnings. Interim profit fell 29 per cent to 10.49 billion yuan, as revenue declined 17 per cent to 222.7 billion yuan, Evergrande said.
The carmaking subsidiary reported a first-half loss of 4.8 billion yuan on the heels of a US$75 billion decline in market capitalisation, which puts its production debut further beyond reach.
Evergrande is rushing to sell assets to repair its balance sheet after years of rapid expansion, which saw it move into producing electric vehicles, property management and health care services. It even sponsors the Guangzhou Football Club in the Chinese Super League.
Evergrande has said previously it was in discussions with third parties to sell its stakes in its electric car and property management units.
Hui vowed in March 2019 to take on Elon Musk in a bid to become the world's biggest maker of EVs within five years.
Evergrande Auto has so far unveiled nine models, but none have yet begun production. The company aims to sell more than 1 million vehicles by 2025 and more than 5 million by 2035.
Since Evergrande revealed its ambition of creating an EV powerhouse nearly three years ago, its rivals including Tesla and Chinese start-ups such as NIO, Xpeng and Li Auto, have been growing by leaps and bounds amid the mainland's accelerated pace of electrification on the roads.
Xpeng, which is listed in both Hong Kong and the US, has begun exporting electric cars to Norway and is aiming to turn profitable within two to three years.
Beijing-based Li Auto, which completed a US$1.5 billion dual listing in Hong Kong last month, reported that its August deliveries soared 248 per cent from a year earlier to 9,433 units.
This article appeared in the South China Morning Post print edition as: Evergrande electric cars pass 70-day road test