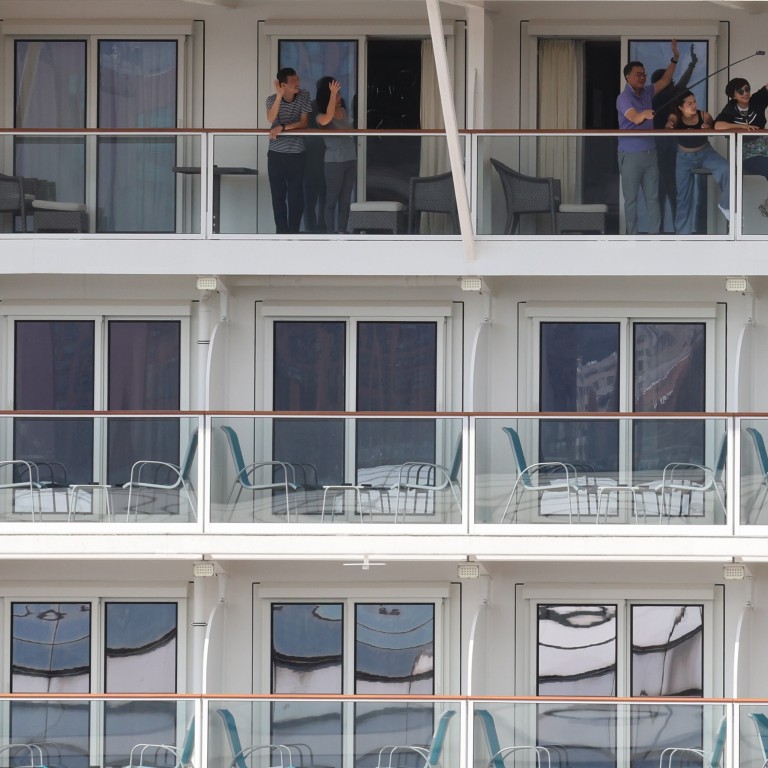 Hong Kong's 'cruise to nowhere' proves a hit with expats stranded by coronavirus travel restrictions
Cruise operator Genting Hong Kong is tapping a brand new market of expats craving a short break but deterred from international travel by the city's stringent quarantine measures
Having cracked the market, Genting hopes to capitalise in the future with themed 'cruises to nowhere'
Hong Kong's stringent quarantine requirements have created a
brand new and growing market
for pandemic-battered cruise operator Genting Hong Kong: expats who are unable to travel.
In the last month Dream Cruises, one of the lines owned by Genting, has operated 15 "
cruises to nowhere
", taking some 20,000 passengers on two- or three-day round trips into international waters.
"The current situation of restricted travel has provided us with the opportunity to tap into this market as limited vacation options are giving this demographic group [expats] the chance to try out our product when perhaps they would have normally flown home for the summer," said Kent Zhu, president of Genting Cruise Lines.
Hong Kong has one of the world's toughest quarantine regimes – up to 21 days for arrivals from high-risk countries – a strong deterrent to anyone who may wish to take a holiday overseas or visit family in their home country.
Since Hong Kong closed its borders in the first quarter of 2020, businesses like hotels and
cruise operators
that count mainland Chinese tourists as a significant market have been among the worst hit.
In Genting Hong Kong's case, the various restrictions led to a US$1.7 billion loss last year and forced it to halt debt payments, according to a statement to the Hong Kong stock exchange in August 2020.
In the first half of 2021, it trimmed its losses to US$231.2 million from US$687 million a year ago. It has also secured fresh capital and restructured debts.
Before the coronavirus struck, mainland Chinese accounted for about 46 per cent of Genting's passengers, while Hongkongers made up 48 per cent. Of Hong Kong's 7.5 million population, an estimated 10 per cent are expats, giving Genting a base of as many as 750,000 potential customers.
Hong Kong was one of the last markets to resume cruise operations, finally allowing ships to set sail in July after the city had fended off wave after wave of Covid-19. In Taiwan,
Genting restarted its cruises
a year earlier, but had to suspend them recently owing to a surge in cases.
Its Singapore operations, meanwhile, have had their capacity capped at levels that depend on the number of local cases at any given time.
"It is our plan to continue to grow this [expats] segment of the market in the future with theming and enrichment programmes such as Oktoberfest at Sea to appeal to this demographic and to give them the opportunity to test out our cruise product," said Zhu.
For those with deep pockets, the onboard accommodation options include a 224 square metre (2,411 square foot) villa with two bedrooms, a private sun deck and jacuzzi, which can be booked for HK$12,500 (US$1,607) per person a night. Perks include a butler who can be accessed 24 hours a day.
Several factors could work in the favour of "seacations" over the staycation offerings of hotels. One is simply the notion of sailing into international waters, giving the sense of travelling out of Hong Kong. Some passengers have been able to meet up with family and friends while on international waters – the ship travels about two hours from the Kai Tak Cruise Terminal – something that social distancing measures in Hong Kong currently prevent.
Entertainment options include a cinema, bars and restaurants, a water park and a karaoke bar.
The Genting Dream Cruise can normally accommodate as many as 3,376 passengers, but is presently limited to half that capacity.
"The Covid-19 pandemic has proven to be a challenging time for all businesses and industries, but has especially impacted the travel and tourism industry," Zhu said.
In the coming months, the Delta variant – thought to be more contagious than the original strain of Covid-19 – could potentially halt the Hong Kong operations again.
"Dream Cruises will follow the guidance and guidelines of the Hong Kong government and authorities in regards to all protocols regarding Covid-19 rules and regulations including any future procedures concerning the Delta variant if required," Zhu said.
This article appeared in the South China Morning Post print edition as: Genting 'seacations' target expats hit by travel rules