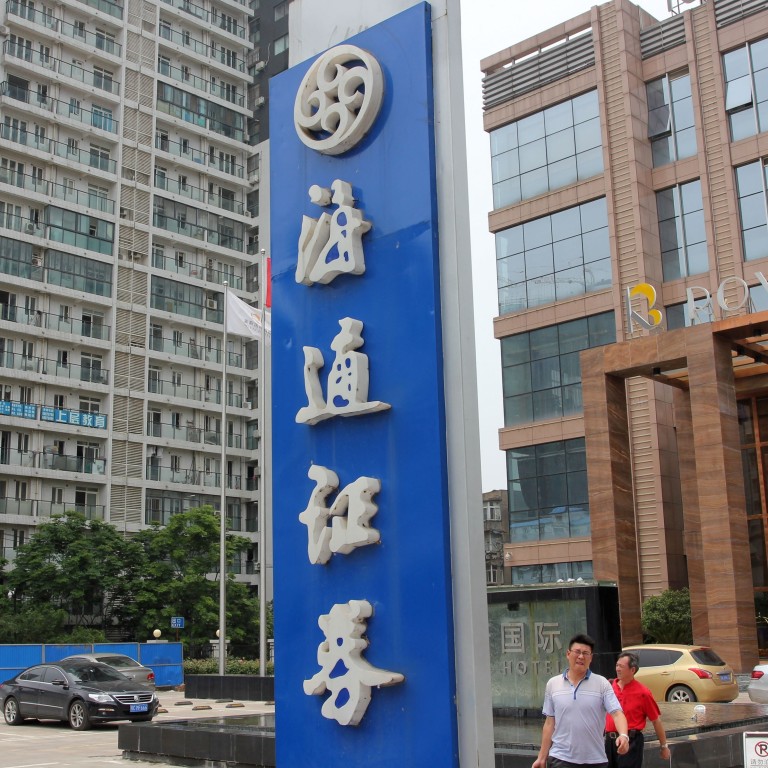 China's market watchdog launches investigation into Haitong Securities for suspected violation of securities rules
Haitong Securities, China's second-largest brokerage by revenue, said it will cooperate with the CSRC and disclose the required information
Investigation is linked to its failure to perform due diligence as a financial adviser to Shanghai-listed Aurora Optoelectronics
Haitong Securities, China's second largest brokerage by revenue, said on Wednesday that the country's securities watchdog is investigating it for suspected violation of securities rules.
The company said in a filing to Hong Kong stock exchange that it had received a notice from the China Securities and Regulatory Commission on Tuesday for failing to perform due diligence as the financial adviser to Aurora Optoelectronics. The brokerage said that such a failure could be seen as a breach of securities laws and regulations.
"The company will fully cooperate with CSRC's relevant works and perform its obligation of disclosing information in strict accordance with regulatory requirements," Haitong Securities said.
Aurora Optoelectronics was listed on the Shanghai Stock Exchange through a back door listing in 2015, after it was acquired by Southwest Pharmaceutical the same year. The company subsequently changed its name to Aurora Optoelectronics.
Headquartered in Harbin, Aurora Optoelectronics makes sapphire crystal materials which are used in smartphones and smartwatches, such as those made by Apple.
Haitong Securities, which is the parent of Hong Kong investment bank Haitong International, did not elaborate on the reasons for its failure to conduct due diligence.
Meanwhile, on the Shanghai Stock Exchange, Aurora's stock code had "ST" or "special treatment" against it, denoting that the company has made losses for two straight financial years.
In August, Haitong Securities reported a 49 per cent jump in first-half net profit to 8.2 billion yuan (US$1.26 billion), from 5.5 billion yuan a year ago.
It had 343 branches in China as of last year, and also operates branches in New York, London, Singapore and Tokyo apart from Hong Kong.