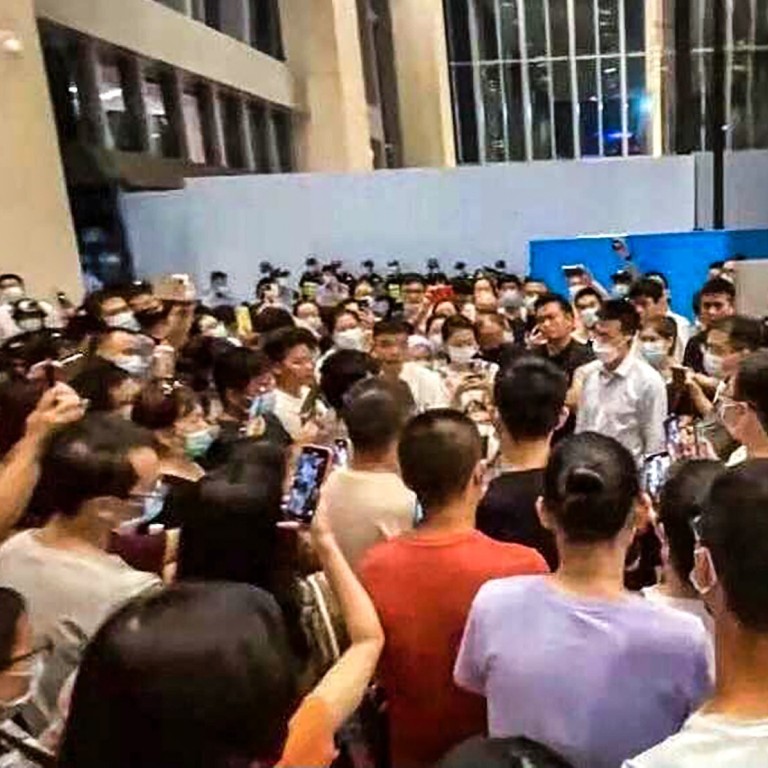 China Evergrande turns to advisers who helped fix debt debacles at Lehman, Noble Group, Luckin Coffee as investors brace for losses
China Evergrande moves closer to a debt workout after hiring restructuring experts involved in Lehman, Noble Group and Luckin Coffee implosions
Developer's free pass on debt binge appears to have ended as crisis deepens after 'three red lines' rules
China Evergrande took a step further into potential restructuring of its US$305 billion liabilities after hiring external financial advisers who helped fix major debt implosions, including those at Lehman Brothers and commodity trader Noble Group.
The firm appointed US restructuring experts Houlihan Lokey and Hong Kong-based investment bank Admiralty Harbour Capital to assess its capital structure, evaluate the liquidity and explore ways to ease its current liquidity crunch, according to an exchange filing on Tuesday.
The move follows months of financial distress at the Shenzhen-based home builder as billionaire founder Hui Ka-yan seeks to arrest an erosion in confidence. Reports about missed payments to contractors, attempts to
reschedule payments on wealth management products
, and failure to sell assets have prompted Chinese regulators and the
central bank to intervene
to prevent a shock to the financial system.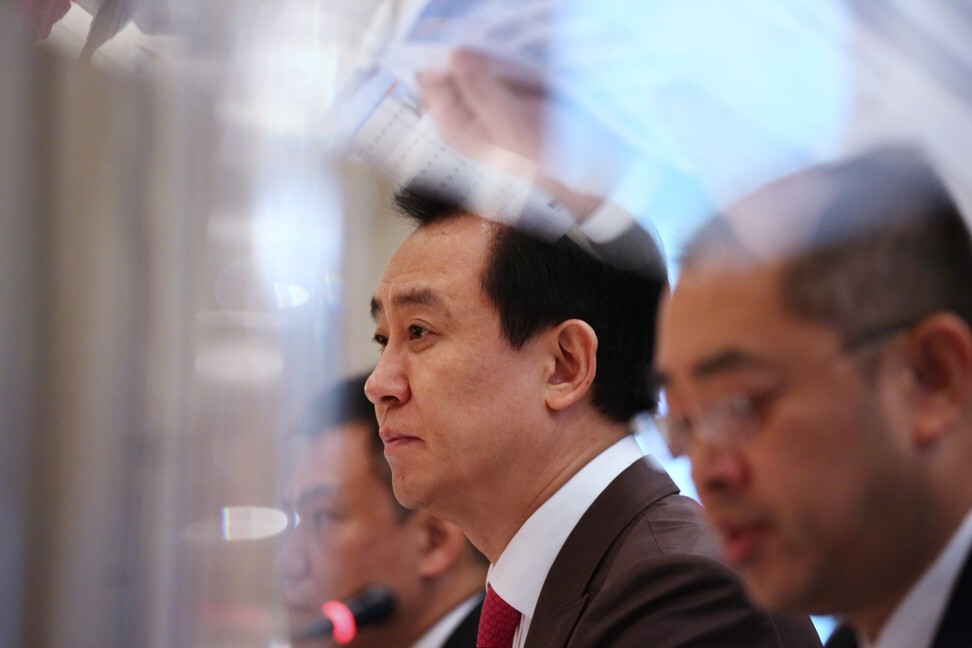 "Hiring these high-profile advisers is basically announcing the restructuring of all of its outstanding debts," said Zhou Chuanyi, a credit analyst at Lucror Analytics in Singapore. "At this moment, offshore bond holders should already be fully aware of the possible haircuts, which is very likely to happen. If it pushes to the extreme and go into the liquidation, the offshore bond holders may get nothing."
China Evergrande's shares slumped 12 per cent to HK$2.97, a level not seen since November 2014. The plunge has snowballed to about 80 per cent this year, wiping out HK$158 billion (US$20 billion) in market capitalisation. Its property management and new-energy vehicle units have lost a combined HK$283 billion in value.
Its most active dollar-denominated bonds due in June 2025 have declined to distressed levels of about 30 cents on the dollar, from more than 80 cents in May. Its March 2022 notes lost about one-fifth on Tuesday to 24 cents.
China Evergrande had 1.97 trillion yuan (US$305 billion) in total liabilities as of June 30, according to its latest interim report. They included 572 billion yuan of borrowings. It has about US$20 billion of outstanding foreign-currency bonds.
California-based Houlihan Lokey, which set up an office in Hong Kong in 2007 and Beijing in 2010, topped the list of America's biggest debt restructuring advisory firms over the past six years. It had roles in the workouts at Enron, WorldCom and Lehman, among others.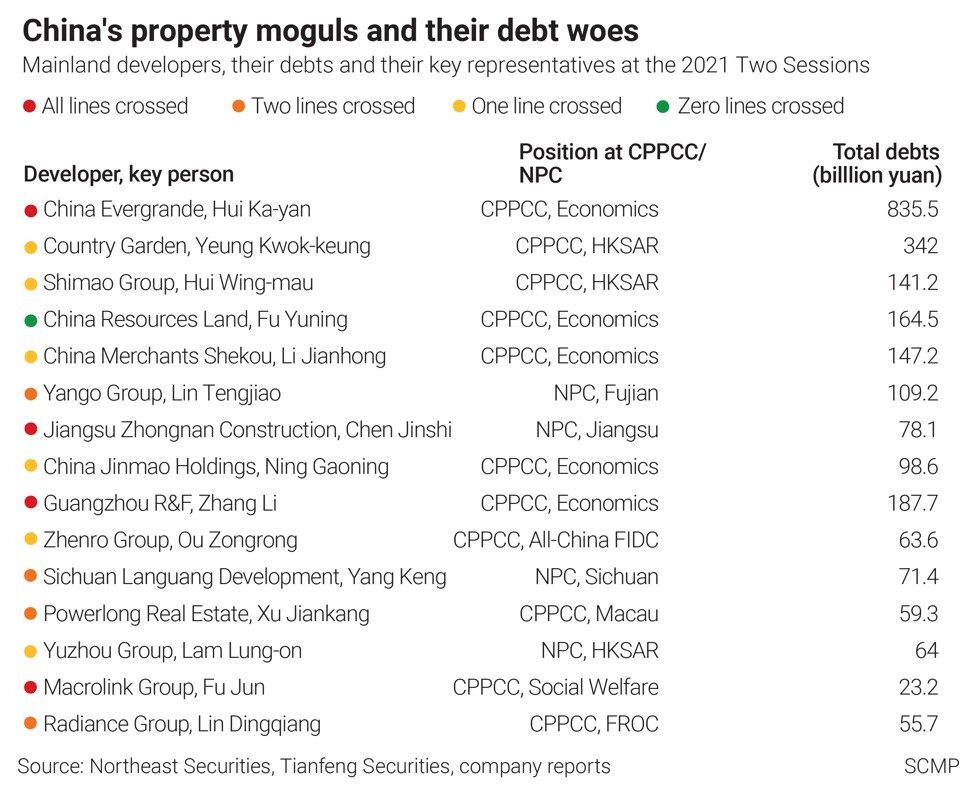 Hong Kong-based Admiralty Harbour Capital, an investment bank co-founded by investment bankers and hedge fund manager, was recently appointed by China Fortune Land Development and
Suning Appliance Group
on their debt problems.
"Hiring such financial advisers means Evergrande has come to a serious stage of listing what it owns, what it owes and what are the best plans" to extricate itself, said Lung Siu-fung, an analyst with CCB International. "Many actually have already accepted this outcome" [in haircuts]."
Evergrande said in Tuesday's exchange filing that contracted sales have continued to fall in the past three months. It logged 38.1 billion yuan of sales in August, or half of what it generated in June. Sales in the month of August averaged about 46.5 billion yuan in each of the past three years.
The company warned of a "significant continuing decline in contract sales" in September, citing waning confidence among house buyers because of "ongoing negative media reports". This would in turn pressure its cash flow and liquidity, with no material progress in asset sales, it added.
In another development, it emerged that Hui resigned as director of Giant Hill, which owns a luxury house at 10 Black's Link on The Peak, on July 30. Land Registry and Companies Registry records showed that Hui was the only the director of Giant Hill.
On the same day, Tan Haijun was appointed as Giant Hill's director. Tan is an associate of Hui who manages the property for the tycoon, Hong Kong-based online news portal HK01 reported on Tuesday.
Additional reporting by Sandy Li
This article appeared in the South China Morning Post print edition as: China Evergrande hires debt advisers