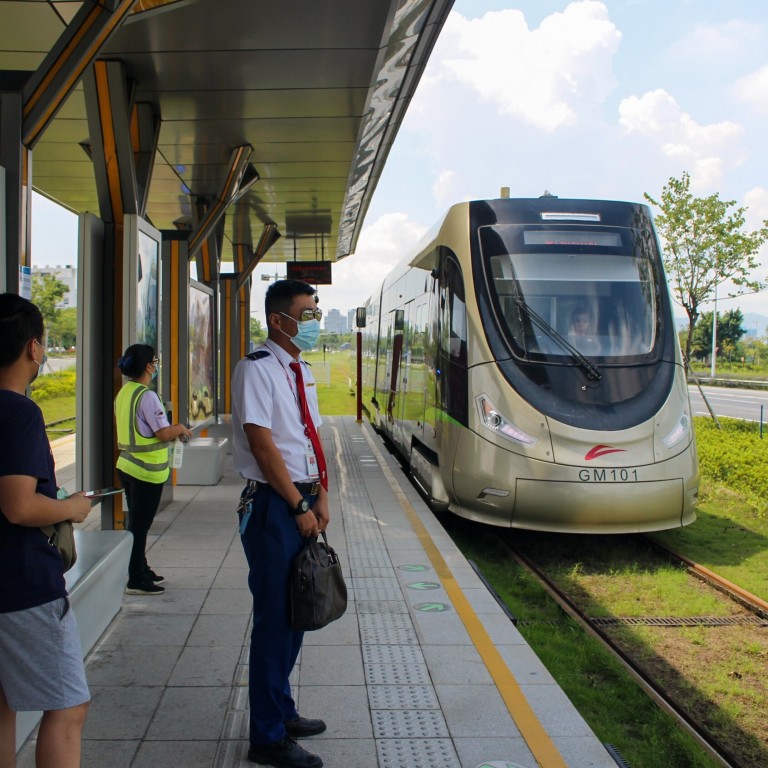 China's carbon neutral goal: Foshan leads a silent revolution in green transport with its hydrogen trams
A tram running 6.6 kilometres from Cangjiang Road to Zhihu in the Gaoming district has been running since late 2019, powered by "blue" hydrogen
The project's first phase links 10 stations in a north-south direction, with the capacity for 1,350 passengers in five tram cars during rush hour
Running on the western bank of the Xi River in Foshan city in southern China's
Greater Bay Area
, a revolution in transport is quietly under way, one that the Chinese government hopes will slash kerbside pollution and pave the way for public transport to become truly emissions-free.
A tram running 6.6 kilometres from Cangjiang Road to Zhihu in the Gaoming district has been operating since late 2019, powered by so-called "blue" hydrogen produced through breaking down methane gas into carbon monoxide and hydrogen.
Eventually, when the price of carbon rises to justify swapping to "green" hydrogen – produced by splitting water into hydrogen and oxygen, using renewable energy – the tram can become a truly zero-emission form of transport.
The project's first phase links 10 stations in a north-south direction, with the capacity for 1,350 passengers in five tram cars during rush hour. A second phase will connect another 20 stations along an 11-kilometre route running in an east-west direction.
"Foshan is one of the first movers in the country on developing hydrogen vehicles, as part of its long-term strategic plans," said Jack Fang, customer care lead in China at Ballard Power Systems, which makes the fuel cells for the Gaoming tram system. "The success story of Guangdong province has the potential to be replicated elsewhere."
The project, installed at a cost of 1.07 billion yuan (US$166 million), is a showcase of China's capability and determination to place bets on technological endeavours on the nation's path towards peak carbon dioxide emissions by 2030, and
carbon neutrality by 2060
. The system is cleaner than trams powered by the grid since most of China's electricity is generated from coal, whose carbon footprint is double that of methane gas.
President Xi Jinping
surprised the world in September 2020
with his two pledges to fight
climate change
: for carbon emissions to peak before 2030, and net zero emissions by 2060. Whether the goals are achieved could make or break the world's efforts to contain and reverse the impact of
climate change
, owing to China's outsize role as the world's biggest greenhouse gas emitter, responsible for nearly a third of releases.
Net zero emission is achieved when residual emissions are offset by investments in natural carbon sinks such as afforestation and facilities that capture and store carbon dioxide from the atmosphere.
The Gaoming tram will form an integral part of Foshan's transport network. The east-west running Phase II will eventually link up with a subway line under construction
connecting Foshan
to the big transport hub of Guangzhou South railway station.
"Blue hydrogen" is cleaner than "grey hydrogen" as the former includes the capturing and storage of carbon dioxide so that it is not released to the atmosphere.
The Gaoming tram system captures most of the carbon monoxide before it turns into carbon dioxide. Carbon monoxide and hydrogen are sold separately.
Foshan's air quality has improved, as the amount of fine particulate matter smaller than 2.5 microns (PM2.5) has fallen by almost a quarter to 26 milligram per cubic metre in the first six months of 2021, from 2018, the year before electric buses and trams were introduced. The concentration of nitrogen dioxide declined 16 per cent, while sulphur dioxide fell 30 per cent.
A truly green hydrogen supply chain requires the gas to be produced from the electrolysis of water with renewable energy, a largely emission-free process. But it is the most costly method of producing hydrogen currently available.
The Gaoming project currently uses so-called "blue" hydrogen produced from breaking down natural gas, supplied by Guangdong Huate Gas in
neighbouring city Jiangmen
. The process produces carbon dioxide besides hydrogen. The carbon dioxide is then captured and recycled to achieve zero emission, Huate Gas said.
"Green" hydrogen may make up 70 per cent of all hydrogen supplied in China by 2050, up from 15 per cent in 2030 and 3 per cent last year, according to China Hydrogen Alliance's projections.
Around 62 per cent of China's hydrogen is produced from coal gasification and coke ovens, due to the country's heavy reliance on coal as energy sources, Deloitte said in a report last year.
"We are optimistic about the future trend of upstream hydrogen production and the prospects of green hydrogen," said Ballard's Fang.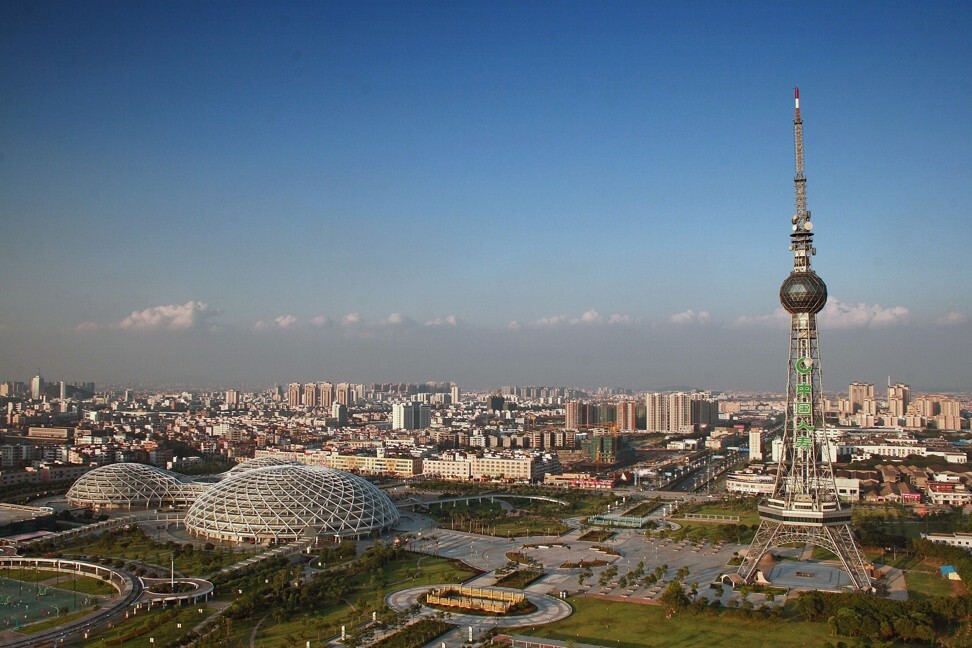 Foshan is at the forefront
of China's revolution to replace petrol and diesel fuel in public transport with hydrogen fuel cells and electric batteries.
Every city bus has been powered by either electricity or hydrogen fuel cells since 2019, with 1,000 hydrogen buses plying the streets, and 24 refuelling stations scattered around the city of 7 million residents as of March this year. Local authorities spent 237 million yuan in 2019 alone to buy 154 hydrogen fuel-cell buses.
Produced by suppliers such as Foshan Feichi Technology, the buses typically can run for the whole day – covering up to 300 kilometres with 20 to 30 kilograms of hydrogen on every 100km with a single fuelling stop.
"Hydrogen will play an important role in green energy utilisation and storage as it is the perfect medium to store excess solar, wind, and hydropower during off-peak periods," said Fang.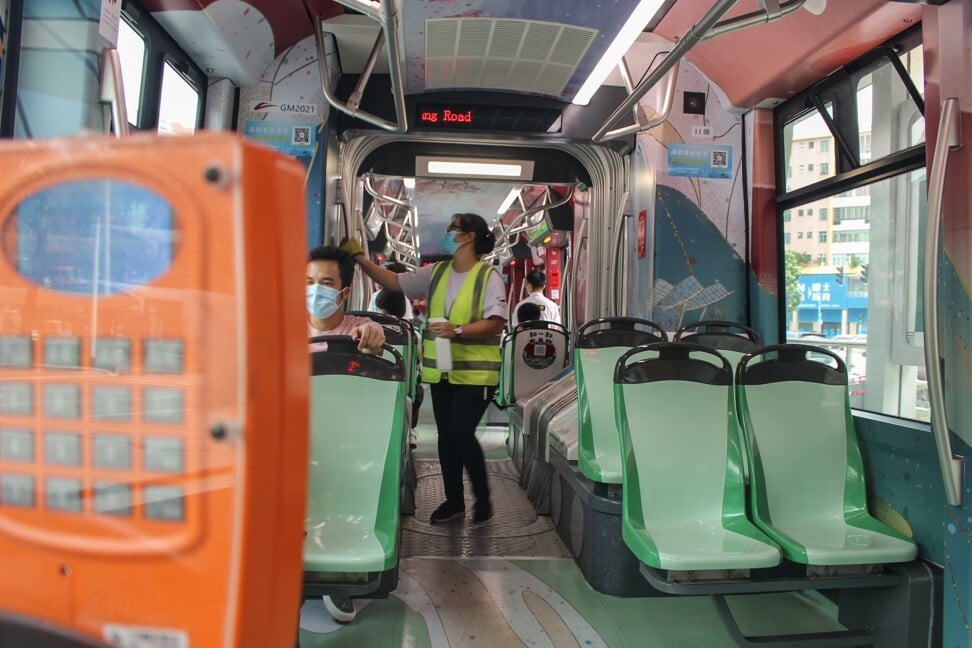 Each ton of hydrogen used in transport can displace 3.4 tonnes of crude oil consumption, avoiding 10.7 tons of roadside carbon dioxide emissions.
Hydrogen transport has other advantages over battery-powered alternatives. Gaoming's trams take just 15 to 20 minutes to completely refuel, instead of three to four hours to charge an electric battery for running the same distance, Fang said.
Toyota Motor's Mirai hydrogen fuel-cell electric vehicle (FCEV), launched in 2014, inspired Foshan to take the plunge into the nascent industry, deputy mayor Xu Guo wrote in the local media.
"Not only did Foshan's leaders have the foresight, they also had a strong determination to make technological achievement in a niche area," said Shao Minhua, a chemical and biological engineering professor at the Hong Kong University of Science and Technology (HKUST), who collaborates with Guangdong's supply chain players on hydrogen fuel cell materials and components development.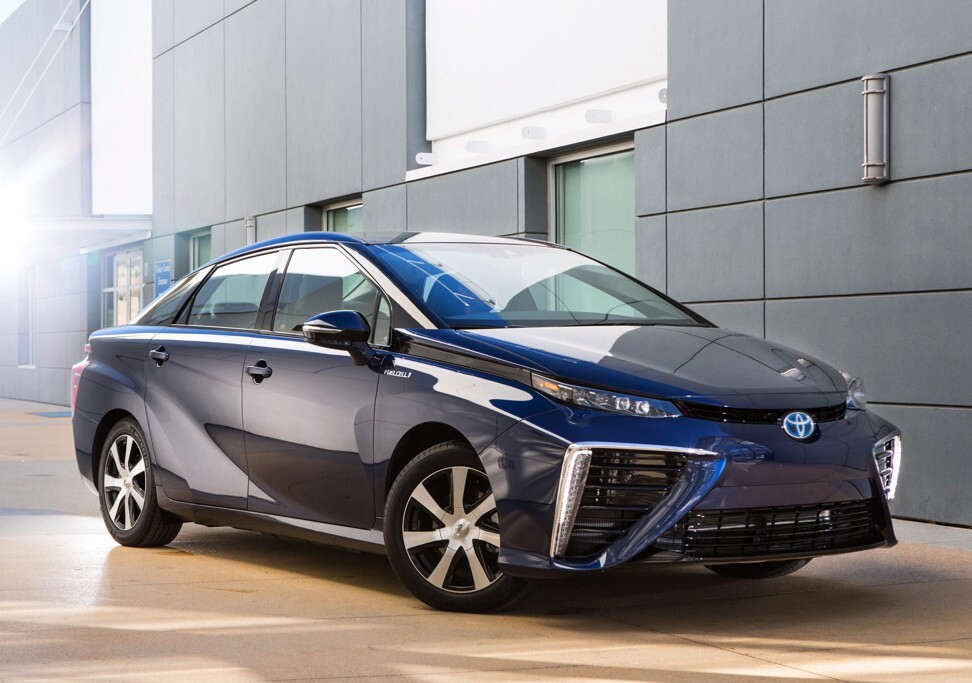 China needs to completely make over the energy consumption structure, replacing the fossil fuels that make up 80 per cent of current power with renewable energy for the nation to meet its climate goals, according to JPMorgan.
While the nation has already been the world's largest producer and user of wind, solar and hydro electricity for many years, it lags behind the US and Japan in technological advancements in hydrogen fuel cells.
"Fuel cell technology has been around for many years, but it has not developed well on the mainland due to a lack of willingness by companies to put in the big research and development spending needed," said HKUST's Shao.
But the country is catching up quickly. China's State Council included the development of FCEVs and related infrastructure in its
new energy vehicle (NEV) industry development blueprint
for 2021 to 2035, with a strategy to commercialise FCEVs through improving the technology and cutting costs. The Ministry of Industry and Information Technology (MIIT) also laid out a road map to put one million FCEVs on the roads by 2035.
SCMP Infographics: New energy vehicles in the Made in China 2025 industrial master plan
China had over 8,000 FCEVs at the end of 2020, with around 5,000 hydrogen buses and 3,000 trucks, according to the International Energy Agency. It trailed South Korea's 10,000 FCEVs and the 9,000 units in the US.
About 104 hydrogen refuelling stations were built by the end of 2020, mostly in Guangdong and Shandong provinces, according to JPMorgan.
The market for FCEVs will be huge. China's FCEV commercial vehicles may increase to 1.6 million units by 2050, making up 37 per cent of total sales, from 360,000 units or 7 per cent market share in 2030, according to a 2019 paper published by China Hydrogen Alliance (CHA).
Guangdong province is the most active applicant for government subsidies, aiming to build 300 hydrogen fuelling stations with 16,000 FCEVs on the roads by 2025, JPMorgan said. Shanghai, with 1,171 FCEVs in 2020, aims to have 10,000 units by 2025.
Guangdong's push is led by Foshan,
Shenzhen
and Yunfu, where leading companies in hydrogen production, transport, and FCEV manufacturing make up a more mature supply chain, said Jiang Feng, a researcher at the Institute of Optoelectronic Materials and Technology of South China Normal University.
Guangdong's key players include Ballard's 2017 venture with Guangdong Nation-Synergy Hydrogen Power Technology in Yunfu to manufacture fuel cell stacks – the heart of a fuel cell power system. Another major fuel cell stacks maker is Shenzhen-based Hynovation.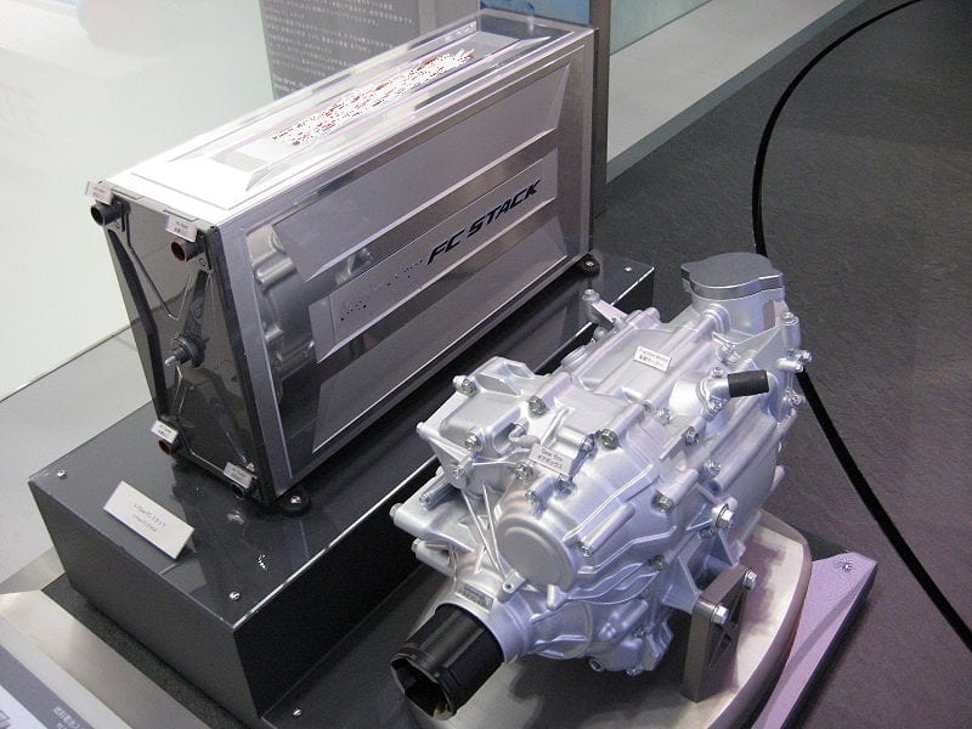 Guangdong province needs to step up its technical collaboration with universities throughout the
Greater Bay Area
, including institutions in Hong Kong and Macau, Jiang said.
Hong Kong's government, which is setting up a cross-department task force to push for green hydrogen adoption, should pursue more proactive participation in high-level policymaking that drives regional supply chain development, said Shao of HKUST.
While the HKUST, whose speciality in the supply chain lies in catalysts used in fuel cell reactions, has an affiliate research institute in Guangzhou's Nansha district, deployment of the funding for projects supported by the Ministry of Science and Technology would be more flexible if it were used in Hong Kong.
In other projects financially supported by the Guangzhou government, Shao was able to use the funding in Hong Kong. These are in collaboration with fuel cell manufacturing technology firm Guangzhou SinoHyKey, batteries developer Guangzhou Great Power Energy & Technology, and Foshan-based key components maker Guangdong Taiji Power Technology.
Still, Shao, who spent six years working for UTC Power – now part of South Korea's Doosan Fuel Cell – and led its cooperation with Japanese car giant Toyota on fuel cell components development, said he is optimistic that China will become a leader on fuel cell applications.
"Similar to
electric vehicles
, China wasn't the strongest in the beginning, but gradually we lead the market on applications," he said.
Additional reporting by Iris Ouyang
Illustration: Joe Lo