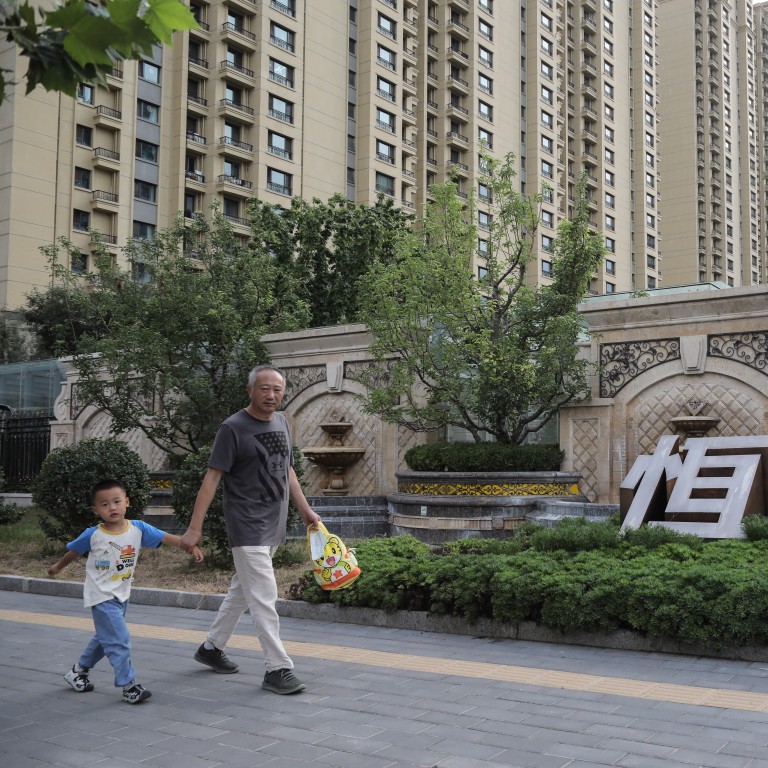 As Evergrande totters, cracks in stressed Chinese developers widen as rating outlook dims and borrowing costs jump
Spotlight is on Guangzhou R&F and Fantasia Holdings following a downgrade in their rating outlooks
A measure of offshore borrowing costs for junk-rated Chinese companies climbed above 15 per cent last week from 10 per cent in June: ICE data
China Evergrande Group's
liquidity crunch
is stoking concerns other developers may also feel the squeeze from higher borrowing costs as lenders turned more cautious about the nation's weakest borrowers.
The effective yield on bonds sold by Chinese junk-rated companies, a measure of funding cost, jumped last week to 15.8 per cent, according to an index compiled by Intercontinental Exchange, up from 10.5 per cent on June 30. The 226 bonds in the index, dominated by property names, have lost 7.4 per cent on average this month, taking the decline this year to 15.4 per cent.
The increase in yield and widening risk premium showed investors are demanding more compensation to own the securities issued by borrowers with weak credit ratings.
Since China stepped up its scrutiny on developers with its "three red lines" leverage targets in August last year, the taps have dried up for some industry delinquents including China Evergrande. Other companies that failed the test included Guangzhou R&F Properties and Sichuan Langang, according to a report published by Beike Research Institute in August.
"The worst part is that not only China Evergrande is collapsing, but also other Chinese home builders are drowning in the tsunami caused by it," said Zhou Chuanyi, a credit analyst at Lucror Analytics in Singapore. "For companies with large amounts of maturing debt, a couple of months of liquidity drain could be devastating."
Since fellow Shenzhen-based peer Kaisa Group became the first Chinese developer to default on a dollar-denominated debt, a stream of firms including Macrolink, China Fortune Land, Yida China, Tahoe Group and Oceanwide Holdings have followed suit. The market has dismissed them as so-called idiosyncratic cases, with little industrywide fears.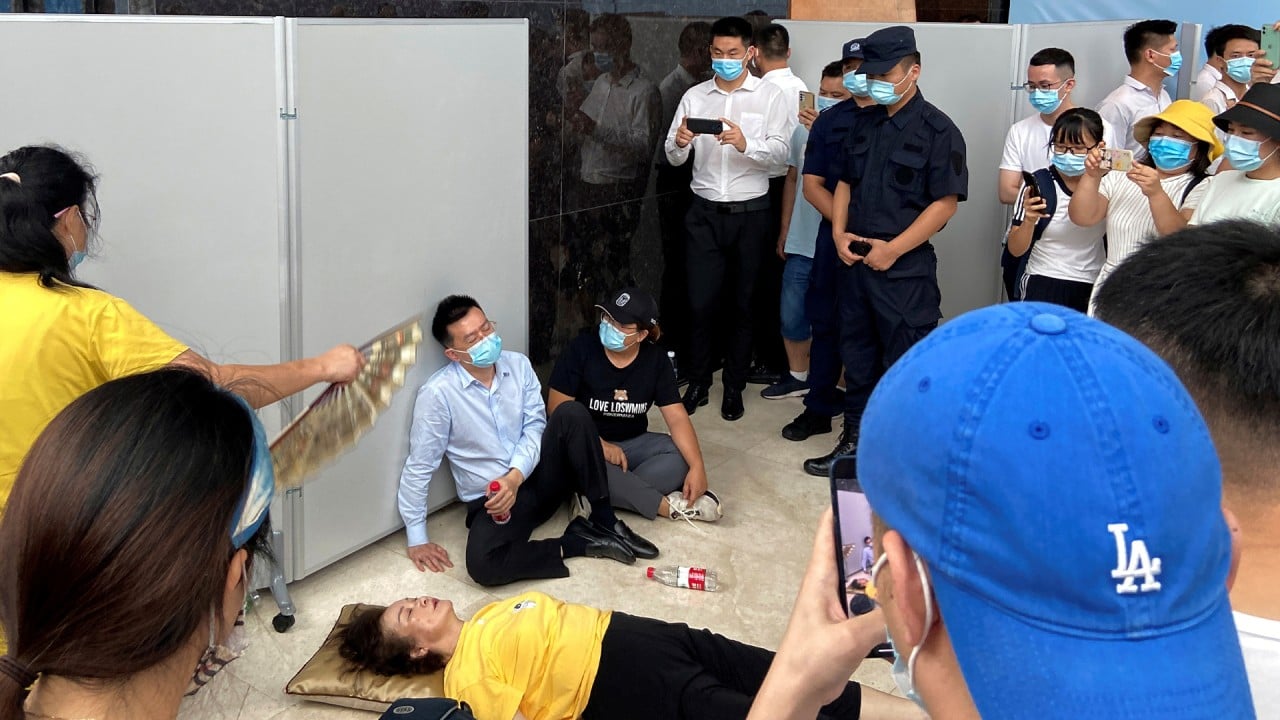 02:28
Angry protest at headquarters of China Evergrande as property giant faces liquidity crunch
Angry protest at headquarters of China Evergrande as property giant faces liquidity crunch
The next spotlight could fall on stressed credits including Guangzhou R&F and Fantasia Group after their downbeat sales performance and recent credit-rating downgrades.
Fitch revised the outlook on Guangzhou R&F to negative on Monday. Its most-active dollar bonds due in November 2022 have declined to about 73 cents on the dollar from above par three month ago, when Evergrande's latest debt woes intensified.
Like Evergrande, Guangzhou R&F has been trying to offload its residential, hotel and logistics assets to generate cash. The firm held 29 billion yuan (US$4.5 billion) of cash, including 16 billion yuan of restricted ones on June 30, according to its interim report. Its short-term debt, or borrowing due for repayment within 12 months, stood at 52 billion yuan.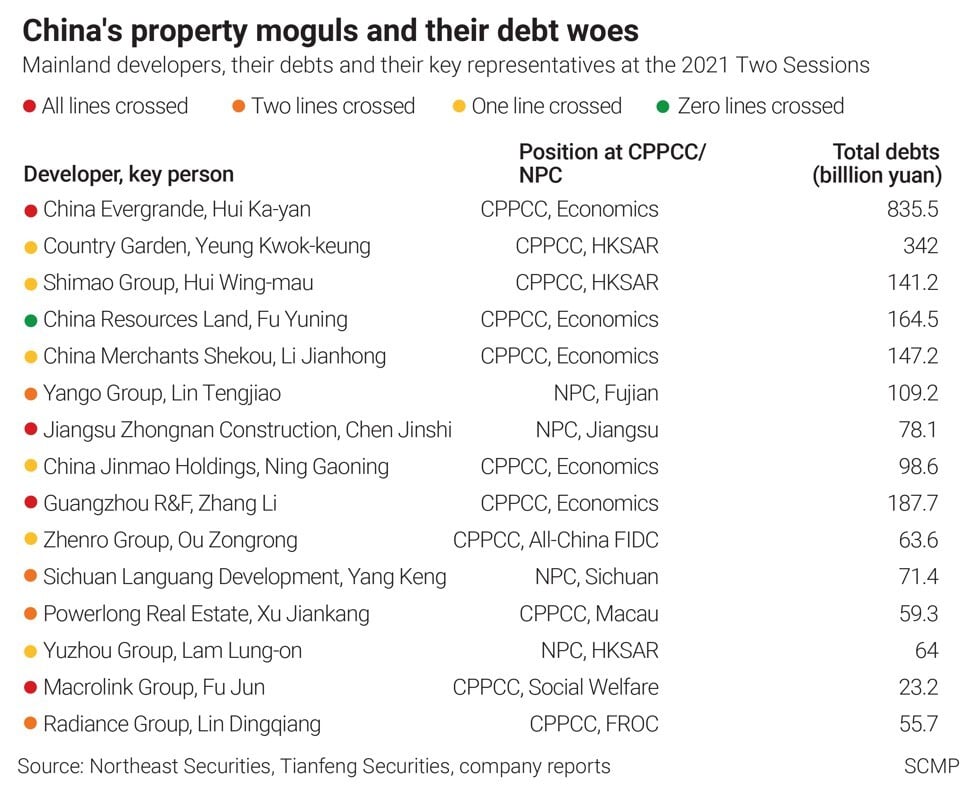 Home sales, its primary source of liquidity, was described as "disappointing" by analysts at Jefferies. The developer had only achieved half of its 150 billion yuan annual sales target after seven months, the brokerage said.
"Home sales would be extremely tough in the next half especially for those developers that have been flagged with possible problems," said Yan Yuejin, a director at E-house China Research and Development Institute in Shanghai. "Homebuyers would particularly stay away from their projects after they see the Evergrande struggle."
Guangzhou R&F is getting an HK$8 billion (US$1.03 billion) cash support from an executive director and a substantial shareholder over the next two months, it said in a stock exchange filing on Monday. The first loan of HK$2.4 billion is expected to arrive on Tuesday, it added. It has also separately agreed to sell some assets for 10 billion yuan to Country Garden.
S&P Global Ratings separately cut Shenzhen-based Fantasia Group's outlook to negative on Tuesday. The developer's most-active dollar bonds due in July 2022 have declined to 58 cents on the dollar from about 97 cents in March. Its June 2024 notes fell by about half to 49 cents.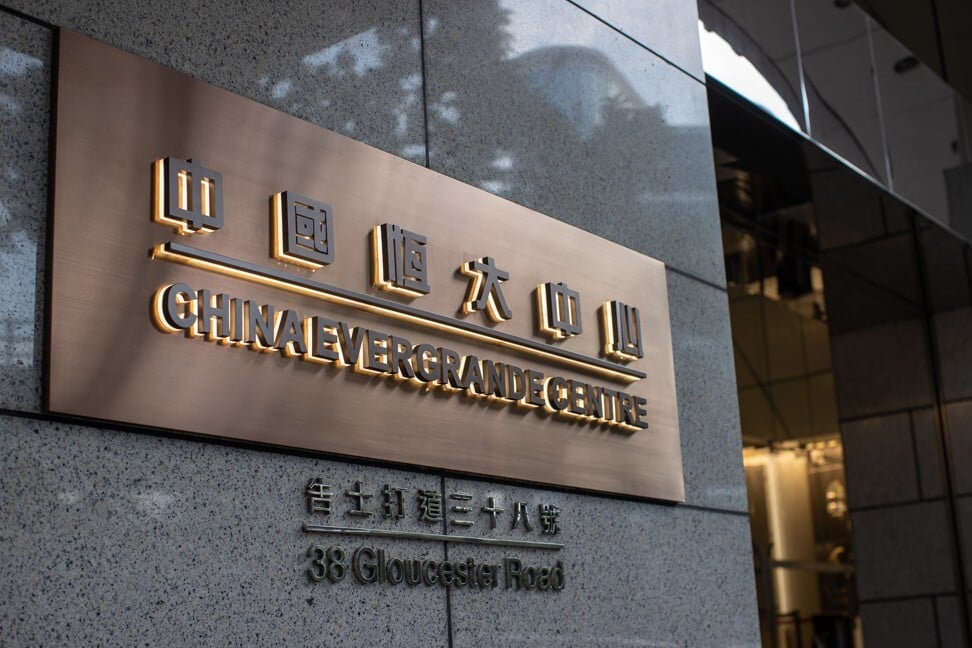 Fantasia, founded by former vice-president Zeng Qinghong's niece in 1996, has US$762 million of offshore bonds maturing this year and another US$1.15 billion due in 2022. It only had 10 billion yuan (US$1.55 billion) of cash as of June, according to S&P.
Bond yields are at heightened levels, said Gao Fan, analyst of S&P leading the report. This could prevent the company from selling new debt in the market, she added.
The negative outlook was due to pressure emanating from developers with debts issues, Fantasia said in an email reply to the Post. The company itself has no liquidity issue and has "already prepared the fund" to redeem its bonds due in October, it said, adding that it had obtained a HK$1.1 billion (US$142 million) financing from Chiyu Bank in June.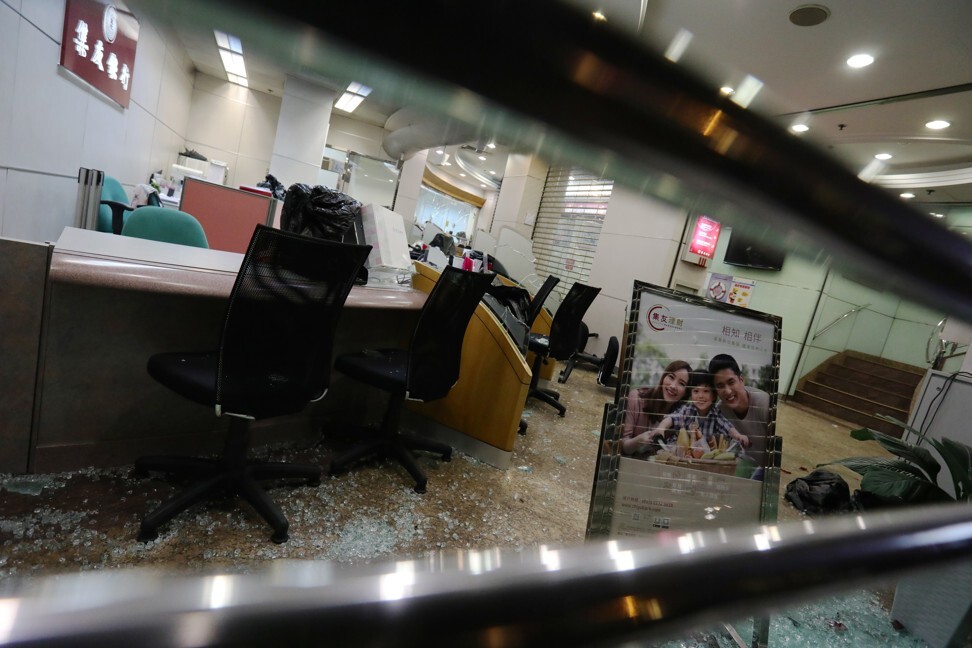 "The company has been actively dealing with the debts," the firm's spokesperson said in the email. "Between May and July 15, the company has repurchased US$83.8 million offshore bonds while the controlling stake holders bought US$22.1 million corporate bonds, showing the company's proven liquidity and our determination on deleveraging. It plans to keep buying back its bonds from the market, it added.
The constrained access is reducing developers' sales, liquidity and cash flow and raising refinancing risk, especially for financially weak developers, Moody's said in a report. Lenders and investors will continue to favour mid- to large-sized and financially sound developers, it added
The rating company revised the outlook on the Chinese property sector to negative on tightened funding access earlier this month.
"Investors have hesitated on picking up Chinese property bonds because of the recent saga," said Kenny Chan, chief financial officer of Zhenro Properties, a Chinese home builder. "When the panic passes, investors will understand choosing a healthy home builder is better than choosing those with high yields."
This article appeared in the South China Morning Post print edition as: Developers feel squeeze amid Evergrande woes