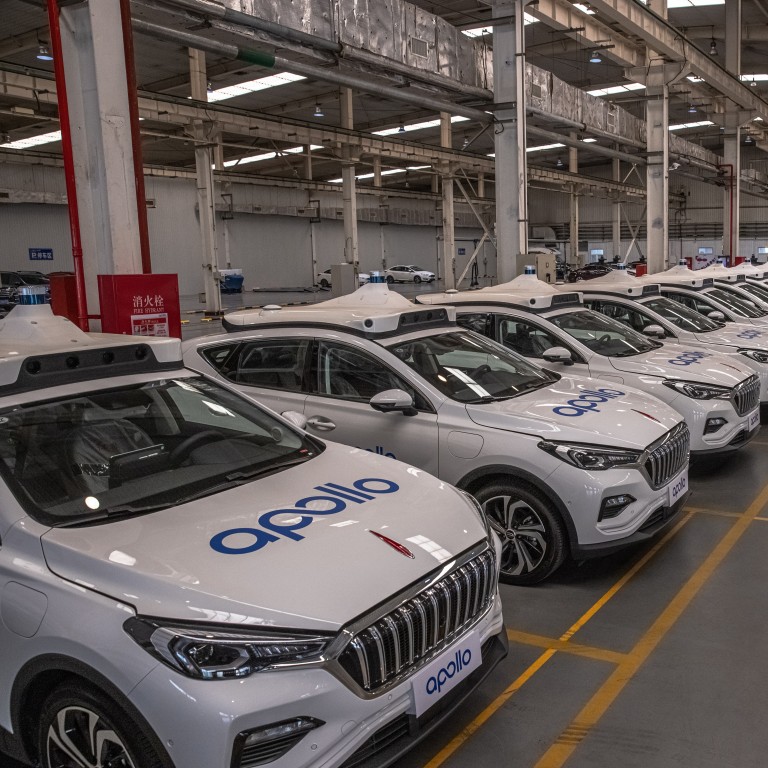 Self-driving cars will eventually be safer than those driven by people, says Chinese search engine giant Baidu
'Autonomous driving will offer a safer and more reliable driving experience,' said Wei Dong, vice-president and COO of Baidu's intelligent driving division
The remarks were apparently aimed at soothing consumers' concerns about safety following a fatal crash in August which involved the use of a driver assistant system
Baidu, China's dominant search engine and artificial intelligence company, has mounted a rigorous defence of
autonomous driving
, pledging it will eventually be safer than conventional driving.
Wei Dong, vice-president and chief operations officer of Baidu's intelligent driving division, said that self-driving cars will eventually be safer than vehicles with people behind the wheel.
"Autonomous driving will offer a safer and
more reliable driving experience
than human drivers," he told a forum on future mobility in Shanghai on Saturday. "Still the tech cannot ensure that no accidents will occur."
The remarks, made during the China International Import Expo (CIIE), were apparently aimed at soothing consumers' concerns about the safety of autonomous driving technology following a fatal crash in August which involved the use of a
driver assistant system
.
Baidu, which launched the world's largest open-source autonomous driving platform, Apollo, four years ago, is a pioneer in developing driverless cars. China is undergoing a major shift towards electrification on the roads.
In January the Beijing-based tech behemoth set up Jidu Auto, a venture with leading mainland carmaker Geely, which plans to launch its first electric vehicle (EV) for mass production in 2024.
The next generation of vehicles is widely expected to use digital technologies such as AI, voice control and internet of things features to make the cars more intelligent.
An accident on August 12 in which
a 31-year-old entrepreneur was killed
triggered worries about the safety of the navigation-on-pilot (NOP) system fitted in an ES8 sport-utility vehicle (SUV) assembled by Chinese EV start-up NIO.
The accident occurred while the NOP system was turned on, NIO said.
NOP is one of the driver assistant technologies that normally use algorithms to analyse traffic data collected in real time by on-board sensors.
"Environment detection" sensors can help a vehicle decide whether to pass a slow-moving car, but the process still requires human intervention.
Police in Shandong province are investigating the case with NIO's assistance. Neither has yet publish a statement to shed light on the cause of the accident.
Most of the driver assistant technologies in use now are classified as level 2 (L2) or L2+, according to a classification system published by the standardisation body SAE International. Full automation, without the need for any human intervention, is L5.
Some smart car owners have said drivers might take it for granted that driver-assisted cars are fully autonomous if salespeople failed to remind them of the risks.
Also in August, the US National Highway Transportation Safety Administration launched an investigation into Tesla's Autopilot feature, which has allegedly been involved in 11 collisions with stopped cars, resulting in one death and 17 injuries, over the past three and a half years.
"Driver assistant technology is not fully developed yet and it is not a self-driving system," said David Zhang, a researcher for the automotive industry at the North China University of Technology. "A correct reading of [Wei's] statement is that consumers are encouraged to have confidence in the technologies when they are fully developed."
Wei said the Apollo platform will listen carefully to a range of voices on motoring safety, and continue to improve technologies, management and data analysis to eventually offer consumers more convenient and efficient transport services, with safety guaranteed.
This article appeared in the South China Morning Post print edition as: Baidu defends safety of self-driving cars