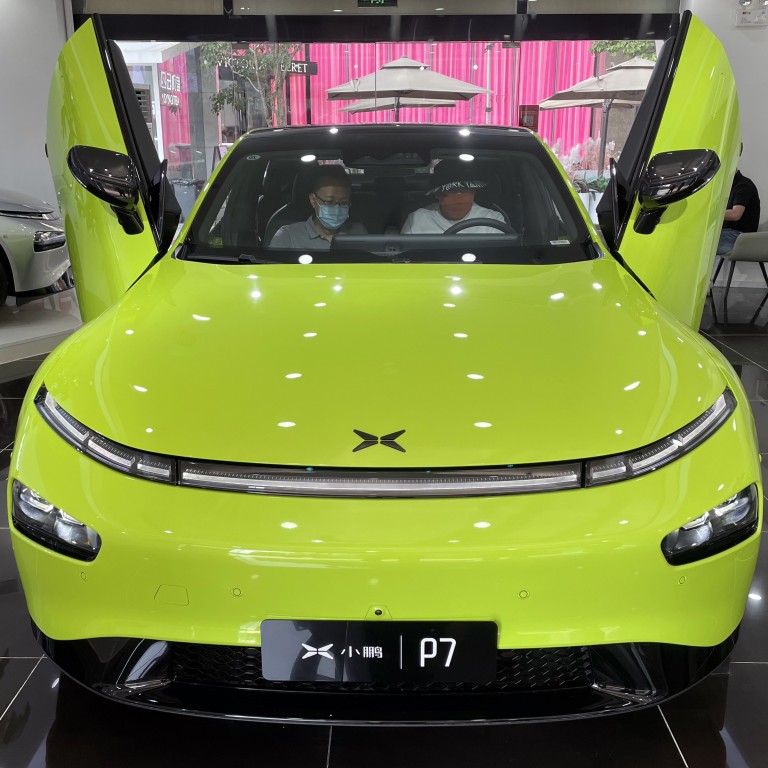 January sales surge at Chinese EV marques Xpeng, Li Auto and NIO in pursuit of Tesla
Xpeng and Li Auto say their sales more than doubled in January
Results impressive given that a reduction in government subsidy became effective from January 1, analyst says
China's leading
electric vehicle (EV)
makers recorded significant surges in sales in January, as they seek to close the gap with US rival Tesla, which said it would not release new models in 2022.
Xpeng
and Li Auto on Tuesday said that their sales more than doubled last month, while NIO said its sales had jumped by a third. These firms are looking to gain a bigger market share in China, where sales are expanding rapidly and have set the stage for a roaring start to the Lunar New Year.
"The delivery data is in line with expectations, as January is normally a low season for car sales," said Phate Zhang, founder of Shanghai-based technology portal CnEVpost. "None of the trio broke the previous monthly record in January, but the results still looked impressive, given the fact that a reduction in government subsidy became effective from January 1."
The ministry of finance announced in late December that cash subsidies would drop to 30 per cent in 2022 before being scrapped altogether next year. An all-electric car with a driving range of more than 400 kilometres is now eligible for a 12,600 yuan (US$1,981) subsidy. EVs priced at more than 300,000 yuan do not qualify for subsidies.
The sales numbers came after
Tesla
CEO Elon Musk said in an earnings call last week that the company would rather focus on coping with supply chain constraints this year than attract customers with new models. In contrast, the three Chinese brands have plans to introduce new models.
Beijing-headquartered
Li Auto
delivered 12,268 Li ONE cars in January, a 128.1 per cent increase year on year. The cumulative deliveries of Li ONEs have reached 136,356 since the vehicle's market debut.
"We have delivered over 10,000 Li ONEs for the third consecutive month, achieving a record for domestic branded premium vehicles priced above 300,000 yuan in China," Yanan Shen, co-founder and president of Li Auto, said in a statement.
"Looking ahead, we will remain committed to investing in research and development to provide our users with products and services that offer greater safety, convenience and comfort," Shen added.
Guangzhou-headquartered XPeng delivered 12,922 smart EVs in January, a 115 per cent increase year on year, exceeding the monthly delivery benchmark of 10,000 units for a fifth consecutive month. As of January 31, its cumulative smart EV deliveries had surpassed 150,000 units, as it continues to rapidly expand its network in China.
XPeng is also carrying out a technology upgrade at its Zhaoqing plant, taking advantage of a scheduled production downtime over the Lunar New Year holiday, running from the end of January to early February. The upgrade will allow it to accelerate deliveries from a significant order backlog carried over from 2021, and better serve increasing demand in the new year.
Shanghai-based
NIO
, meanwhile, delivered 9,652 vehicles in January, an increase of 33.6 per cent year on year. As of January 31, 2022, the cumulative deliveries of its models ES8, ES6 and EC6 had reached 176,722 vehicles. It added that it had undergone an aggressive infrastructure expansion as well.