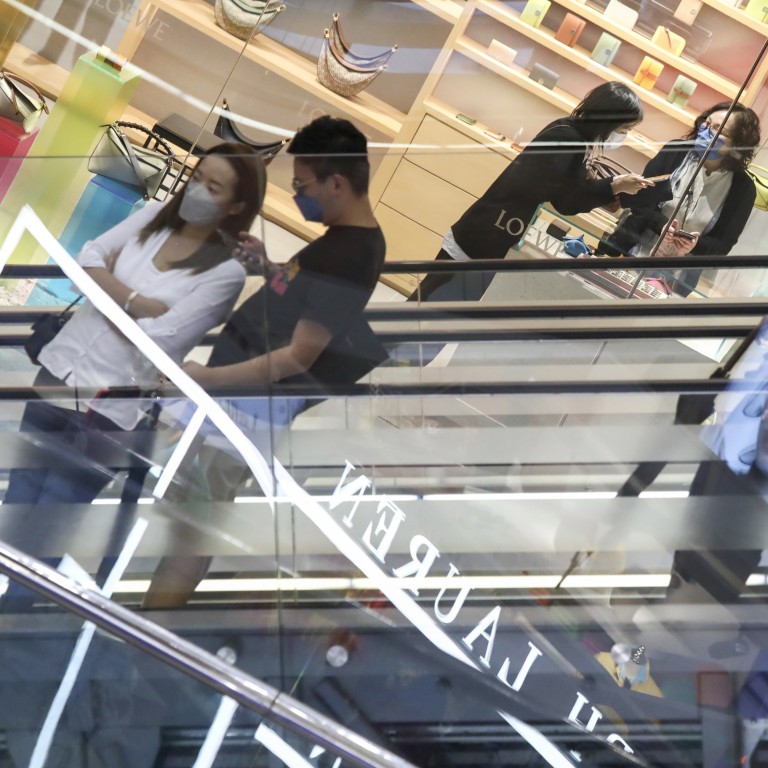 Wharf Reic warns of interim loss as value of investment properties erodes amid poor business, economic conditions
Revaluation deficit likely to exceed income from operations, causing the group to slip into a loss in the six months to June 30, according to stock exchange filing
Hong Kong downgraded its growth forecast for 2022 after the economy shrank by more than expected in the first quarter
Wharf Real Estate Investment Co, one of Hong Kong's biggest commercial landlords, has warned investors it is likely to report a loss in the first half this year, as the toughest anti-pandemic measures in the city hit businesses and eroded the value of its properties.
The group, whose HK$272 billion (US$34.6 billion) of investment assets include the Harbour City shopping centre in Tsim Sha Tsui and the Times Square mall in Causeway Bay, said a revaluation deficit may exceed income generated from its operations for the interim report to be released by early next month, according to an exchange filing on Thursday.
It did not disclose the shortfall or the expected loss for the period. It had a net profit of HK$2.97 billion in the first six months of 2021.
The revaluation loss was HK$2.2 billion for the full year in 2021 and HK$13.8 billion in 2020, according to its published accounts.
Hong Kong's economy contracted by a larger-than-expected 4 per cent in the first quarter, prompting the government to downgrade its growth forecast for the full year to 1 to 2 per cent, from 2 to 3.5 per cent. Border controls and social unrest have reduced mainland
Chinese tourists
to a trickle, shrinking more than
HK$132 billion worth of retail sales
in the city since 2018, according to government data.
Wharf Reic is 49 per cent owned by the Wheelock group, a Hong Kong developer controlled by billionaire Peter Woo Kwong-ching whose net worth was estimated by Forbes at US$17.3 billion this month.
Its other investment properties include The Murray Hong Kong and Marco Polo hotels, Crawford House and Wheelock House offices in Central, and Plaza Hollywood in Kowloon. Wharf Reic also owns the Wheelock Place retail and office block and the Scotts Square mall on Singapore's Orchard Road.
The retail segment was one of the most adversely affected industries in Hong Kong during the fifth wave of the pandemic, when the highly transmissible Delta and Omicron variants slipped through the city's defences late last year. Fitness centres, beauty parlours and event venues were closed, while restaurant dine-in was severely curbed.
Hong Kong's retail properties declined by 5.5 per cent on average in the first half, according to property consultancy JLL. The firm expects capital values of high street shops to remain flattish or rise by 5 per cent. Vacancy in prime offices in Central hit a 19-year high last month, according to CBRE.
Wharf Reic warned that while borders remained closed, its retail and hotel businesses would remain under pressure. Even so, the group's overall financial, business and trading positions "remain healthy", it added.