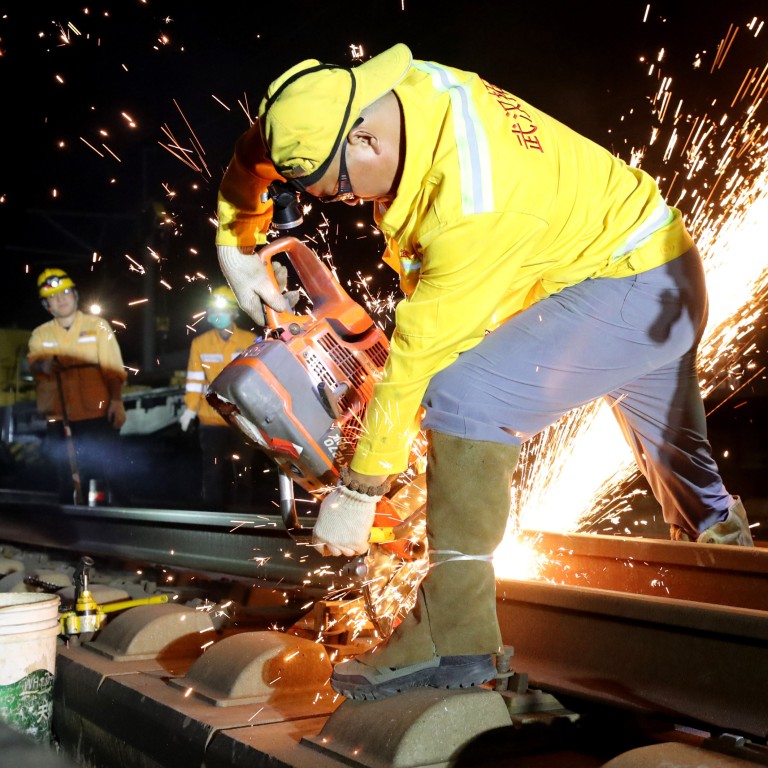 Shanghai bets on infrastructure, fixed-asset investment to claw back economic losses from two-month citywide lockdown
Mega projects ranging from metro lines to data centres are set to create a cascade of demand for industrial products, say company bosses
Shanghai's GDP shrank 13.7 per cent in the second quarter as residents were confined to their homes and manufacturing was suspended
Mega projects ranging from metro lines, museums and theatres to
data centres
and research institutes are set to create a cascade of demand for industrial products that can help support the employment rate and help manufacturers sustain profitability, said company bosses.
"We hope the market will recover in the next two to three months," said Martin Wawra, managing director of Voith Turbo China, a German supplier of rail industry products. "When the
demand increases
, orders [for our products] will come back."
He said that new metro lines the municipality plans to build will give Voith a much-needed boost next year when the mammoth projects receive the go-ahead to start construction.
Leo Zhang, president of chemical product maker Sika China, said the government's stimulus policies to underpin the ailing economy could offset the losses his firm suffered in production during the citywide lockdown.
"We hope new orders from construction of public works as well as building of solar and wind power plants can help Sika's Shanghai factories make up for lost ground," he said. "We still hope that positive growth [in production] can be achieved."
The bullish forecasts for the Shanghai operations of large industrial companies come as the city's authorities voice their determination to claw back huge economic losses.
Mayor Gong Zheng
told a government conference on Wednesday that a slew of mega projects needed to be accelerated, all the way from approval procedures to logistics support.
Shanghai has yet to revise its full-year gross domestic product growth target of 5.5 per cent set in January, although it is on course to miss the goal.
The
city's economic output
contracted 13.7 per cent in the second quarter as most of the 25 million residents were confined to their homes in April and May, with manufacturing and commercial activities suspended.
"City officials have not given up their hopes of a sharp rebound in the second half," said Wang Feng, chairman of Shanghai-based financial services group Ye Lang Capital. "Economic sweeteners like fast-tracking new project approvals will effectively shore up economic data, but only big firms can benefit initially."
The city's key manufacturing sectors such as electric cars and semiconductors had helped cushion a sharp decline in industrial output from January to June.
Overall, Shanghai's industrial production fell 13.7 per cent on the year in the first half, but the new-energy vehicle (NEV) sector – which comprises pure electric, plug-in hybrid and hydrogen fuel-cell cars – recorded a 67 per cent jump, according to local government statistics.
In June, the Shanghai government announced it would offer buyers a subsidy of 10,000 yuan (US$1,478) to replace their used petrol cars with NEVs.
"Infrastructure, automotive, property, all capital-intensive industries, can play a leading role in bolstering economic growth amid government support," said Gao Shen, an independent analyst in Shanghai. "Our concern is whether small businesses can reap the benefits of the stimulus measures."
The city received US$12.5 billion of foreign direct investment in the first half of this year, virtually unchanged from 2021.
The Shanghai statistics bureau said in a statement this week that the city's economic fundamentals remained solid and the Covid-19 pandemic was not enough to reverse long-term growth prospects.