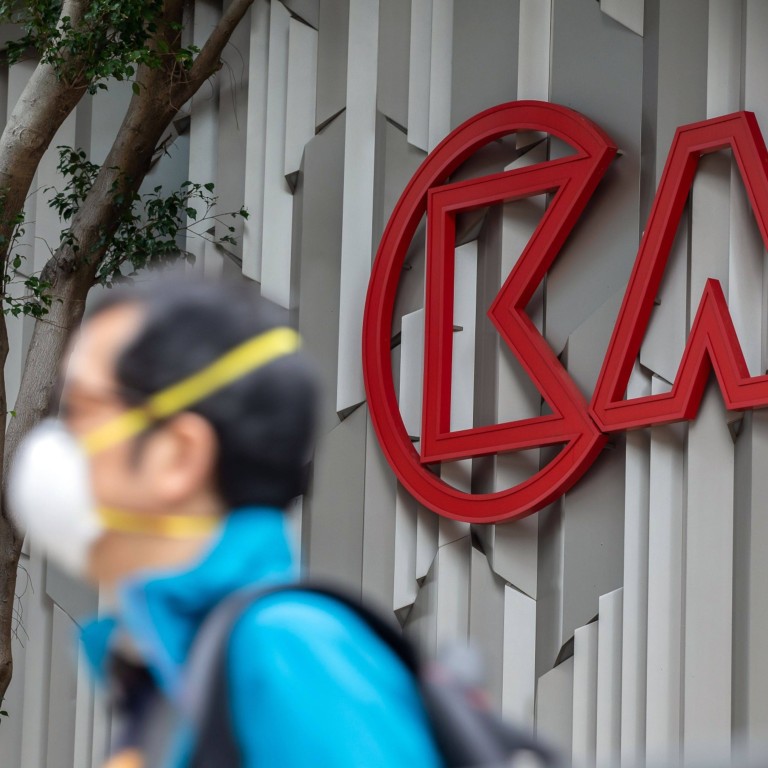 Li Ka-shing's CK Hutchison, CK Asset post first-half earnings increases despite 'worrisome' Covid-19 situation in mainland China, Hong Kong
Economic activity rebounded in many of the group's markets during the first half, Chairman Victor Li says
CK Hutchison says its net profit for the first six months of 2022 rose 4.3 per cent, while CK Asset posts 55 per cent jump
CK Hutchison Holdings and CK Asset Holdings,
the two flagship companies of Li Ka-shing
, Hong Kong's richest man, reported increases in their first-half results on Thursday, despite a "worrisome" Covid-19 situation in mainland China and Hong Kong.
CK Hutchison, the conglomerate with businesses touching almost every aspect of an average Hongkonger's life, said its net profit for the first six months of 2022 rose 4.3 per cent to HK$19.1 billion (US$2.4 billion), slowing down from a
41 per cent jump in earnings in the first half of 2021.
CK Asset, Hong Kong's second-largest real estate developer by value, said its first-half profit increased 55 per cent to HK$12.9 billion. Revenue generated from property sales jumped 38 per cent to HK$20.4 billion, including HK$12.7 billion generated from property sales in Hong Kong.
"Economic activity rebounded during the first half in many of the group's markets, as countries eased or removed pandemic restrictions entirely. However, the Covid-19 situation remained worrisome in Hong Kong and the mainland, with lockdown and movement restrictions affecting the group's businesses there,"
Victor Li Tzar-kuoi
, Li Ka-shing's elder son and chairman of both companies, said in a filing to the Hong Kong exchange by CK Hutchison.
"Barring any unforeseen deterioration in business conditions, or in energy commodity prices, the group is well-positioned to maintain a growth trajectory and deliver solid performance in the second half and the years ahead."
CK Hutchison's revenue rose 8.1 per cent to HK$229.6 billion. The company's container ports business posted HK$22.7 billion in sales, an increase of 14 per cent compared to the same period last year, helped by new volumes from the newly acquired Delta II terminal in the Netherlands and better performance in Mexico. Sales at the conglomerate's retail business, its biggest revenue earner, increased by 3 per cent to HK$84.9 billion.
"The mainland [Chinese] market will likely continue to be challenging, but various new initiatives are currently being implemented … to prepare itself for an eventual full reopening of the economy," CK Hutchison said in its filing.
The two companies said they will pay dividends to shareholders. CK Hutchison will raise its interim dividend by 5 per cent to 84 Hong Kong cents per share, while CK Asset will increase its payout by 5 per cent to 43 cents per share.
Shares of both companies rose on Thursday ahead of the announcement. Shares of CK Hutchison rose 0.9 per cent to HK$51.40, while CK Asset closed 0.4 per cent higher at HK$54.30.
A sharp increase in borrowing costs this year following four rate rises by the Fed, combined with a slower-than-expected economic recovery in the city from the fifth wave of Covid-19, could pour cold water on the market.
Hong Kong's lived-in home price index, an indicator of the city's housing market monitored by the government, dipped 1.1 per cent to 380.5 in June, the most since a 1.8 per cent decline in February this year.