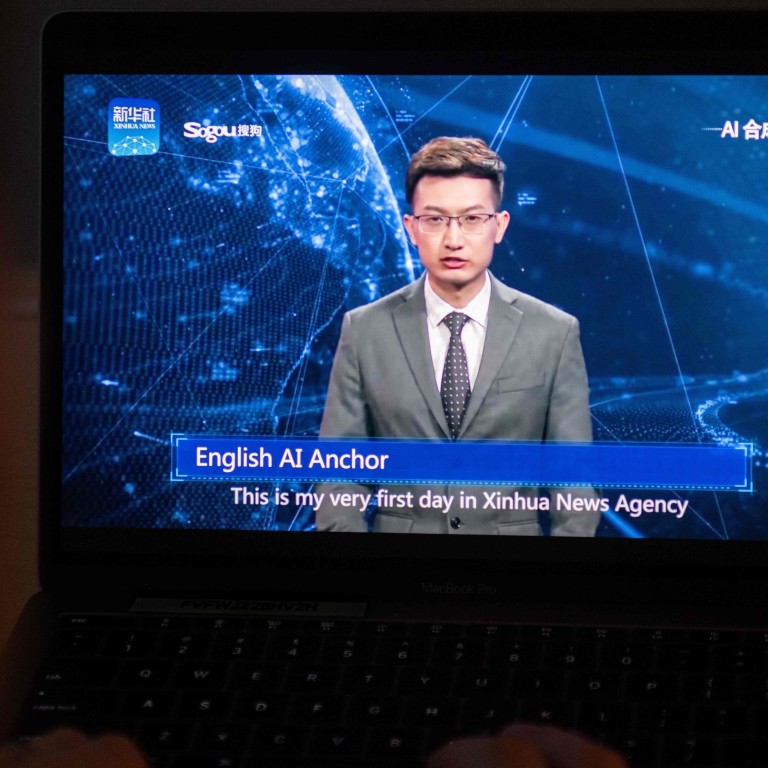 Global tech start-ups from skyscraper-cleaning robots to AI news anchors find their footing in the Greater Bay Area
Hong Kong's status as a hub for emerging technologies is among the reasons companies are choosing China's bay area
The economic zone in southern China is emerging as a haven for robotic and AI developers to test out their products
Tech start-ups are flocking to the
Greater Bay Area (GBA)
to take advantage of dynamic investment opportunities and heightened demand, as the region emerges as a haven for robotic and AI developers to test out their products.
Concentration of resources and
Hong Kong's status
as a hub for emerging technologies were among the reasons companies are choosing the bay area, according to three hi-tech start-ups.
DeepBrain AI, a South-Korean firm developing digital avatars powered by artificial intelligence, said consumers in the bay area were keener to embrace new technologies than those in other markets.
"I would say Hong Kong and China were more aggressive to
adopt AI technology
compared to Western customers," said Felix Kim Jaeho, global business developer at Deepbrain AI.
"Some regions are still considered conservative when it comes to deep learning or AI technology, but Hong Kong and the GBA are ready to consider this technology."
Hong Kong, Macau, and nine cities in southern China's Guangdong province make up the Greater Bay Area, China's ambitious plan to create a hi-tech economic zone to rival the likes of Silicon Valley in the United States.
Since 2016, DeepBrain AI has been developing its signature "AI human" avatars – virtual clones of real people that can interact with clients and customers across various service sectors.
Their products are already available in global markets, mostly assisting in the retail and finance sectors.
In South Korea, virtual assistants can be found in local convenience stores and banks, although Kim said the company is looking to expand into the education and healthcare sectors.
The company's ambition to enter the Hong Kong market came to life after it was chosen to be part of an accelerator programme run by Microsoft and New World Development (NWD), a Hong Kong property company, in November last year.
The programme, which started in September 2021, helps start-ups gain a foothold in the bay area, offering partnerships and collaboration with local professionals.
"NWD believes that there is a lot to learn from the innovative technologies that have emerged in these past years," the company said in a written response to questions.
"This GBA Accelerator programme allows us to learn from the start-ups and develop unique co-developed solutions that otherwise might not have come to pass."
Kim said the technical support and resources the programme provided acted as a "bridge between East and West".
"China and the GBA are huge markets for us, but we haven't been able to enter easily because we didn't have many actual cases [to use our technology]," Kim said. "So this programme has been very helpful in terms of that."
The biggest challenge for the 120-strong team at DeepBrain AI has been perfecting the technologies' capabilities in Cantonese. Already capable in English, Japanese, Korean, and Mandarin, the company is expecting to roll out its Cantonese-speaking AI kiosk at K11 Musea, a shopping centre in Tsim Sha Tsui, early next year.
Fellow accelerator participant Trace is also expecting to roll out its augmented reality (AR) technology at K11 soon. The American company is currently developing an app that allows virtual content to inhabit real-world environments through a user's phone and other devices.
In a promotional video for the accelerator programme, Trace showed how their technology can be used to create virtual guides for museum tours and art galleries, as well as large-scale installations such as a flying dragon circling K11 Musea.
"At first it surprised me [but] now it doesn't surprise me any more because I've sort of seen it over and over," he said, adding that the city is developing a reputation as a global hub for this kind of technology.
"The economic region has a very large number of advantages; a high amount of talent, the [sizeable] GDP and access to a developed industrial chain," said Ezrael Hu Shangzhi, the general manager at R-storm, another of the accelerator's start-ups.
Founded in the US but now based in mainland China, R-storm develops robots. Its current product line is cleaning robots for high altitudes that use unique suction-cup technology.
R-storm has collaborated with developers from Hong Kong and is set to roll out its window cleaning technology for high-rise buildings across the bay area.
"We are very optimistic about the development of the Greater Bay Area. The manufacturing and emerging industries [there] are well established, companies can save on time and financial costs," said Hu.