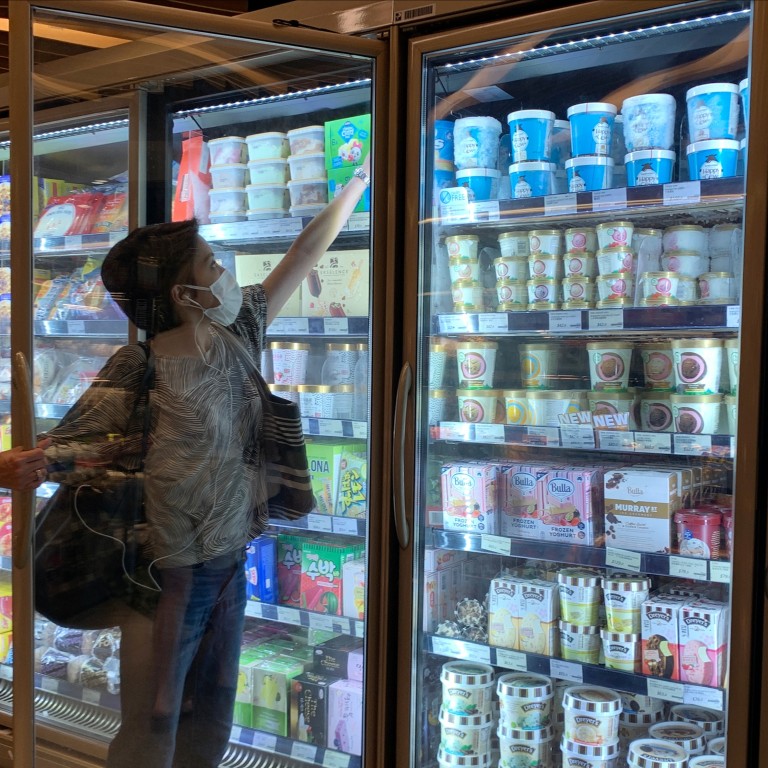 Opinion
Concrete Analysis
by Reeves Yan
Concrete Analysis
by Reeves Yan
Investors eye Hong Kong cold-storage assets amid rising Greater Bay Area links, demand surge among F&B sector
In Hong Kong, demand for cold storage has accelerated since the pandemic, with grocery retailers and restaurants looking to increase online sales, and a rise in frozen-food imports
Growing cold-storage demand will also be supported by Hong Kong's robust logistics infrastructure
According to CBRE's 2022 Asia-Pacific Investor Intentions Survey, investors continue to target alternative sectors that have benefited from structural changes driven by the coronavirus pandemic.
Interest in cold storage has strengthened further, with growing investment demand from cold-storage related occupiers and core funds. In Hong Kong, the demand for cold storage has accelerated since the pandemic, with grocery retailers and restaurants looking towards increasing online sales, and a rise in retained imports of frozen food.
Hong Kong has been Asia's leading logistics hub for decades. But what exactly is driving the recent sharp rise in demand for cold storage?
The increase in domestic spending and consumption patterns is a major factor. High-valued perishable goods, imported fresh and frozen foods
as well as pharmaceuticals
have been in high demand in recent years. The total restaurant receipts for 2021 reached around HK$92.7 billion (US$11.8 billion), an increase of about 17 per cent in value and 15 per cent in volume compared with the whole of 2020. Similarly, about half of retail leasing transactions in 2021
involved food and beverage
(F&B) operators.
In particular, Japanese cafes and restaurants were the most active last year. Seeing this trend, many new-to-market retailers entered Hong Kong in 2021, with 75 per cent of entrants being F&B brands. Aside from F&B operators, local supermarkets such as Aeon and HKTV Mall, and Japanese grocers such as Daiso and Gyomu Super, actively expanded during 2021 as well.
During the pandemic, many retailers also began to explore or further leverage their online growth opportunities. In November 2021, online retailing accounted for 11.2 per cent of Hong Kong's total retail sales – the first time it has reached double digits.
F&B operators
also took the opportunity to expand their delivery offering, such as takeaways, business to business or business to customer services.
Despite the strong demand for cold-storage facilities, the supply of en bloc and purpose-built cold-storage properties in Hong Kong is extremely scarce. Among the 10 en bloc cold-storage buildings that are fully licensed, 60 per cent are owner occupied – and partially leased to third-party tenants – by institutional or conglomerate landlords and are unlikely to be up for sale.
As of July 2022, there are 79 licensed cold stores in Hong Kong, of which only 10 are fully licensed en bloc cold-storage buildings. Most of these stores are partial or strata-titled conversions of existing industrial buildings, which is less ideal due to myriad users within buildings, the considerable amount of capital expenditure required for conversions, lower space efficiency and inadequate or even nonexistent temperature-controlled loading docks and lifts within the property.
En bloc and purpose-built cold-storage buildings can avoid the above pitfalls of partial conversions, and it is evident that cold storage with large footprints of above 10,000 sq ft is preferable due to efficiencies and economies of scale.
In addition to evolving consumption patterns, growing cold-storage demand is poised to be well supported by Hong Kong's robust logistics infrastructure.
According to Airports International Council, Hong Kong has the busiest cargo airport in the world. As a leading global aviation hub, the Hong Kong International Airport serves around 120 airlines, connecting about 220 destinations worldwide, including about 50 mainland China destinations.
Even before the launch of the third runway in July this year, and the outbreak of Covid-19, the Hong Kong airport was handling more than 1,100 daily flights to and from the city.
Without doubt, Hong Kong will continue to be the gateway for trade
between China and the rest of the world
. In 2021, more than 3 million goods and container vehicles crossed the Hong Kong-mainland border, equivalent to about 8,400 vehicles per day. This number is expected to rise over the next decade, with new transport and logistics infrastructure in place, deepening integration with the Greater Bay Area.
The Heung Yuen Wai Control Point, which opened in 2020, is part of a proposed series of control points along the Hong Kong-mainland border running across the northern boundary stretching from San Tin to Man Kam To. Together with local BOOT (build, own, operate, transfer) roads such as the Tuen Mun-Chek Lap Kok Link that opened in 2020, and the proposed Tuen Mun Bypass, Route 11 and Tsing Yi-Lantau Link, Hong Kong will further cement its status as an important regional logistics hub and international gateway for mainland China.
All in all, the appetite for industrial properties remains strong in Hong Kong. In the second quarter of 2022 alone, the total industrial commercial real estate investment volume – deals worth more than HK$77 million – accounted for HK$7 billion or 44 per cent of total quarterly investment volume.
Despite the backdrop of the recent interest rate increases and an uncertain economic outlook, cold storage stands out as an attractive asset class among industrial properties for many investors and companies looking for self-use.
Reeves Yan is the head of Capital Markets, CBRE Hong Kong