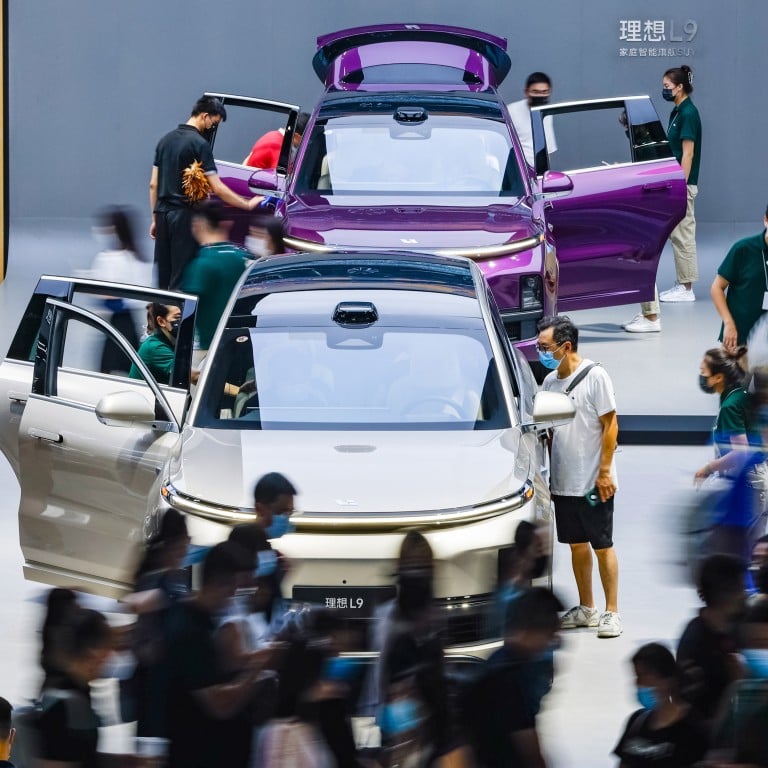 Li Auto, Xpeng and Nio report upbeat sales in September, but bumpy road ahead for Chinese EV makers amid increasing competition, analyst says
Li Auto delivers 10,123 units of its new L9 SUV during its first full month of delivery
September tends to be a good period for vehicle sales, as buyers like to travel in the coming months, Huanghe Science and Technology University professor says
Nio, Li Auto and Xpeng Motors, the top three Chinese smart electric vehicle (EV) makers, reported upbeat sales in September amid easing coronavirus restrictions in mainland China, but could face slowing growth amid heightened competition in the new energy vehicle (NEV) market.
Beijing-based Li Auto's sales shot up 152 per cent to 11,531 EVs in September, compared with 4,571 in August, according to a statement on Saturday. The carmaker delivered 10,123 units of its new L9 flagship sport utility vehicle (SUV) during its first full month of delivery. L9, the company's second production model
which was unveiled on June 21
, amassed 30,000 pre-orders within three days of its launch.
Shanghai-based Nio delivered 10,878 vehicles last month, up 1.9 per cent from August. Guangzhou-based Xpeng, China's best-performing EV maker this year, delivered 8,468 vehicles in September, down 11.6 per cent from a month earlier, and reported a
third straight monthly drop
. However, the carmaker's deliveries of 98,553 units year-to-date have already surpassed the total amount for the whole of 2021, according to a statement on Saturday.
"The Covid-19 situation has eased compared to the first half of the year, and the markets have opened up. This has definitely helped sales growth at [EV makers]. September also tends to be a good period for vehicle sales, as buyers like to travel in the coming months," said David Zhang, visiting professor at the engineering department of Huanghe Science and Technology University.
The top
three
EV firms, regarded as China's answer to American carmaker
Tesla
, have received huge orders for their existing and new models.
Tesla
and its Chinese rivals build and sell smart EVs priced at more than 300,000 yuan (US$42,175), which feature preliminary autonomous driving technologies, sophisticated in-car entertainment systems and high-performance batteries.
Li Auto's delivery of more than 10,000 L9 units in September – the first time that a domestic premium model priced over 400,000 yuan has achieved this monthly delivery milestone – is being viewed as establishing the EV as a top SUV choice for Chinese families, said co-founder and president Shen Yanan.
"The L9's outstanding sales performance is a testament to our ongoing efforts to build and refine our in-house research and development, supply chain and intelligent manufacturing capabilities," Shen said in a statement on Saturday.
The Beijing carmaker delivered 26,524 vehicles in the third quarter, missing its estimate of delivering 29,000 to 31,000 EVs between July and September, and falling short of a forecast of 35,000-37,000 units made by Deutsche Bank.