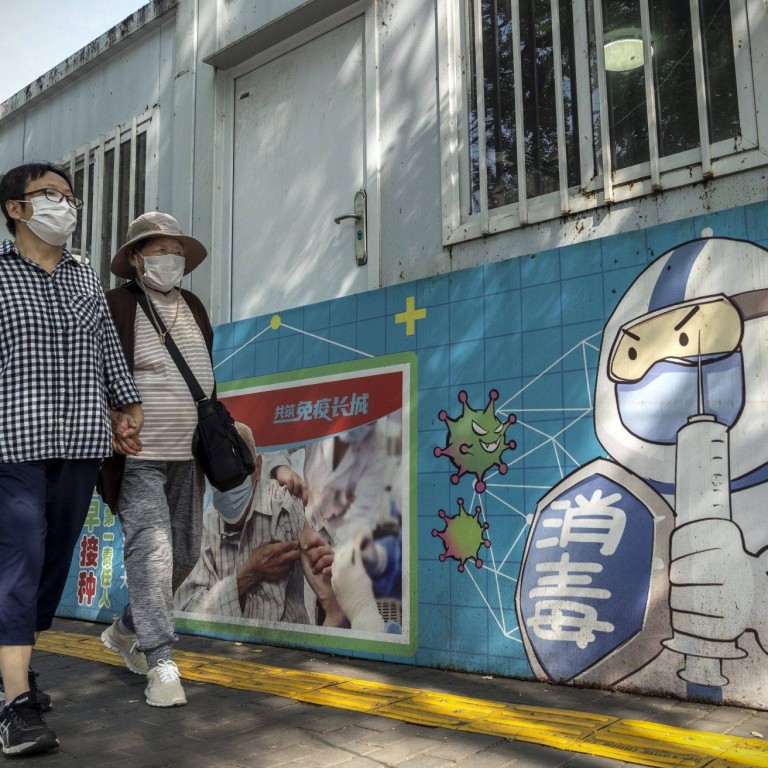 'Best days are over' for China's pandemic stock winners as zero-Covid policy fails to halt losing run for vaccine makers
Vaccine makers like CanSino, Chongqing Zhifei have slumped on onshore stock markets, suggesting they are one-product wonders
Demand for Covid-19 vaccines is diminishing, given the high vaccination rate at home and governments worldwide choosing to live with the virus, analysts say
Chinese vaccine makers that once flourished on coronavirus outbreaks have been in the doldrums this year, with
stock investors
unconvinced about their upside potential as the world reopened while Beijing hardened its zero-Covid policy.
CanSino Biologics has slumped 74 per cent in Hong Kong and 57 per cent in Shanghai, contributing to a
US$3.5 trillion market-wide wipeout
this year, according to Bloomberg data. An index tracking 58 vaccine makers has lost 15 per cent, according to DZH data, while the CSI 300 Index retreated 24 per cent.
Peer Chongqing Zhifei Biologics Product has lost 25 per cent of its market value in Shenzhen, while the nation's biggest medical equipment maker, Shenzhen Mindray Bio-Medical Electronics, has weakened 13 per cent. Andon Health,
whose unit iHealth Lab supplies test-kits to the US army
, has plunged 44 per cent from its record high in April.
"The best days for Covid-19 vaccine makers are over," said Wang Chen, a partner at Xufunds Investment Management in Shanghai. "There's a significant drop in demand as China's vaccination rate is now pretty high. Macro headwinds are the last straw for their high valuations."
The losses reflect dwindling bets on vaccine makers as governments choose to live with the virus and abandon years of economy-crippling lockdowns since Covid-19 emerged in early 2020. China's slowdown and the Federal Reserve's rate increases have also slammed stocks globally.
China is now the world's only major economy that adheres to the zero-Covid approach, sticking to the strategy first mentioned when authorities locked down the entire city of Wuhan, the epicentre of the coronavirus outbreak, in early 2020.
President Xi Jinping, who cemented his position at the top of the Communist Party hierarchy, has remained steadfast on the strategy during the party's 20th national congress last week. It will help prevent more deaths, he said, sidestepping the cost to the broader economy.
China's full vaccination rate has reached almost 90 per cent, according to government data, diminishing demand for vaccines. This has reinforced the view that CanSino and Zhifei are one-product wonders. CanSino's first-half earnings crashed almost 99 per cent from a year earlier, while Zhifei suffered a 32 per cent decline, according to exchange filings.
"China has limited room to boost the vaccination rate and have more booster shots, and there's now a plentiful supply of vaccines globally," said Sun Jian, an analyst at Zheshang Securities in Shanghai. "We expect a significant drop in Covid-19 vaccine sales through 2023, which will become a drag on revenue growth."
Andon Health, which recorded a 300-fold jump in first-half profit, is under pressure to repeat that feat. The stock trades at only 1.43 times projected earnings, according to Bloomberg data, reflecting market concerns that its US supply contract will be a one-off act.
China's biopharmaceutical industry is suffering another blow from a sudden resurgence in Covid-19 cases at home. They are seen disrupting domestic logistics and supply chains, according to GF Securities, without compensating sales.
"Demand and prices of products for Covid tests are both on the decline," said Kong Lingyan, an analyst at the Guangzhou-based brokerage. "That will weigh on the growth of vaccine-related companies in the industry."