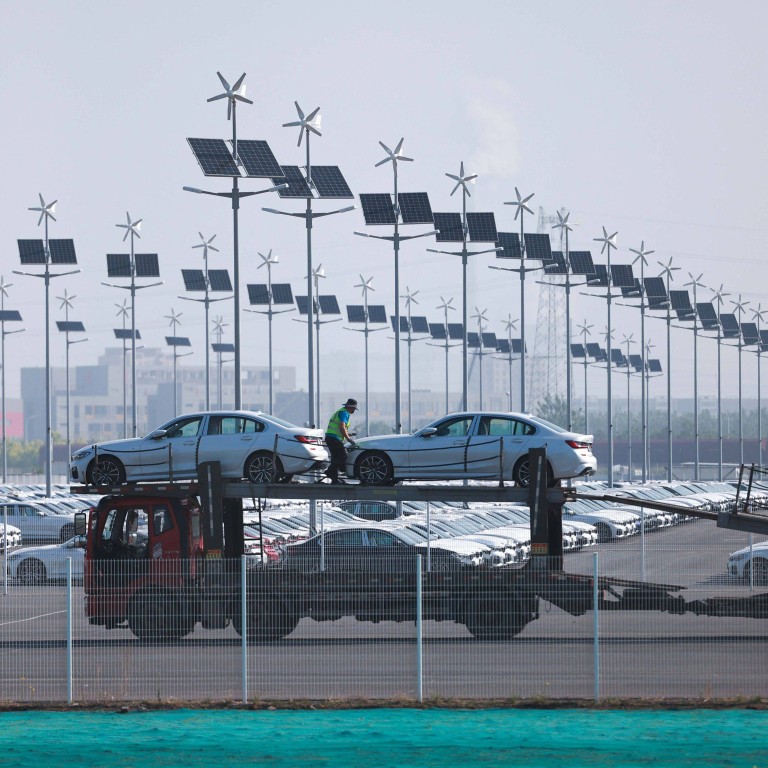 BMW confirms it will invest another US$1.4 billion in Chinese EV battery plant
The German marque will expand the Lydia plant, which makes high-performance batteries for its i3 and iX3 series cars
Oliver Zipse, BMW's chairman, who accompanied German chancellor Olaf Scholz on his visit to Beijing recently, said China would continue to be one of the carmaker's most important markets
BMW has confirmed that it will invest an additional 10 billion yuan (US$1.4 billion) towards increasing capacity at a battery plant in China's northern Liaoning province.
The German marque said in a statement that it had signed an agreement with the local government to expand the Lydia plant, which makes high-performance batteries for its i3 and iX3 series cars.
The injection of fresh funds
was reported last month
by state-owned tabloid Global Times, which cited an unidentified BMW official.
The agreement, signed on Friday, comes barely a week after a visit by Olaf Scholz, the German chancellor, to Beijing. It has heightened expectations that more trade and investment deals between China and Germany will be concluded in the coming months.
Oliver Zipse, BMW's chairman, who accompanied Scholz on the visit, said China would continue to be one of the carmaker's most important markets.
Scholz' visit on November 4 was the first by a leader from a major developed economy after Chinese President Xi Jinping secured an unprecedented third term as the Communist Party's general secretary.
BMW's total investment in the battery plant, located in the Sino-German (Shenyang) High-End Equipment Manufacturing Industrial Park, will hit 25 billion yuan when the expansion is completed. The carmaker said the expansion would pave the way for BMW to accelerate the development of
electric vehicles (EVs)
in China.
"Conventional luxury carmakers will expand aggressively into EVs because of their quick growth pace," said Chen Jinzhu, CEO of Shanghai Mingliang Auto Service. "Electric cars developed by BMW and its global competitors are yet to be well received by Chinese drivers."
BMW, Audi and
Mercedes-Benz
enjoy the lion's share of China's premium car segment. But their numbers have been slipping. Their combined market share stood at about 80 per cent in 2010 but shrank to 57.8 per cent in the first half of this year, according to data from the China Association of Automobile Manufacturers.
Moreover, the accelerated pace of EV adoption in China poses another problem for these carmakers, which mainly manufacture conventional vehicles. China is the world's largest EV market and could see sales of new-energy vehicles – pure electric, plug-in hybrid and fuel-cell cars – more than double to 6 million units this year, UBS analyst Paul Gong said in August this year.
By 2030, three out of every five new vehicles sold in the country will be powered by batteries, the Swiss bank forecast last year.
BMW delivered about 53,000 pure EVs to Chinese customers in the first nine months of this year, a year-on-year increase of 65 per cent. But it lags far behind Tesla, the runaway leader in China's premium EV segment. Tesla's Shanghai Gigafactory delivered 71,704 vehicles in October alone, according to data from the China Passenger Car Association.
BMW will also relocate production of its Mini cars from its Cowley plant in Oxford, UK to China next year.
Spotlight Automotive
, a 50-50 joint venture between BMW and its Chinese partner, Great Wall Motor, will begin assembling electric Mini cars in Zhangjiagang, in eastern Jiangsu province next year.