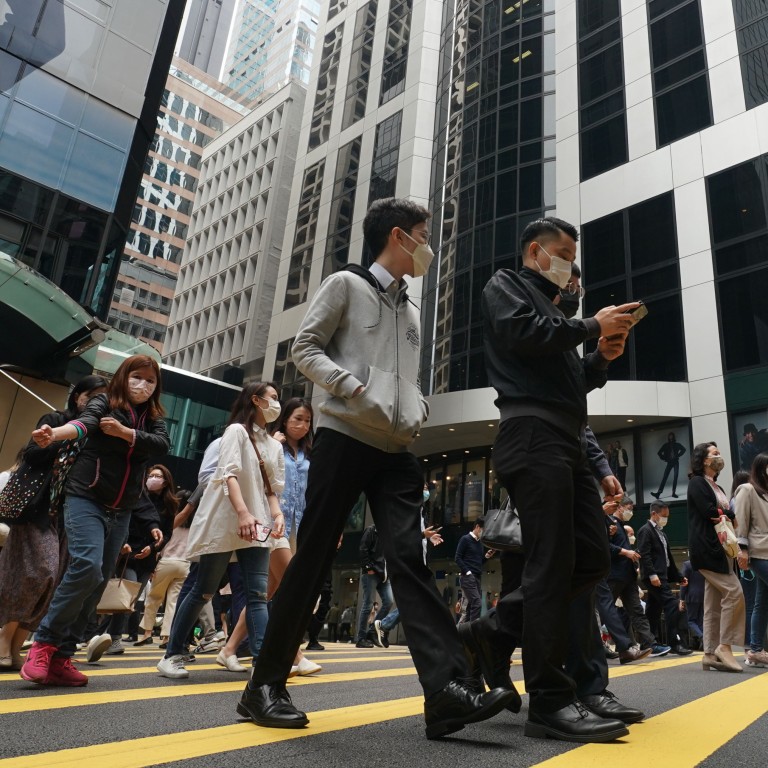 Hong Kong salaries seen growing 3.8 per cent in 2023 with bankers enjoying the best upside, Mercer survey shows
Logistics and non-manufacturing sectors to post the slowest increments, with cross-border business disruptions cited for cautious view
Talent attraction and retention continues to be a top priority among Hong Kong companies amid higher-than-usual staff turnover
Hongkongers in corporate jobs are expected to enjoy a fatter pay cheque next year as business recovery gains momentum, with executives in the financial industry benefiting the most from the brighter outlook.
They can look forward to a median increase of 3.8 per cent in 2023 versus a 3.6 per cent estimate for this year and as low as 3 per cent during the Covid-19 crisis, according to the annual survey published by Mercer. The firm surveyed 544 organisations across 13 industries from April to June this year.
While the expected improvement resonates with other markets, the recovery will not be fast enough to match the pre-pandemic level of 4 per cent in 2019, the firm said in a statement. It will also trail the median gain of about 4.4 per cent across the Asia-Pacific region.
The city, though, is making a belated comeback after easing its strict quarantine measures to reopen the local economy and help foment a sustainable recovery.
"With relaxation on pandemic restrictions and easing of quarantine in Hong Kong, we have seen a rebound in businesses," Gary Chin, Mercer's head of rewards for Hong Kong, said in an interview on Thursday. Companies remain "cautiously optimistic", with leaders still balancing increments and budgets, he added.
Hong Kong's government last week said the economy could shrink by 3.2 per cent this year, citing a weaker external demand and the pandemic fallout. It earlier projected the economy could achieve between a 0.5 per cent growth and a 0.5 per cent contraction. The economy expanded 6.7 per cent in 2020.
"The business environment is still challenging as a whole" under the pressure of faster inflation and higher borrowing costs, Chin said.
Higher pay cheques are expected across most industries, Mercer said in its annual survey, with the banking and financial services industry likely to enjoy a 4.5 per cent increase versus 4 per cent in 2022.
On the opposite end, the logistics and non-manufacturing sectors are likely to show the smallest jump at 3.6 per cent, versus 3.5 per cent and 3.2 per cent respectively in 2022. Disruptions in cross-border transport were cited as a hindrance to better pay.
Hong Kong's latest unemployment rate fell by 0.1 percentage point to 3.8 per cent in the three months ended October, with about 147,000 remaining jobless, according to provisional data released by the Census and Statistics Department.
That was the sixth consecutive period that job prospects had improved this year, most notably in the decorations, repairs, building maintenance sectors, retail, as well as the food and beverages industry, according to the data.
Mercer said talent attraction and retention has become a top priority for Hong Kong companies as they grapple with higher-than-usual staff turnover this year. The average turnover rate stood at 10.5 per cent in mid-2022 versus a recent-high of 14.6 per cent in 2019.
Front-line employees in the hospitality industry and retail businesses are more likely to switch jobs, as they lack flexibility in their current work arrangements, Chin said. Hong Kong is also experiencing brain drain with more professionals moving to other countries, he added.
As a result, companies have stepped up bonus payouts to above pre-pandemic levels "across the board" for senior executives and management, as well as sales professionals, the Mercer survey showed.
Besides improving remuneration packages, companies should also take innovative approaches in providing employees with better employment experiences, as well as enhance support in learning and development and empowering wellness in various kinds, Chin said.
With reporting by Lilian Cheng.