HSBC
Get more with myNEWS
A personalised news feed of stories that matter to you
Learn more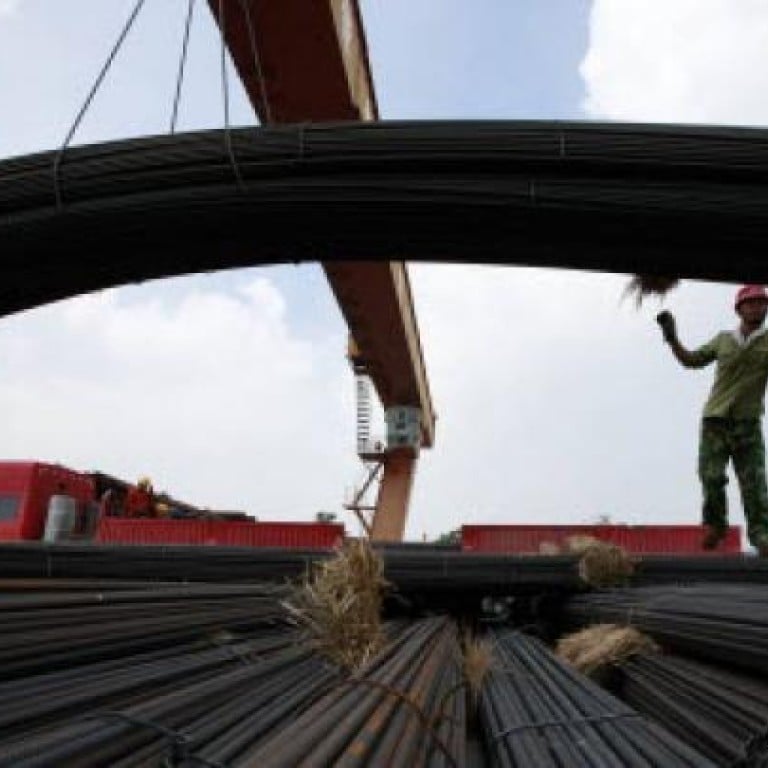 HSBC Flash PMI for August shows no let-up in China economic slowdown
China's factory activity in August shrank at its fastest pace in nine months as new export orders slumped and inventories rose, a signal that a persistent slowdown in economic growth has extended deeper into the third quarter. 
The HSBC Flash China manufacturing purchasing managers index (PMI) fell to 47.8 in August, its lowest level since November, from 49.5 in July.
After hovering for several months just under the 50 mark that divides expansion from contraction, the index is now at levels rarely seen since the 2008-2009 global financial crisis.
The survey provides an early peek at data for August, as well as an indication that a pick-up in economic growth may not have taken root as anticipated.
The new export orders sub-index at 44.7 - the worst showing since March 2009 - provides particularly bearish reading.
A sharp drop in China's official producer price index in July, which marked the fifth straight month of producer price deflation, was also reflected in the HSBC survey. It showed a sub-index measuring factory input prices at its lowest level since March 2009.
The flash PMI also showed inventories piling up.
"Weaker-than-expected sales contributed to a further rise in holdings of finished goods at manufacturers' plants," Markit Economics, which conducted the survey, wrote in a note.
The HSBC PMI has been below 50 for 10 straight months, reinforcing calls from analysts and investors for further measures from Beijing to support economic growth.
China is loathe to unleash a massive stimulus package as it did in 2008. Instead, it has chosen to open more sectors to private capital to help fund new investment projects.
"Deeper-than-expected euro area recession and hesitation in domestic policy easing may prolong the destocking process," Citi Asia Economics wrote on Tuesday.
The flash PMI is based on 85-90 percent of total PMI survey responses, set to be published in full on Sept 3.
HSBC's flash employment sub-index was unchanged from June, when it had registered its lowest level since March 2009, the point at which China began to pull out of the trough of the global financial crisis.
Falling demand from debt-ridden Europe - China's single biggest export market - has put the Chinese economy under pressure.
Government data showed July exports rose just 1 percent from a year earlier and that new loans were at a 10-month low. Factory output rose at its lowest pace in three years and pricing power faded.
That raised the spectre of a seventh straight quarter of slowing growth in July-September, after the second-quarter expanded 7.6 percent from a year earlier, only just above Beijing's official 7.5 percent target.
The prospect of unemployed workers taking to the streets is a top worry for China's ruling Communist Party, particularly ahead of a once-in-a-decade leadership transition this autumn.
However, unemployment levels have not yet come close to those of the winter of 2008-2009. At least 20 million jobs were lost in export-oriented coastal provinces when global trade ground to a halt then. Some estimates put the total as high as 40 million.
Analysts broadly believe a headline PMI of 48 is consistent with manufacturing output strong enough to deliver the jobs growth that China's government needs to absorb millions of new graduates and rural migrant workers each year.
China has been "fine tuning" policies to keep growth on track without releasing curbs on the property sector. Some cash-strapped municipalities that have tried to loosen curbs unilaterally have been forced to retreat.
Instead, Beijing has fast-tracked fiscal spending on key projects, cut the amount of cash banks must keep as reserves to free an estimated 1.2 trillion yuan for lending ($190 billion) and, in the space of four weeks in June and July, twice lowered benchmark lending rates.
Analysts polled by Reuters expect one more cut to interest rates of 25 basis points and 100 bps of cuts in banks' required reserve ratios by the end of the year.