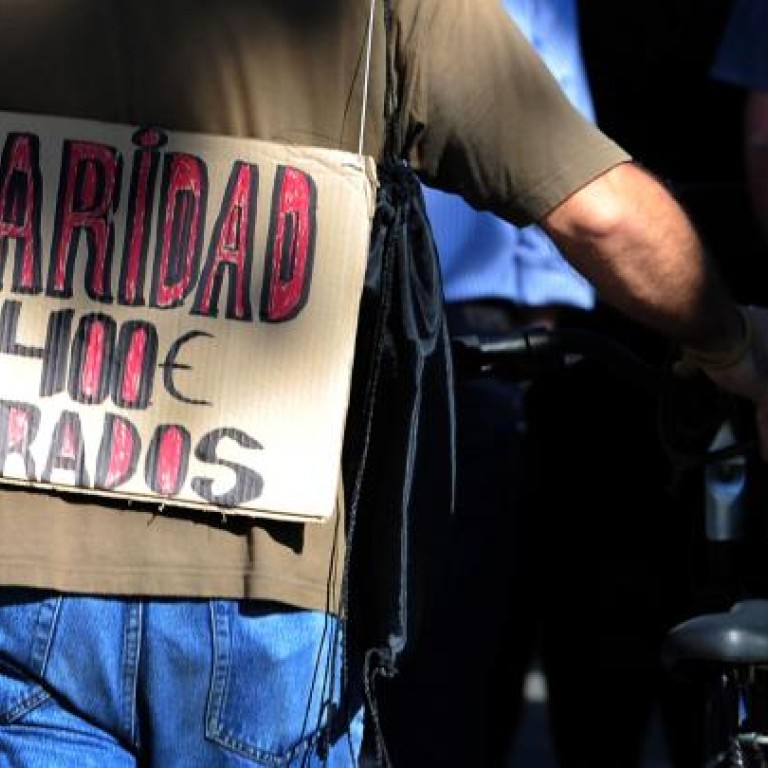 Spain's moment of truth looms
Spain's faces a pivotal moment on Thursday in its agonising journey towards a sovereign bailout, now seen as inevitable by the markets.
But the big test is probably not a closely watched Spanish bond auction, nor even a visit to Madrid by the eurozone's most powerful player, German Chancellor Angela Merkel.
Rather, it likely to be an event over which Spain has no control: a European Central Bank meeting in Frankfurt expected to set out how it may buy stricken eurozone nations' government bonds.
ECB president Mario Draghi said last month that it would buy enough bonds on the open market to attack the "financial fragmentation" that, for example, sent Spain's borrowing costs soaring while Germany's slid to rock-bottom.
There is a key condition, however: first, the governments who want help must apply formally to the eurozone's bailout funds and submit to their strict conditions.
Draghi vowed to design the mechanism "over coming weeks," leading to expectations that the details will be ready for the September 6 ECB meeting, after which he will address the press.
In theory, that could be the point at which Spain, the eurozone's fourth largest economy, decides to pull the trigger and request a sovereign bailout, having already agreed a eurozone rescue loan of up to 100 billion euros ($125 billion) for its ailing banks.
"When I know exactly what is on offer, I will take a decision," Spain's right-leading Prime Minister Mariano Rajoy said last week as he hosted French President Francois Hollande.
But Spanish 10-year bond rates are now at more than 6.8 percent -- a risk premium over equivalent German debt of more than 550 basis points -- and many investors believe a full rescue is in any case just a matter of time.
"With financing needs by the end of the year of nearly 80 billion euros between debt repayments and public deficit financing, and the risk premium again over 550 points, the government's margin for manoeuvre is thin, or non-existent," said a report by brokerage Link Securities.
Rajoy is pressing the eurozone to ease the pressure over the long-term, too, urging the creation of a eurozone banking union with a single supervisor as soon as possible.
In European newspaper interviews this week, he also pressed for a eurozone fiscal authority to supervise budgets by 2015-2016 and finally for the issuance of common eurobonds.
Rajoy said he was looking to Merkel to spearhead efforts to reform the currency zone.
"As German chancellor she plays a leading role in solving the urgent problems of the euro and of European integration," he said. "I have the impression she is prepared to do that."
Merkel's spokesman, Steffen Seibert, told newspapers that the Spain-Germany meeting, which is to be followed by a joint news conference, was important to Berlin.
He praised Spain's "remarkable" reform programme.
After their talks, Rajoy and Merkel are to attend an economic conference during which the German leader will deliver a speech.
"This conference could provide a new dynamic," Seibert said.
The two leaders will get a fresh taste of the market's feelings about Spanish debt, too, as the Treasury tries to raise up to 3.5 billion euros in two-, three-, four- and five-year bonds -- the longest dated debt it has put on auction in a month.
Despite Spain's repeated promises to meet its targets to cut the public deficit to 6.3 percent of gross domestic product this year from 8.9 percent last year, markets remain wary.
Spain's outlook is clouded by high borrowing rates, recession, a jobless rate of nearly 25 percent and a financial crisis that led to the rescue of its banks, saddled with bad loans from a 2008 property market crash.
Next could be a bailout of the entire economy.