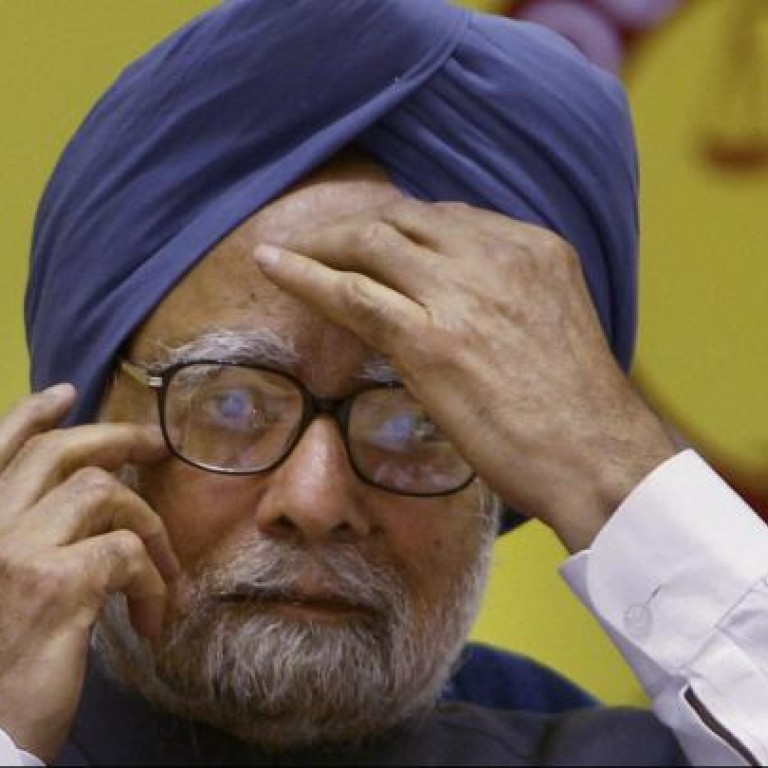 Manmohan Singh faces fight for India reforms
Indian leader loses his parliamentary majority over plans to revitalise the nation's economy but also faces criticism of doing too little, too late
Indian Prime Minister Manmohan Singh has belatedly found the political courage to try to put economic reforms back on track, but it may prove a case of too little too late.
His reforms include cuts in subsidies for diesel fuel; greater involvement for foreign investment especially in controversial sectors such as supermarket retailing, power, broadcasting and civil aviation; and the sale of stakes in four government-owned companies.
An explosive backlash has started, including demonstrations and nationwide strikes and the resignation of six ministers as a key partner in Singh's Congress Party-dominated United Progressive Alliance government quit in protest.
The departure of Mamata Banerjee's Trinamool Congress cost Singh his slender majority in parliament, and left open the question of how to implement the reforms.
At least Singh, after years of dithering, is sticking to his guns in spite of the loss of his majority.
In successive days of interviews and speeches, he claimed that the reform measures were essential. "We must act before people lose confidence in our economy," Singh said.
Today Indian sovereign debt faces danger of downgrading to junk status by the rating agencies, as growth has faltered and the government deficit has risen.
Growth was 5.5 per cent at an annualised rate in the latest quarter, a far cry from the hopes of catching and surpassing China. The government budget deficit is likely to be 5.7 per cent this year, according to Fitch rating agency.
Foreign-based commentators have concentrated on chances that global supermarket giants could at last gain entry to India's retail market, with headlines on the proposed reforms screaming that the door is now open for Walmart or Tesco or Carrefour, depending on the nationality of the media, to bring Indian agriculture and retailing into the 21st century.
There is no doubt that Indian farming needs improvements. About 40 per cent of the crops are wasted on the journey from farm to market and the Indian farmer gets a smaller percentage of the price of his product than counterparts worldwide. The high hope is that foreign retailers, with their experience in supply chain management and keeping food fresh from the farm to the supermarket shelves, will ride to the rescue and offer a range of food and consumer goods at cheaper prices.
It could come at a considerable price for both the farmers and the 40 million Indians involved in retailing, who must be trembling at statistics that a single Walmart can displace up to 1,400 stores and destroy 5,000 jobs.
The record of some of the foreign giants is hardly stellar.
Carrefour has done well in some countries, but recently announced plans to pull out of Malaysia, Singapore and Thailand after leaving Japan and South Korea, where it found local competition too tough.
Tesco has done well in some Asian countries with a blend from large supermarkets to local convenience stores.
Walmart is the big bad daddy with a reputation for ruthless cost control, which may be hard to replicate in India.
Singh predicted that the entry of foreign retailers would create "millions of good, new quality jobs". One of the most important aspects of the reforms is to keep faith with foreigners, with an eye both on the rating agencies and the potential of foreign investment dollars, where India has lagged far behind China.
Critics are correct that the reforms do not go far enough.
To take the burning issue of foreign investment, retailers need state government permission, can hold only 51 per cent and set up in cities with more than a million people, with restrictions on sourcing of 30 per cent of products within India.
Why only 30 per cent? It is a reflection on how far India, once a supplier of textiles to the world, has fallen behind China and other fast-growing countries.
In aviation and electric power, the limit for foreign involvement will be 49 per cent, and in broadcasting 74 per cent.
Even after selling stakes in petroleum, aluminium, copper and other enterprises, the government will retain majority stakes in them and will get 150 billion rupees (HK$21.8 billion), which is half the target for asset sales.
Cynics contend that Singh has acted to divert attention from corruption scandals in which ministers, either from ignorance or greed, sold off state assets from 2G telephone spectrum to auction of coal blocks at tens of billions of dollars below their true value. But at 79 and with elections due in 2014, what he is offering may be too little.
This article appeared in the South China Morning Post print edition as: reform fight