Spain
Get more with myNEWS
A personalised news feed of stories that matter to you
Learn more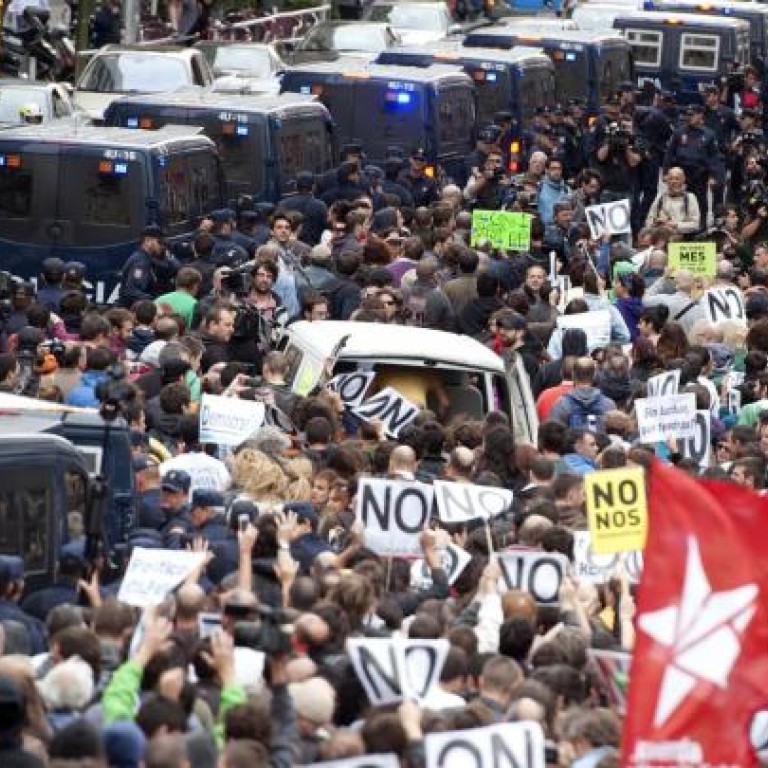 Unswayed by protests, Spain unveils new austerity budget
Spain's government met Thursday to take an axe to spending in a new budget for 2013, unswayed by angry protests but bowed by markets anticipating a full sovereign bailout, and soon.
Spain has said it will lop spending and boost taxes to rake in 39 billion euros ($50 billion) in the budget, adding to the pain that sent thousands of protesters into Madrid's streets on the previous two nights.
The formulation of the 2013 budget, to be followed by the release of an audit of Spain's sickly banking system on Friday, is seen on the markets as one of the final acts before a sovereign bailout.
Prime Minister Mariano Rajoy's right-leaning Popular Party government has already accepted a eurozone rescue loan for the banks of up to 100 billion euros.
If the Spanish cabinet adopts a budget with labour market and other key reforms sought by the IMF and European Union, Madrid could be a step closer to a broader bailout.
Once Spain formally requests the bailout, it would benefit from a bond-buying programme for troubled states that was outlined by the European Central Bank (ECB) on September 6.
Such a programme would curb Spain's borrowing costs but to qualify Madrid would have to formally apply for help from European Stability Mechanism (ESM) and submit to its conditions.
"Spain hopes that with this budget it is doing enough to qualify for support from the ESM and hence the ECB if need be," said Holger Schmieding, analyst at German private bank Berenberg.
"The Rajoy administration remains ready to do what it takes to turn Spain around but apparently wants to present all that it has to do as Spanish decisions, not as conditions imposed on Spain by outsiders," he said in a report.
Spanish borrowing costs fell after the ECB plan was unveiled but rates picked up again recently as doubts resurfaced about when Madrid would seek help.
In an interview with the Wall Street Journal in New York this week, however, Rajoy said that if Spanish borrowing costs were too high for too long, "I can assure you 100 percent that I would ask for this bailout."
After weakening the day before, markets barely budged in the hours before the unveiling of the budget.
In early afternoon trade, the Madrid stock exchange's IBEX 35 index eased 0.2 percent to 7,852.8 points and the rate on Spanish 10-year bonds hovered above 6.0 percent, a level seen as unsustainable over the long term.
On Wednesday, markets took a hit as investors watched the growing protests in Spain and Greece.
Markets fretted, too, over the northeastern Spanish region of Catalonia, which has called snap elections on November 25 in a drive for more independence from the rest of the crisis-hit nation and for greater control over its own finances.
But perhaps the greatest concern on the markets was a joint statement by the German, Dutch and Finnish finance ministers on Tuesday "which cast doubt on whether the rest of the eurozone will bear any of the costs of providing support to Spain's banks", said Ben May, London-based analyst at Capital Economics.
If Spain has to foot the bill for restructuring of its banks, weakened by a 2008 property crash, its overall sovereign debt will rise and its deficit-cutting task will become even more urgent.
Already on the austerity menu for 2013: an increase in sales tax and other taxes to rake in 15 billion euros and cuts in the regions to find another seven billion euros.
Other savings come from lowering unemployment benefits and social assistance. Unions say there will also be a hiring and wage freeze in the public sector.
Analysts say Spain also must act to rein in the cost of pensions, but so far Rajoy has refused to countenance such a step, which would break with an election campaign promise.
Spain's government aims to claw back a total of more than 150 billion euros between 2012 and 2014: 62 billion euros this year, 39 billion euros next year and 50 billion euros in 2014.
Already, the measures are facing resistance in Spain where a deepening recession has thrown millions out of work and many families into poverty. The unemployment rate is close to 25 percent.
Thousands of protestors rallied near the Spanish parliament for a second straight night Wednesday, facing off against riot police beat protesters and fired rubber bullets to disperse them the previous evening.