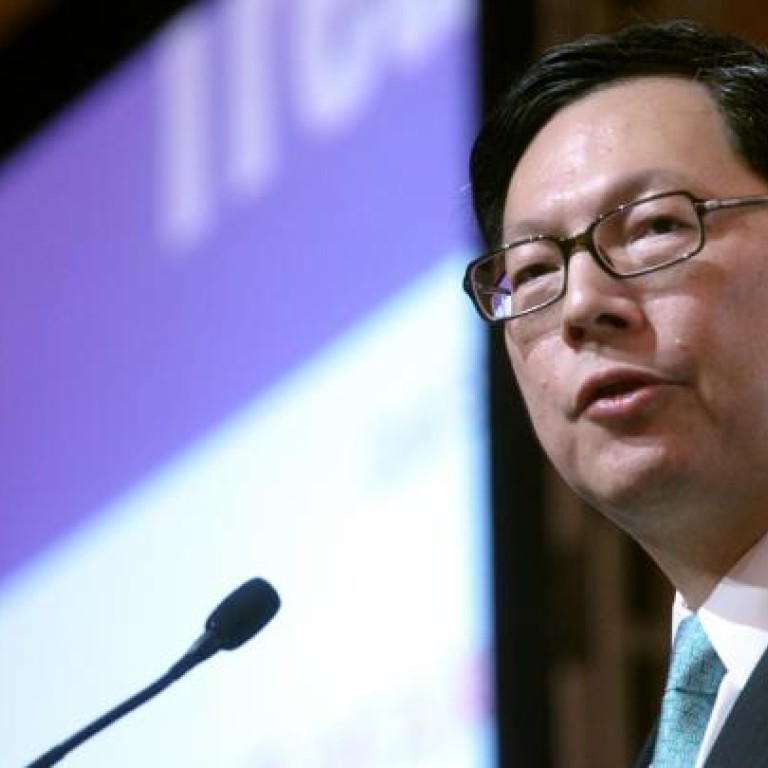 HKMA supports Shanghai as onshore yuan hub
Norman Chan says mainland city would be top beneficiary of currency's full convertibility
Hong Kong Monetary Authority chief executive Norman Chan Tak-lam yesterday pledged to support Shanghai in building an onshore market for the yuan.
Chan said he and Shanghai vice-mayor Tu Guangshao discussed a plan under which Hong Kong would introduce more capital and investors to Shanghai to help create an onshore yuan hub.
"Co-operation between Shanghai, as an onshore market, and Hong Kong, an offshore centre, could be strengthened," Chan said.
"There is still big room for the tie-up to be consolidated."
Chan's remarks were aimed at allaying concerns about Shanghai's challenge to Hong Kong's role as the dominant yuan hub.
He said the establishment of an onshore centre in Shanghai when the yuan became fully convertible could benefit the mainland in quickening the pace of internationalisation of the local currency.
In January, Shanghai unexpectedly announced it would make the city a global centre for yuan trading by 2015, stoking fears in Hong Kong that the mainland's financial hub was readying to eat into its currency trade business.
Hong Kong is the world's largest offshore yuan trading centre, where non-Chinese companies, institutions and residents can trade the currency and settle trade deals.
But it is understood that Shanghai will not be able to create a yuan hub without the full convertibility of the currency.
In September, Dai Xianglong, a former central bank governor, said China would probably take that step in 2015.
Chan said Shanghai would be the top beneficiary when and if the central government made the move. He played down fears of any threat to Hong Kong because, he said, Shanghai's established role as a centre for yuan trading, clearing and pricing would only boost the cross-border flow of the currency, and that would benefit Hong Kong.
Shanghai aims to transform itself into an international financial centre by 2020 in step with China's rising economic and financial might.
The ambitious plan has caused consternation in Hong Kong about its own status in the future.
Officials from both Hong Kong and Shanghai have thus been working on deepening co-operation between the two cities to further drive the internationalisation of the yuan.
Chan is leading a delegation of the Hong Kong Association of Banks (HKAB) to meet officials in Shanghai and Beijing.
Anita Fung Yuen-mei, chairwoman of the HKAB - also HSBC chief for Hong Kong - said Hong Kong banks would help mainland counterparts fine-tune their wealth management businesses.
This article appeared in the South China Morning Post print edition as: HKMA to back Shanghai's onshore yuan hub plans