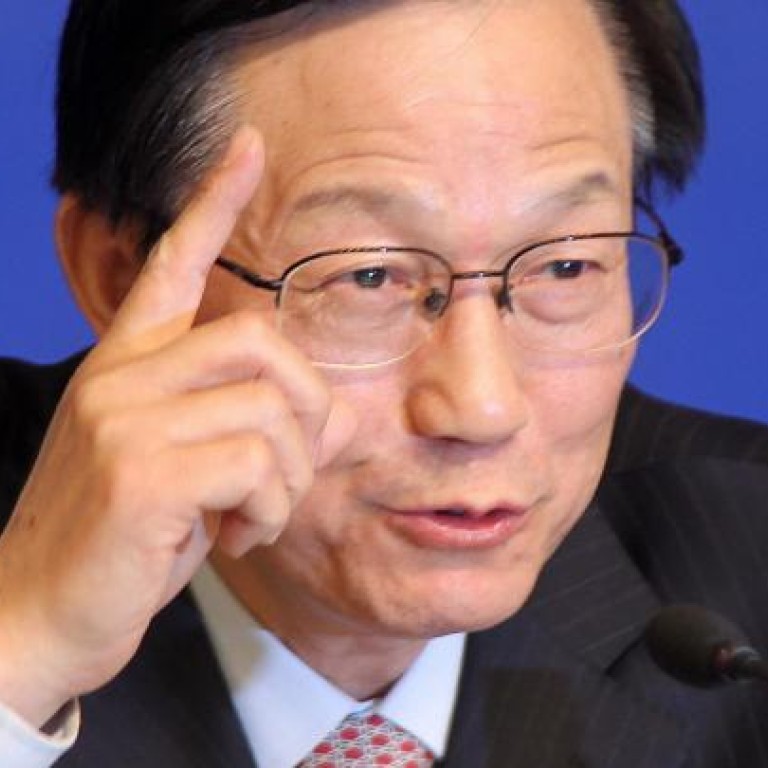 Finance minister Xie Xuren put in charge at pension fund
Xie stays on despite reaching retirement age as Beijing seeks to maintain stable economic policy
Finance minister Xie Xuren has moved to be head of the National Council for Social Security Fund in the government reshuffle, replacing Dai Xianglong, a senior official at the national pension fund told the .
Xie, 65, will oversee a vast pool of money which is crucial to providing for the country's ageing population. He will take over from Dai, 68, to expand investment channels and boost returns for the fund.
The mainland has to tackle a huge and widening pension financing gap. According to the chief economist at Bank of China International, Cao Yuanzheng, the gap could widen to 68.2 trillion yuan (HK$85.1 trillion) by 2033 from about 16.5 trillion yuan in 2010 unless Beijing reforms the funding system.
Dai, a former governor of the central bank, will stay on at the pension fund as party chief, a report on the news portal Sina said yesterday.
So far, the new leadership has retained a few senior officials, including Xie and the governor of the People's Bank of China, Zhou Xiaochuan, as financial leaders although they have reached the compulsory retirement age of 65.
The appointments indicate that Beijing's top priority is to maintain the stability of economic and financial policies, creating a sound environment for difficult reforms.
The pension fund had assets worth 869 billion yuan at the end of 2011 and has been the single largest investor in the domestic capital market. The fund reported an average investment return in 2011 of 0.84 per cent.
Xie lacks a record in investment, as his career history has been heavily focused in areas related to finance, tax, and budget making, analysts say.
A native of Ningbo, Zhejiang, Xie started as a worker at a local machinery factory in 1967, where he stayed for 14 years. He studied industrial economics at Zhejiang University in the early 1980s. From 1998 to 2000, he was president of Agricultural Development Bank of China.
Since he started running the Finance Ministry in 2007, the country has experienced years of tax revenue growth at a pace that exceeded economic expansion. Observers have urged the government to cut taxes to ease the burden on private businesses.
This article appeared in the South China Morning Post print edition as: Finance minister put in charge at pension fund