G7
Get more with myNEWS
A personalised news feed of stories that matter to you
Learn more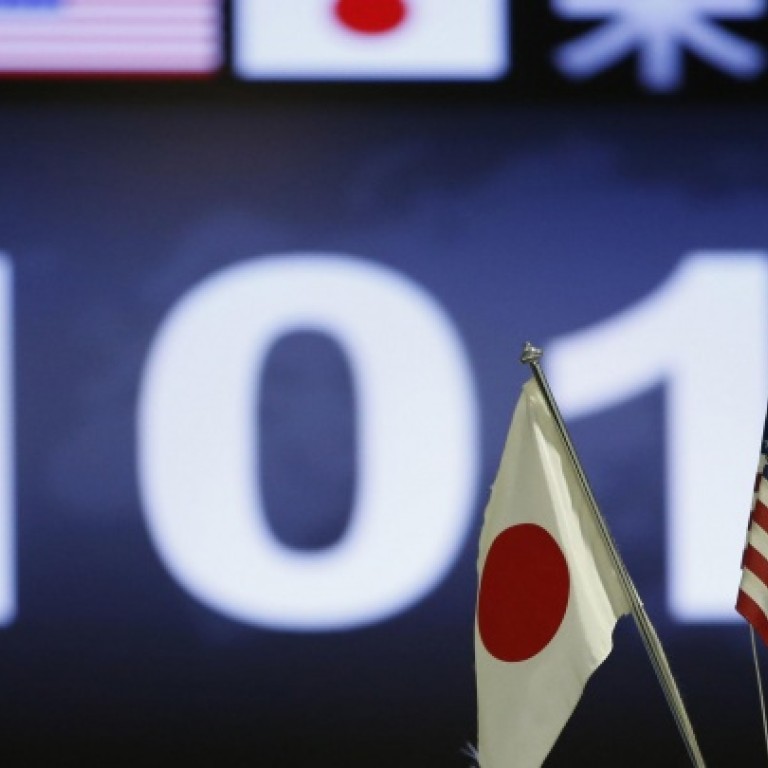 Yen slide continues as G7 signals tolerance
Group of Seven indicates it is prepared to let currency fall further, as Japanese stocks rise
Japanese stocks rose as the yen weakened past 102 against the US dollar, after the Group of Seven signalled tolerance for the currency's drop.
The Nikkei-225 Index rose 1.2 per cent to 14,782.21, with volume 42 per cent above the 30-day average.
The yen breached 102 per US dollar for the first time in 4-1/2 years after G7 finance chiefs indicated they would tolerate a slide in the currency for now as they focused on Japan's recovery strategy.
"G7 has given a nod to Japan's measures to beat deflation," said Kuninobu Takeuchi, Tokyo-based executive portfolio manager at Diam.
"Exiting deflation means growth, enabling companies to expand. Companies tend to put forward conservative profit forecasts, say a 30-40 per cent increase, while the market is pricing growth of 40-50 per cent."
Nomura, Japan's biggest brokerage, jumped 9.6 per cent to 934 yen yesterday, the highest since November 2008. Daiwa Securities, the No2, rose 8.3 per cent to 1,002 yen. Exporters gained, with Toyota Motor rising 3.8 per cent to 6,280 yen. Sony added 3.8 per cent to 1,855 yen. Canon rose 2 per cent to 3,625 yen.
Mike Jones, a currency strategist at Bank of New Zealand in Wellington, said: "The trend for a weaker yen has been reactivated, and with the G7's tacit approval, I think the trend for a weaker yen will gather pace this week. The market's in the mood to try and take the dollar higher."
The yen touched 102.15 per US dollar, the weakest level since October 2008, before trading at 101.58 in early London trading, little changed from the close on Friday. It declined 2.6 per cent last week, the most since the period ended April 5.
The yen has weakened 15 per cent against the US dollar this year as Bank of Japan governor Haruhiko Kuroda pledged to double the amount of money in circulation.
Japan's currency strengthened 0.1 per cent to 131.90 per euro after reaching 132.4, the weakest since January 2010.
G7 finance ministers and central bankers reaffirmed their February commitment to "not target exchange rates" at a meeting in Aylesbury, near London, British Chancellor of the Exchequer George Osborne told reporters at the weekend. Policymakers said they examined Japan's strategy and that they would monitor its impact on currencies.
Futures traders increased their wagers that the yen would decline against the US dollar, figures from the Washington-based Commodity Futures Trading Commission showed last week. The difference in the number of wagers by hedge funds and other large speculators on a decline in the yen compared with those on an increase - so-called net shorts - was 78,560 on May 7, compared with net shorts of 71,127 a week earlier.
This article appeared in the South China Morning Post print edition as: Yen slide continues as G7 signals tolerance