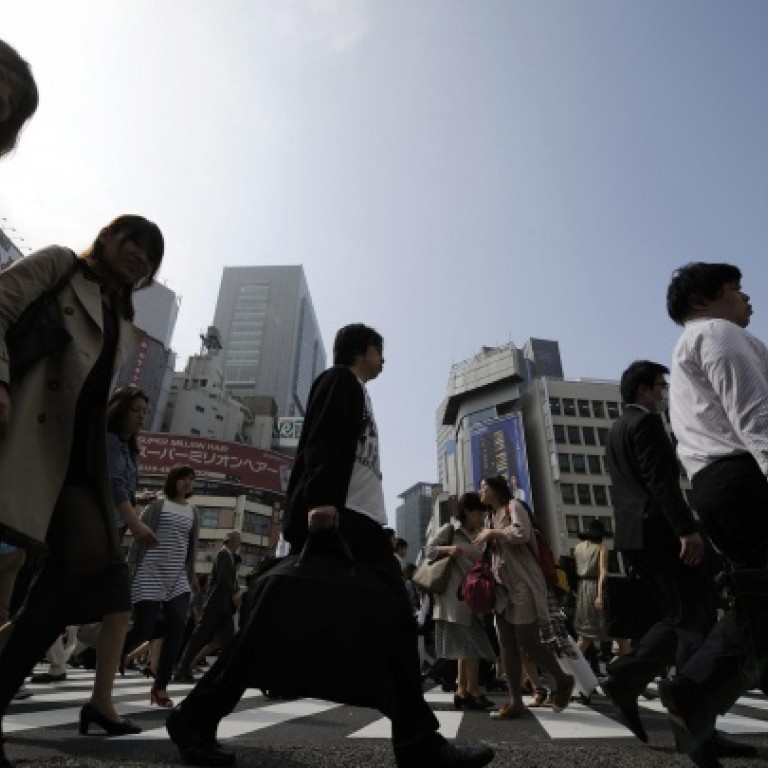 Japan records 3.5pc growth in first quarter
Economic expansion the most in a year, thanks to export gains and consumer spending
Japan's economy expanded the most in a year in the past quarter as consumer spending and export gains outweighed the weakest business investment since the wake of the March 2011 earthquake and tsunami.
Gross domestic product rose an annualised 3.5 per cent, a government release showed. Private consumption, making up 60 per cent of GDP, contributed 2.3 percentage points to the jump.
Nominal GDP, which is unadjusted for changes in prices, rose 1.5 per cent, also the most in a year.
The report shows while consumers - aided by a stock-market surge - are responding to the reflation campaign mounted by Prime Minister Shinzo Abe and Bank of Japan chief Haruhiko Kuroda, companies remain cautious.
That may change as the yen's 20 per cent slide against the US dollar in the past six months spurs profits and Abe's administration embarks on reducing regulations.
"Japan is clearly back from stagnation last year," said Naoki Iizuka, an economist at Citigroup.
"The key from here is whether Abe can unveil a strong growth strategy. If he succeeds, that will boost business investment to support growth."
Abe plans next month to unveil his so-called third arrow of structural reform, following the first two arrows of monetary and fiscal stimulus.
The report showed annualised real GDP growth exceeded all but two of 36 estimates in a survey. Nominal GDP rose 0.4 per cent last quarter from the previous three months, less than the median forecast for a 0.5 per cent advance.
The so-called GDP deflator, a broad measure of prices across the economy, tumbled 1.2 per cent from a year before, the most since the final three months of 2011, underscoring Kuroda's challenge as he seeks to end more than a decade of entrenched deflation.
The Bank of Japan's plans to double the monetary base, a measure of the supply of money in the economy, have helped the yen weaken more than 16 per cent against the dollar and 14 per cent against the euro this year.
The yen was at 102.54 per dollar in the afternoon.
The Nikkei-225 Index has climbed 45 per cent this year, more than twice the gain in the Standard & Poor's 500 Index.
Meanwhile, bonds have tumbled as inflation expectations have risen.
Ten-year government bond yields jumped the most in almost a decade until the Bank of Japan announced on Wednesday a 2.8 trillion yen (HK$211.9 billion) infusion of funds.
This article appeared in the South China Morning Post print edition as: Japan records 3.5pc growth in first quarter