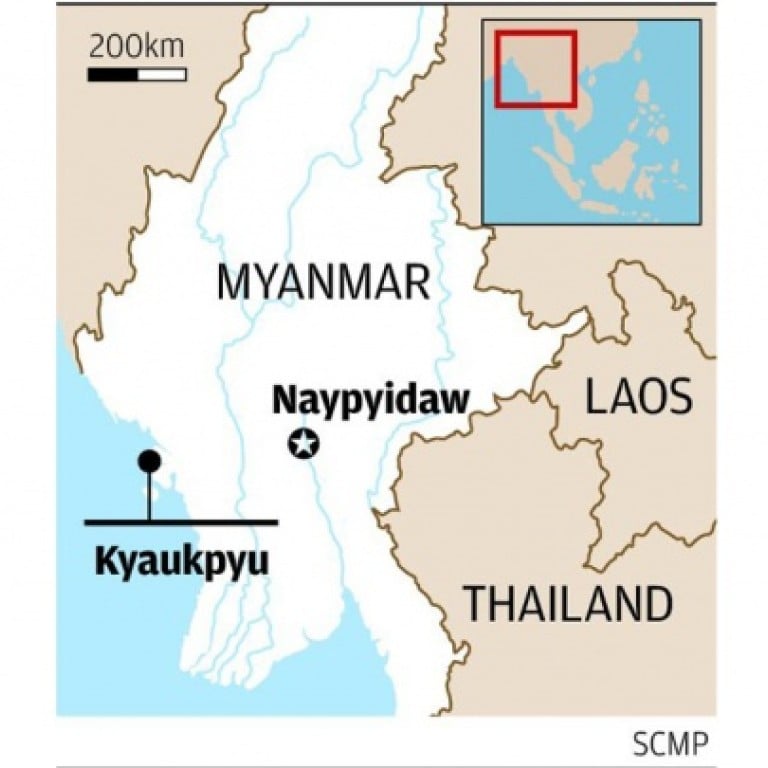 Strife hangs over China billions in Myanmar
Spending for key port as vital new gateway is threatened by communal violence
China is spending billions to develop Kyaukpyu as its international gateway in Myanmar, but the development threatens to be derailed by communal violence.
"Kyaukpyu is the new gateway to China and Asean. Kyaukpyu is the ocean exit for China. Kyaukpyu offers the shortest trade route from India to China," said Kyaw Oo, deputy chief engineer of the Myanmar Port Authority.
The port city in Rakhine state, on the northwest coast of Myanmar, saves ships 5,000 kilometres of sailing through the Straits of Malacca to China, as cargo can go overland from Kyaukpyu to southern China, Kyaw Oo said at the Myanmar Urban Development Conference in Yangon.
Kyaukpyu lies next to the offshore Shwe gas fields in the Bay of Bengal, the Southeast Asian country's biggest gas project.
Billions of US dollars would be invested in Kyaukpyu, Kyaw Oo said. "China will be a leading investor in Kyaukpyu. It is most appropriate."
In 2011, China Railway Engineering, a leading state-owned rail construction firm, and the Myanmar Ministry of Railways signed a memorandum of understanding (MOU) to build an 868-kilometre passenger and cargo railway between Kyaukpyu and Kunming, the capital of Yunnan province in China's south.
The railway would cost US$20 billion and be fully financed by China, said Myint Wai, general manager at the ministry. The project was undergoing feasibility studies, he said.
China and Myanmar are negotiating the construction of an expressway from Ruili, a Chinese city near the border, through Mandalay to Kyaukpyu. Its length will range between 794 and 900 kilometres, said Han Soe, deputy managing director of public works at the Myanmar Ministry of Construction.
A deep-sea port on Maday Island, off Kyaukpyu, would be completed next month, while an oil and gas terminal on the island would be completed later this year, Kyaw Oo said.
At present, Myanmar had no deep-sea ports but needed them to develop its shipping industry, he said. China National Petroleum Corp (CNPC), the country's largest state-owned energy company, is developing an oil tanker port on the island to connect to an oil and gas pipeline it is building.
Last month, 400 people on the island protested against what they claimed was inadequate compensation for appropriating land and low salaries for local workers on the gas project undertaken by CNPC and Myanmar Oil and Gas Enterprise, a Myanmese state-owned company, said the Shwe Gas Movement, a local non-government organisation.
CNPC representatives said the company had made the full payment and suggested part of the compensation was unaccounted for, the NGO reported.
In 2009, China and Myanmar signed an MOU to build a US$2 billion oil pipeline-cum-gas pipeline from Kyaukpyu to Yunnan, to be built by CNPC. The 793-kilometre pipeline would be completed this month, Kyaw Oo said.
However, security concerns will probably delay the first shipments of gas and oil from Kyaukpyu to China through the double pipeline, owing to fighting between government forces and rebels from ethnic minorities in northern Myanmar, a senior Myanmar energy ministry official told reporters.
In October, Buddhist mobs razed Muslim quarters in Kyaukpyu, killing at least 200 and displacing 140,000 Muslims, the BBC reported.
This article appeared in the South China Morning Post print edition as: Strife hangs over China billions in Myanmar