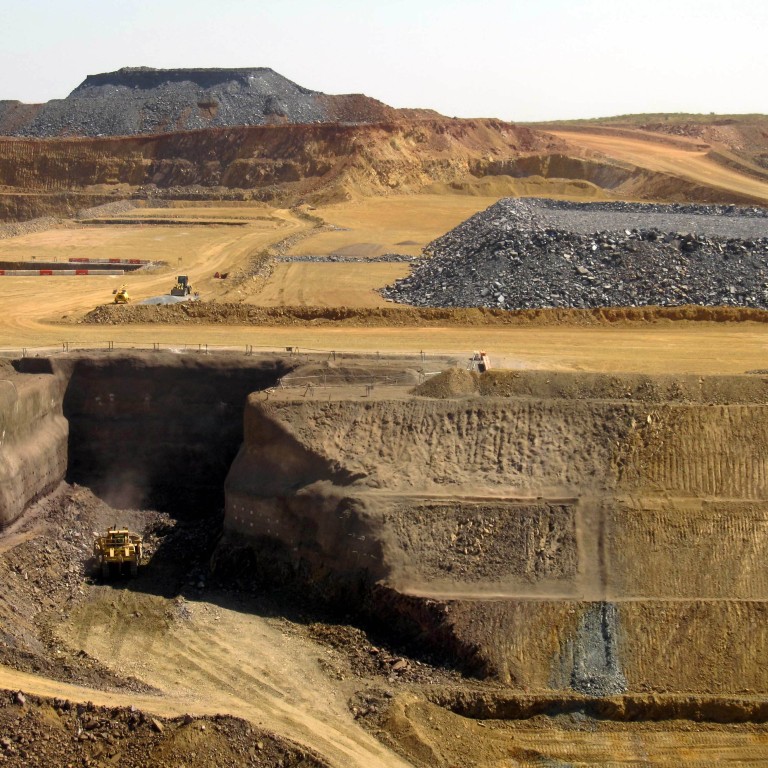 Decade-long Australia mining boom turns to bust
The Australian mining boom built over a decade on Chinese hunger for energy and raw materials is turning into bust for many business owners as China's cooling growth reverberates through a country accustomed to winning from the rise of an Asian economic giant.
Endowed with vast mineral resources, Australia has been the envy of the Western world for avoiding recession during the global financial crisis while other wealthy countries drowned in debt. But the country now faces a potentially painful transition as it weans itself off a heavy reliance on its two biggest exports, coal and iron ore.
Australia's dilemma underscores that China's long run of supercharged growth has given it enough weight in the world economy to create not only winners, but losers too when its own fortunes change.
Trade between Australia and China equaled 7.6 per cent of Australia's US$1.5 trillion economy last year, a dramatic threefold increase from a decade earlier, according to an Associated Press analysis of trade data. During that time, mining companies gushed multibillion dollar profits while jobs as mundane as maintenance commanded salaries above US$120,000.
Now the downside of that tight embrace is being felt across Australia's mining heartlands and in its bustling cities. The number of jobless is expected to increase more than 70,000 in coming months and the government's finances are turning a deeper shade of red, forcing cuts to public services.
Andrew Howard has done well from buying and selling jumbo-sized earth moving equipment from his base at an industrial estate in the tropical northeast coast city of Mackay, the largest mining service centre in Australia's richest coal country, the Bowen Basin.
At the height of the global financial crisis, he traveled to the United States to buy up machinery cheap in a depressed economy and later sold it to a resurgent Australian mining industry.
But now Howard plans to shut the doors of his business AFG Equipment in late August after operating for a decade that tracked the rise and fall of Australia's mineral boom.
"There's just absolutely nothing happening. We're just treading water," he said. "It may bounce back in 12 months, it may bounce back in five years, it's hard to say."
With China recording its fifth straight quarter of growth below 8 per cent, Howard isn't optimistic that Australia's biggest export market will rekindle the cooling mining industry any time soon.
"Everyone realises it's pretty serious this time," he said. "This is probably as bad as we've seen it."
China's response to the global recession was to pour hundreds of billions of dollars into new highways, bridges, bullet trains and factories, unleashing a new wave of demand for Australia's mineral riches that helped extend its mining boom. But new communist leaders are resisting calls for another round of stimulus, preferring instead to let the economy settle at a growth rate of 7 to 8 per cent — still far outpacing developed countries but a substantial shift lower from earlier double digit expansion.
Falling coal prices have hastened the closure of some financially marginal mines in the Bowen Basin and shed thousands of jobs. The price of Australian coking coal, the premium grade used in steelmaking, has fallen from a peak of US$330 a tonne in late 2011 to around US$135. The iron ore price has tumbled from US$192 in early 2011 to around US$130.
The Bureau of Resources and Energy Economics, a government forecaster, said in May that the cancellation or postponement of A$150 billion (HK$1.0 trillion) in major resource projects meant the years-long upswing in construction for mining and gas projects had peaked.
The bureau said A$350 billion in committed and potential projects could slump to A$25 billion in 2018, half of what it was when the boom began in 2003.
Tim Miles, chairman of the Mackay Chamber of Commerce, said the mining downturn struck suddenly in the space of a few months late last year with widespread economic ramifications.
"It stopped very quickly so a lot of people have had to downsize their businesses to suit the new market," Miles said.
"That has meant offloading a lot of equipment if they can, parking a lot of equipment which they still owe money on but are just not making income from and they're being forced to charge less for their goods and services," he said.
Miles did not think the downturn had hit bottom yet.
"Twelve months ago we were in a boom that you didn't have to do a lot to make money. The work just flowed through the door," Miles said. "But now people actually have to get off their backside and work hard to make a living."
Sugar cane was Mackay's original boom industry and is still important to the region but not big enough to pick up the slack.
And while Australia will continue to be a significant minerals exporter, digging up and shipping ore and coal overseas soaks up far fewer workers than building new mines.
Mines that are being constructed are designed to be more cost efficient in preparation for a future upswing in demand that is likely to be far more modest than the past decade's.
The new reality is still sinking in.
Ken Smith earns a living hauling enormous mining truck tires that can exceed more than 4 meters (13 feet) high between the Bowen Basin and his depot more than 1,000 kilometres (600 miles) away in the state capital Brisbane.
He drives up to 5,000 kilometres (3,100 miles) a week and maintained a hectic work schedule until July when orders dropped off.
He is confident that a gold-rush mentality will return.
"They say it's slowing down, but they're still building new mines," Smith said.
"Once it all starts up again, once the money comes back into the coal, there'll be a big scramble for staff again," he said.
After accounting for about half of Australia's economic growth in the past two years, the contribution of resource extraction industries such as coal and iron ore mining would fall to one third, Australian Treasurer Chris Brown told the National Press Club last month.
"We have reached a cross road," he said. "This is not a crisis, but it is a challenge."
To maintain economic growth at its long-term average of 3 per cent, Australia must turn to industries other than mining and gas, Bowen said.
It is a shift that will take time and won't be without pain.
The government expects the unemployment rate to rise to 6.25 per cent by the middle of next year from about 5.7 per cent at present. Its own finances are rapidly deteriorating as slowing economic growth weighs on tax revenues. In May it forecast a budget deficit of A$18 billion. Last week it announced the shortfall would be nearly twice that.
A euphemistic government order for a bigger "efficiency dividend" will require all government departments and agencies to cut spending.
On Tuesday, the central bank cut its benchmark interest rate to a record low of 2.5 per cent.
"We thought we could see it coming," said Howard, owner of the heavy equipment business. "We didn't know whether it was a year away, whether it was two years away or it could have been five years away. We just had a feeling we had to pull back eventually."
He now fears wages in Australia have become too high for the mining industry to compete internationally.
"I travel around the world everywhere buying and selling gear and I think we've become a bit complacent. We need to have a good hard look at what it costs us to get coal into a train compared to other countries," Howard said.