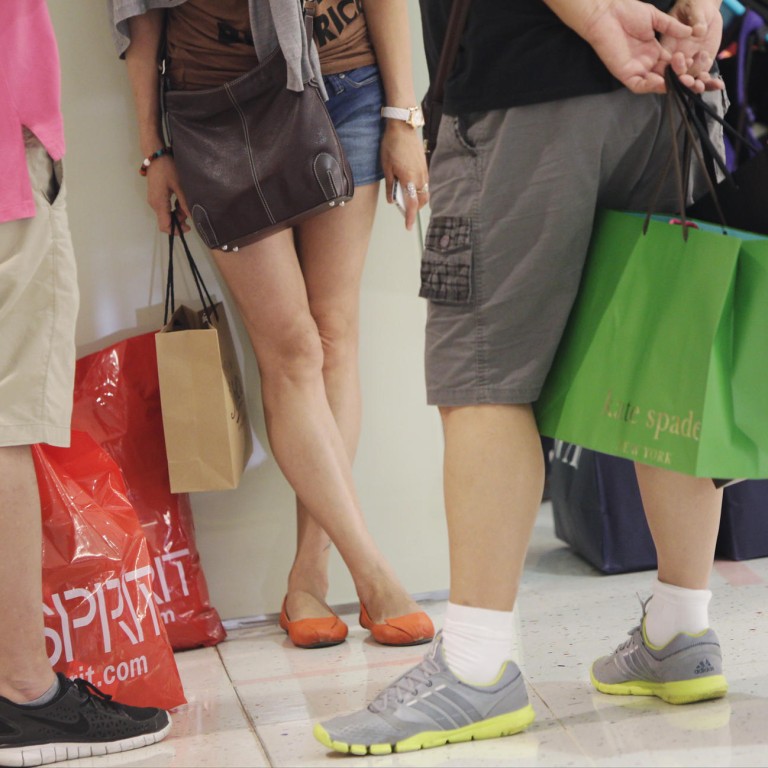 No Christmas cheer for Hong Kong's retailers as they reveal lower-than-expected sales growth
Growth of 5.7 per cent during the festive season highlights stiff competition for the mainland tourist dollar
Hong Kong's retail sales grew just 5.7 per cent year on year in December, an especially poor performance for the peak Christmas shopping period.
"It's very rarely this bad. In 2012, it was 8.8 per cent," Hong Kong Retail Management Association chairwoman Caroline Mak Sui-king said yesterday.
Total retail sales in December are estimated at HK$49.7 billion. For the whole of last year, the figure came to HK$494.5 billion, an increase of 11 per cent from 2012.
Last year's growth was slightly better than 2012, which saw muted growth of 9.8 per cent from 2011. Total sales for 2011 grew 24.9 per cent.
"Our members had said they felt low double-digit or high single-digit growth of 9 to 11 per cent was possible for December. However, July to December was all single-digit growth," Mak said.
This Christmas shopping season marked the second holiday in which retailers experienced softer-than-usual sales. October, usually a peak period for spending along with the October 1 "golden week" holiday, saw a modest 6.3 per cent year-on-year growth.
Mak said the lacklustre results were heavily influenced by the warm weather. "December was still quite warm … weather is a huge factor. It affects consumption of seasonal clothing, accessories, eating out even. If it's cold, people will go for hot pot, which means eating a lot, [and] buying warm winter coats, leather goods and electronic heaters, [which] jacks up spending."
Sales of jewellery, watches and valuable gifts for the calendar year increased 24.8 per cent in 2013, helped by the surge in gold sales as prices fell between April and June.
Tobacco and alcohol sales dropped 3.5 per cent in December but 8.2 per cent for the entire year, hit hard by the mainland's crackdown on corruption.
Furniture and household furnishings lagged behind again, dropping 2.1 per cent in December and continuing two years of decline.
Electronics fell 1.8 per cent for the year, compared with a rise of 21.2 per cent in 2012.
Supermarkets and department stores last year performed in line with 2012.
Mak said the HKRMA maintained a cautious outlook for last month and that it was too early to predict the consumer sentiment for the Lunar New Year period.
"I wouldn't get too happy about January because there's only the first day of the Lunar New Year that month," she said. "People only truly start spending in February.
"They go home first to spend time with their families and celebrate. The spending comes later in the holiday."
However, she added that the association forecast growth of at least 9 per cent for the first half of this year. "Last year's first half was all double-digit growth apart from March, so this is our hope," she said.
The retail slowdown highlights the stiffening competition for the mainland tourist dollar. While Hong Kong is typically the first destination for mainland travellers, tourists from tier-one cities with higher spending power are now being diverted to places such as Europe and Australia.
More than 15 other countries have made moves to relax the visa requirement for Chinese tourists, including Britain, the United States and Thailand.
"It's competition from the entire world, including Europe, all over Asia and the major mainland cities," Mak said.
This article appeared in the South China Morning Post print edition as: No Christmas cheer for city's retailers