Brics
Get more with myNEWS
A personalised news feed of stories that matter to you
Learn more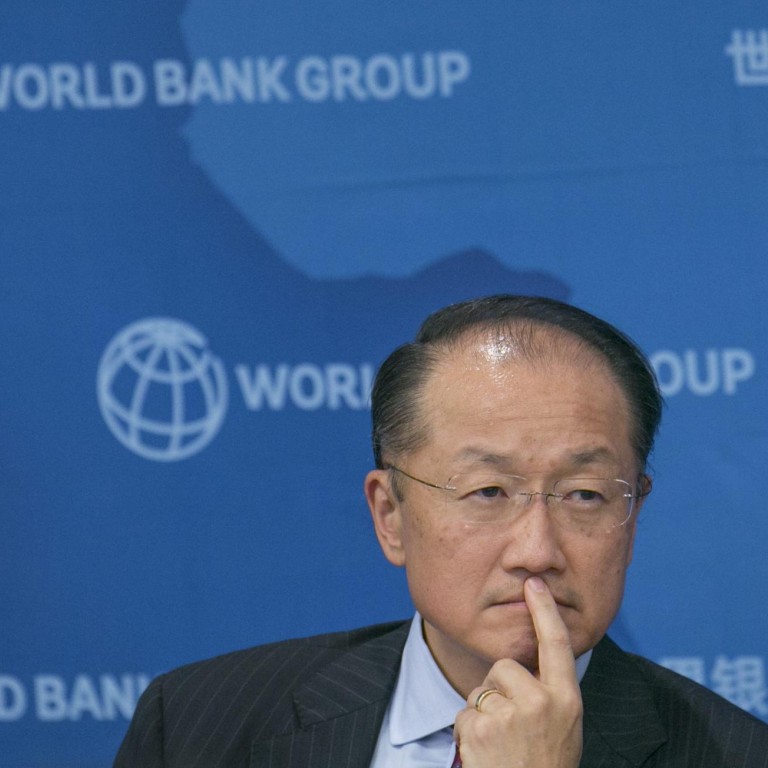 World Bank chief backs launch of BRICS bank
World Bank chief says new entrants will help the multilateral lender battle poverty and spur growth rather than threaten its position
World Bank president Jim Yong Kim welcomed the initiatives of establishing two new multilateral lenders, saying they would not pose a threat to the Washington-based institution and would instead help it fight poverty and spur economic growth.
The world's five key emerging nations of Brazil, Russia, India, China and South Africa have proposed the launch of the BRICS Development Bank. President Xi Jinping also broached the idea in October last year to set up a US$50 billion Asian Infrastructure Investment Bank to finance projects in the region.
The initiatives are expected to boost China's clout, which sparked concerns that the new banks might compete with existing multilateral lenders, such as the World Bank and the Asian Development Bank, in which Washington and Tokyo have the biggest voting rights respectively.
Kim refuted such concerns yesterday during his three-day visit to China, saying the World Bank would not treat the new banks as rivals but would share its expertise with them.
"For us, our competition is poverty. Our enemy is lack of economic growth. Another enemy is growth that is not inclusive," he said. "We have no choice but to welcome any new entrants because every new entrant will help us battle poverty."
He said the need for new investments in infrastructure would be massive, with such funding needs in developing countries estimated at US$1 trillion a year, while the World Bank alone could only offer US$60 billion last year.
Xi will attend the sixth BRICS summit in Brazil next Tuesday and Wednesday, with the new BRICS bank likely on his agenda in talks with his peers there.
Finance Minister Lou Jiwei said earlier that Beijing might act as the biggest shareholder in the proposed Asian Infrastructure Investment Bank, taking possibly up to a 50 per cent stake. He said the bank would complement and cooperate with the existing multilateral lenders.
Kim said the World Bank agreed to launch a study in collaboration with Beijing on reforms for China's health sector in a bid to help the country accelerate its efforts to provide "affordable quality care", especially for its ageing population and a middle class facing chronic diseases.
The World Bank has forecast China's economic growth rate will reach about 7.6 per cent this year before easing to 7.5 per cent in 2015. Such a slowdown, Kim said, was a natural result of the government's rebalancing reforms that sought to cut the economy's reliance on trade and investment to favour domestic consumption.
"When you are making the kind of changes that the Chinese government is going through, it should not surprise anybody the growth has slowed," he said. Beijing is aware of the need to stick to the reform agenda in order to pursue high-quality growth. The process had been "so far, so good", he said.
On the Sino-United States strategic and economic dialogue due to start today in Beijing, Kim said the two leading economies had many common interests and concerns to share, including climate change, trade and stability in the Middle East.
This article appeared in the South China Morning Post print edition as: Kim backs launch of BRICS bank