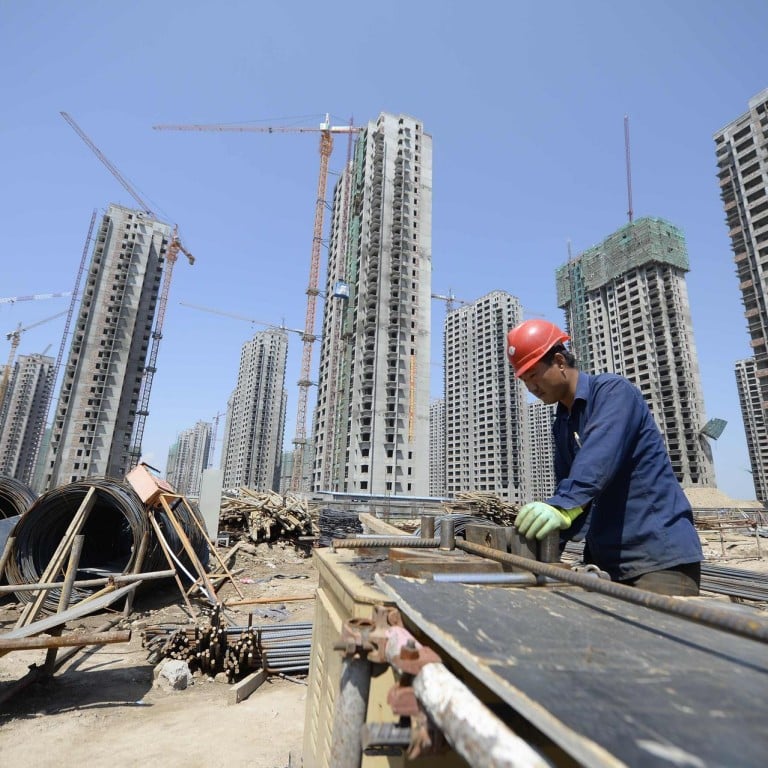 Home price declines ease in major cities but smaller cities suffer
Beijing and Shanghai among the key locations where the cost of buying is dipping but survey shows smaller cities are falling at a faster pace
The mainland's property downturn deepened last month in small cities while the suffering seemed to ease in bigger cities after they relaxed home-buying restrictions, according to two private surveys published yesterday.
The average new home price in most of China's 100 biggest cities fell for a fourth straight month in August, but the pace of decline slowed to 0.59 per cent from July's month-on-month fall of 0.81 per cent, data from the China Index Academy showed.
The academy is an affiliate of Soufun, the country's biggest real estate website operator.
Seventy-four cities saw prices drop, including all top 10 cities such as Beijing and Shanghai, while prices rose in the remaining 26, it added.
However, another survey by E-House China that captures more small cities showed the slump is getting worse, with its index measuring the average home price in 288 cities falling 0.26 per cent in August from July, faster than the previous month's drop of 0.13 per cent. It was the fifth month of decline.
Economists estimate the real estate sector accounts for a quarter of the country's gross domestic product.
The academy said developers would speed up new project launches in the peak season of September and October and offer deeper discounts to entice buyers.
"Transactions will probably post a seasonal pickup," it said.
The month-on-month fall in new home prices in the top 10 cities eased to 0.53 per cent in August from July's 0.97 per cent, academy data showed.
Figures from E-House China also showed new home prices fell at a slower pace in Shanghai, Guangzhou and Shenzhen. However, Beijing suffered its first dip, of 0.83 per cent, since January 2013.
Big cities were the first to see cheaper mortgages, which are vital to luring back home buyers.
Shanghai saw the country's biggest mortgage rate discount of 15 per cent lower than the central bank's benchmark rate, offered by Minsheng Bank for clients possessing financial assets of more than five million yuan (HK$6.3 million), according to a report by Rong360, a private search engine dealing in financial products.
Mortgage rate discounts of 10 per cent appeared in three cities - Beijing, Hangzhou and Qingdao - while six others had smaller discounts of between 2 per cent and 4 per cent, it added.
In most of the 23 major cities on Rong360's radar, there were no discounts offered and there was even a premium of 5 per cent.
Incremental mortgage rate cuts in Shanghai also lured back upgraders, with transaction volume up 1.4 per cent in the segment last month from July, according to data from consultancy Shanghai Deovolente Realty.
"August home prices were still higher than buyers would like to accept," the consultancy's research head Lu Qilin said. "Sales in September will be crucial to developers and they will probably offer wider and deeper price cuts."
Almost 40 big cities have relaxed or scrapped home-purchase restrictions in the past two months in their efforts to stimulate housing demand as inventories increased.
Cities such as Hangzhou in Zhejiang province and Qingdao in Shandong that started with baby steps made it complete in the past few days by removing all remaining controls against buying spacious homes.
Most of the 288 cities monitored by E-House China have never imposed such restrictions, but they are suffering even more from oversupply owing to limited demand as the younger generation moves out for better jobs in regional hubs.
Meanwhile, sentiment is improving in big cities, even in Hangzhou, where the downturn first started in February. Daily transactions climbed to more than 300 homes last Saturday, a record this year and more than quadruple the average level seen before the policy relaxation.
Both surveys showed new home prices were still on the rise, year on year, in August, at a slowing pace.
This article appeared in the South China Morning Post print edition as: Home price decline eases in major cities