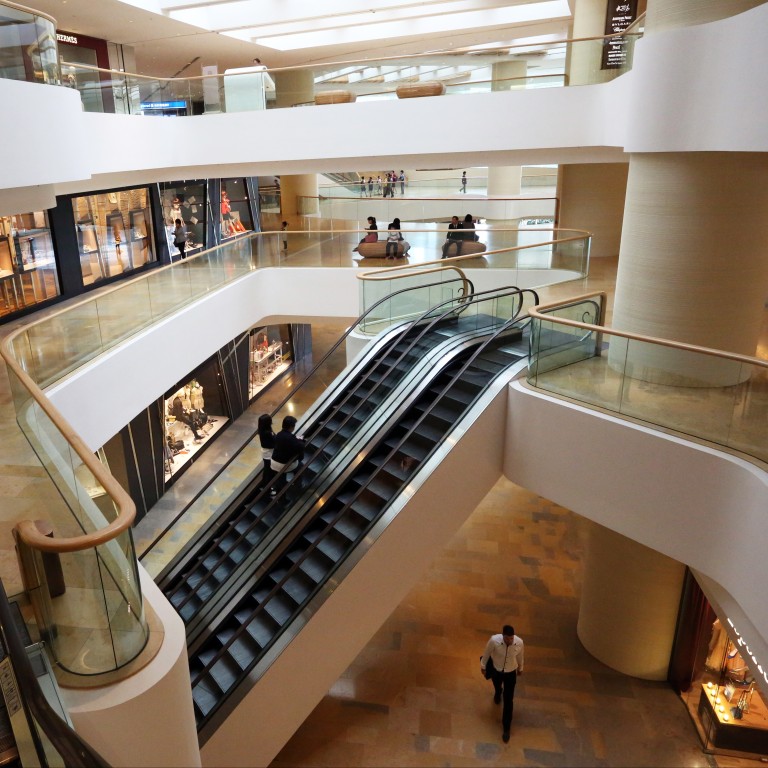 New

|
Falling sales in Hong Kong and China bank concerns all indicators of darker times to come
A rise in non-performing loan provisions at China's banks combined with falling sales at Hong Kong retailers may be a barometer of darker economic clouds to come.
That is the takeaway from the latest round of corporate results. As forward indicators of China's economic health and the fallout for Hong Kong, both are flashing amber right now; though analysts caution it is still early days, and the slowdown in Hong Kong retail sales in particular, could also be reflective of changing Chinese travel tastes as much as belt tightening.
"It's a mixed picture. Why have provisions (for bad loans) gone up? Look at the (falling) import and export figures. When people worry about the economy they spend less," said Louis Tse, a director of VC Brokerage.
The murky outlook is one reason many Hong Kong analysts have spent the past fortnight lowering earnings expectations and stock price guidance on listed companies. In most instances, however, buy/sell ratings have been left unchanged.
Rising concerns are also in part a reaction to the two month-long stock market slide, and knee-jerk government response, which have tested the faith of investors in Beijing's management of the country's economic growth.
"What happens in the stock market are symptoms of the structural problems in the underlying economy. The best news out of the Chinese economy was two years ago," said Chen Zhiwu, a finance professor at Yale, in a recent Council of Foreign Relations media call.
That is not to say there are no bright spots. Among key sectors, profits at Hong Kong-listed airlines like Air China soared on lower fuel prices and growing Chinese wanderlust, while insurers such as Ping An recorded impressive policy sales growth.
These were overshadowed in some analysts' minds when first-half NPL ratios at Industrial and Commercial Bank of China rose by 24 per cent and at Agricultural Bank of China by 18 per cent compared to the proceeding six months.
The rise in bad debt ran tandem with a slowdown in profit growth presenting a gloomy outlook for the sector and raising questions over whether full-year results would fall below 2014.
In the local retail sector, the second-half outlook would be "challenging" given "slack tourist spending and local consumption, as well as the swelling operating costs and intensifying competition," warned one of Hong Kong's biggest landlords, Henderson Land. The firm said it was spending more on in-mall promotions to woo visitors.
Swire Properties, a subsidiary of conglomerate Swire Pacific, said sales at its upmarket Pacific Place mall dropped 12 per cent in the first half and warned there is no sign of a pick up in the luxury retail sector.
Footfall fell 7.2 per cent at Lifestyle International's Sogo department store in Causeway Bay.
Major landlords have so far refused to buckle under pressure to cut rents but this may have to change. The reason: their tenants "have been crushed over the past 12 months", according to CLSA analyst Aaron Fisher. Even without rent cuts, landlords will still lose out from their take of tenant sales income, instead needing to squeeze non-retail sides more to make up the revenue shortfall.
At cosmetic retailer Sasa, second-quarter turnover fell 8.6 per cent to HK$1.8 billion. The firm blamed a "deteriorating" market environment for "putting more pressure on the group's earnings". Jewellery group Chow Tai Fook's second-quarter sales slipped 6 per cent, weighed down by sluggish business at its Hong Kong and Macau stores.
Hong Kong-listed luxury firm Prada did not break down results but cited Hong Kong and Macau for affecting performance in Asia where the "economic situation" was weighing on global sales.
The question now is whether this is the start of something worse. Ivan Li, equities analyst at Tung Shing Securities fears it may be: "The Chinese economic outlook is definitely less optimistic."
This article appeared in the South China Morning Post print edition as: Results are indicators of darker times to come Results indicators of darker outlook