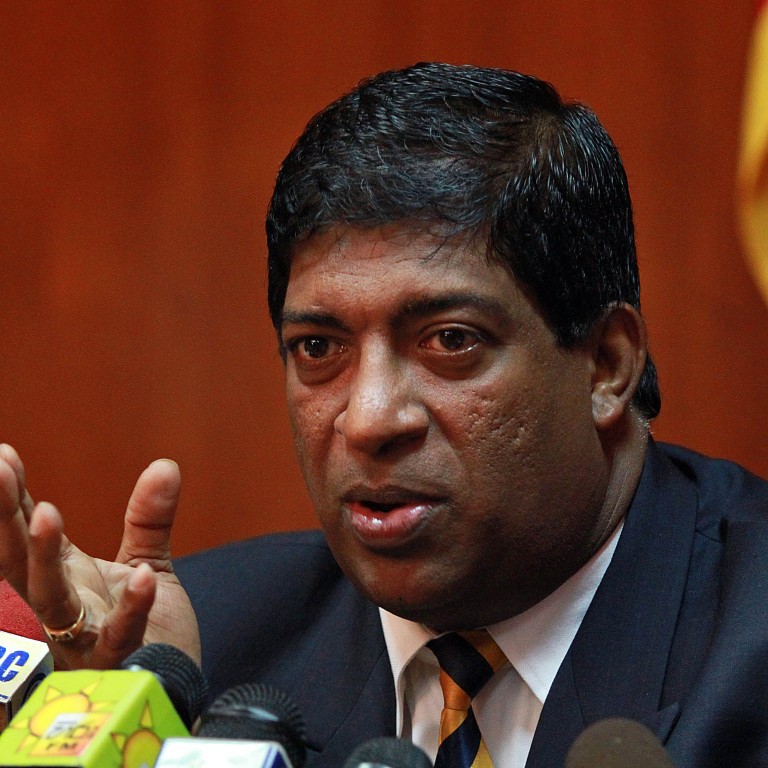 Let bygones be bygones, Colombo urges Beijing, as Chinese loans take their toll
Sri Lanka is urging China to put their disputes behind them and help the South Asian nation through one of its worst financial crises ever, caused partly by excessive Chinese loans contracted by the previous government of Beijing ally Mahinda Rajapaksa.
"Chinese loans are a big part of our problem. A bulk of the government expenditure goes into servicing them," Finance Minister Ravi Karunanayake told the South China Morning Post in an exclusive interview.
"I urge China to put the acrimony of the past behind us and come and help us by adjusting the terms of the loans to make them more viable. We are serious about putting our relationship on the right path and mending the pathetic finances we have inherited from a corrupt regime."
Relations between Colombo and Beijing have been strained since Rajapaksa was ousted in January's presidential election. The new unity government of President Maithripala Sirisena and Prime Minister Ranil Wickremesinghe has put on hold several Chinese infrastructure projects alleging graft.  
Beijing this month rushed a special envoy, Vice-Minister of Foreign Affairs Liu Zhenmin, to Colombo to engage the unity government, reinstated by parliamentary elections in August.
Nearly 70 per cent of the infrastructure projects in the country in the last six years have been funded by China and built by Chinese companies.  With foreign debt shooting up since China started pouring concrete and money into Sri Lanka, economists now say the country is heading into a debt crisis.
"In 2010, foreign debt was 36 per cent of the GDP (gross domestic product). By the end of 2013, it was about 65 per cent, and is estimated to rise to 94 per cent this year," said Palitha Ekanayake, a former director-general at the ministry of rural economy. "Debt instalment and interest obligations already exceed government revenue. That means we have to borrow to square existing loans."
With the exchequer creaking and the fiscal deficit widening, Karunanayake will next month present one of the most difficult budgets in Sri Lanka's history.
Foreign reserves have fallen from US$9.1 billion in August last year to US$6.8 billion by the end of September this year. To beef up reserves, he has urged citizens holding Swiss bank accounts to move their money to Sri Lanka, promising there would be "no questions asked".
The Sri Lankan rupee has lost about 7.5 per cent this year and foreign investors are selling down rupee bonds. The government is, naturally, desperate for foreign direct investment (FDI).
"The focal point of our coming budget will be FDI. We need foreign participation and we will give very specific incentives to encourage FDI. It's a good opportunity for Chinese companies to invest here," said Karunanayake.
China, however, has made it clear that it first wants to see an end to the impasse over its existing projects, especially a mega reclamation project called Colombo Port City, before making fresh commitments.
Asked what Sri Lanka is doing to address Chinese concerns over its investments, the minister said: "We did not create the problem, we inherited it. But it has to be fixed all the same. Any country would want FDI. but in accordance with the laws of the land."
This article appeared in the South China Morning Post print edition as: Let bygones be bygones, Sri Lanka urges China