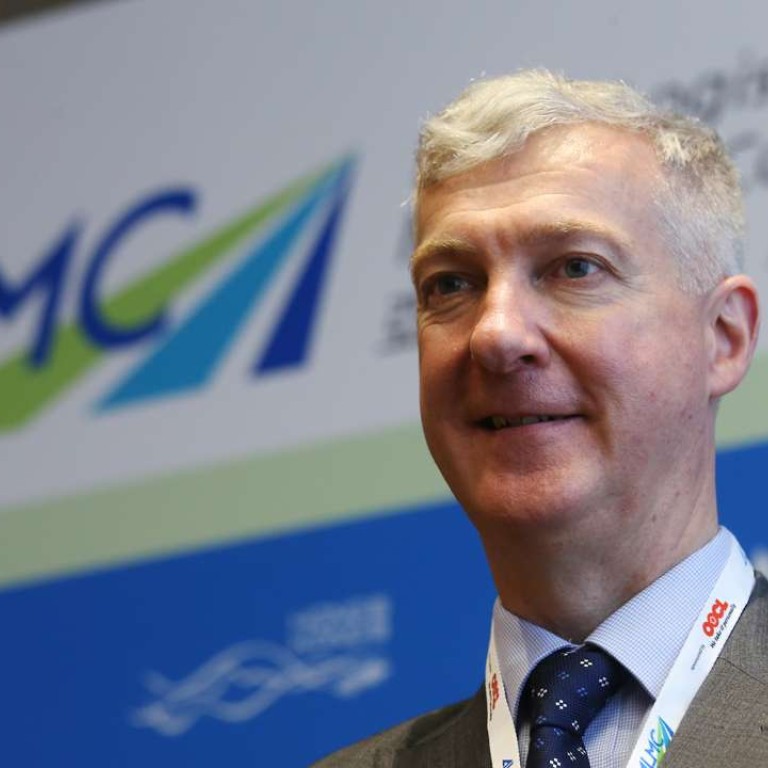 Consolidation will bring stability to liner shipping industry, says Maersk China boss
The liner shipping industry will see more consolidation, mergers and bankruptcies, which will in turn bring more stability to the market, according to Tim Smith, chairman of Maersk China.
"Next year you will have a situation where the top seven carriers will control around 65 per cent of the capacity," Smith said. "I think it is a good step and a good trend for the industry overall as the liner shipping market was highly fragmented for many years."
Speaking at the Asian Logistics and Maritime Conference in Hong Kong, Smith said the recent unprecedented wave of consolidation may provide a platform for a more stable future.
The bankruptcy of South Korea's Hanjin stranded billions of dollars in cargo at sea, disrupting supply chains worldwide. On Tuesday, the shipping company said it decided to sell part of its container ship business to Korea Line for 37 billion Korean won (US$31.38 million).
"If there are good assets available to acquire in Hanjin and it can help the consolidation precess, we will look at it," added Smith, who said he will not buy new ships because of the overcapacity.
Consolidation is a cause for optimism in the liner shipping industry, but it is a sector that may be threatened by a wave of protectionism unleashed by the next US president Donald Trump.
Smith said it was too soon to gauge the impact of a Trump presidency but it may present a potential challenge for shipping companies if the candidate's campaign promises are enacted. For example, this week Trump pledged to withdraw the US from the Trans-Pacific Partnership(TPP) on his first day in office. However, Smith believes Trump's trillion-dollar infrastructure plan could be a boost for the liner shipping market.
Wu Changquan, general manager of Guangdong Postal Express & Logistics, has a more positive view. "No matter whether its the presidency of Obama or Trump, it will not hold back cross-border trading as it is global trend," he said.
Wu said Hong Kong is a vital hub for cross-border trading but the city is concerned that more relaxation in mainland China laws prohibiting foreign-flagged vessels from moving cargo from one mainland coastal port to another could deal a serious blow.
Hang Seng Management College estimated that in the worst-case scenario, relaxation of the transportation rules, commonly referred to as cabotage in the industry, could slice 14 per cent off Hong Kong's container throughput and weaken its status as a key transshipment hub in the region.
Smith said the move will take some business away from Hong Kong but he doesn't expect further relaxation from the Chinese mainland.
"Hong Kong port's position is also very much dependent on cabotage law continuing," he said. "In my understanding, Hong Kong also pushes Beijing quite hard to keep that in place."
This article appeared in the South China Morning Post print edition as: Consolidation seen as boon for liner shipping industry